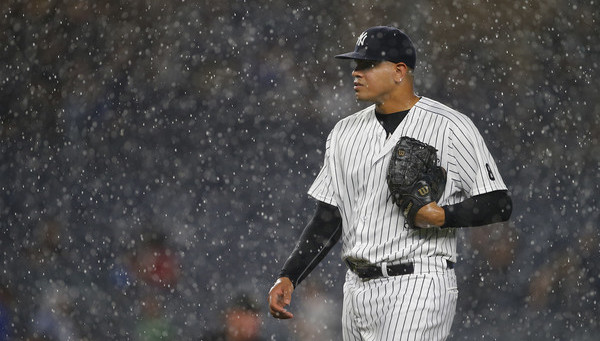 One of the few movies from my childhood that still holds up is Tim Burton's "Batman" from the late eighties. For whatever reason, a line that stuck out to me was one from Jack Nicholson's Jack Napier (not yet the Joker) near the end of the film's first act. Just before becoming the Joker, he yells to a corrupt cop, "Hey, Eckhardt, think about the future!" before shooting him. The Yankees have done a pretty good job thinking about the future. They've shown restraint with long-term contracts (the Aroldis Chapman deal notwithstanding) and, last season, committed to the future by trading away Chapman, Andrew Miller, and Carlos Beltran to help revitalize the farm. They also gave significant playing time to Gary Sanchez and Aaron Judge, and look poised to do the same this year with those guys, and some pitchers (Luis Severino, Luis Cessa, etc.). Then this happened and I'm tempted to yell to Randy Levine, "Hey, Randy! Think about the future!" (Please note that I do not want to shoot–nor do I want you to shoot–Randy Levine)
That the Yankees beat Dellin Betances at an arbitration hearing is nothing too special. Though the Yankees have rarely gone to arbitration, this thing is standard operating procedure for the rest of baseball. It's frustrating that a team as rich as the Yankees was petty with one of their best and most popular players over two million dollars, especially considering just how rarely the Yankees hand out pre-arb/pre-FA contracts, but that's the business. That the team president, though, essentially took a victory lap to dunk on Betances and his agent is appalling. The arbitration process itself is awkwardly acrimonious and contentious enough without an executive and agent airing the hearing's dirty laundry for the fans to see and for the player to relive.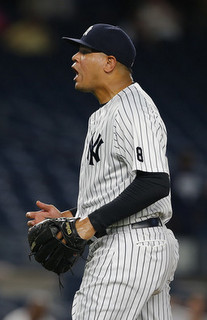 Maybe the Yankees aren't used to this sort of thing. After all, it'd been a long time since they'd been to an arbitration hearing and they haven't had a lot of young players worth fighting over. They were smart enough to lock up Brett Gardner and Robinson Cano to contracts as to avoid this ugly process, but what Levine said gives me great concern going forward.
For the first time in a while, the Yankees are going to have a glut of young players and they'll all be reaching arbitration around the same time. I don't want to read minds, but it's hard to imagine that guys like Gary Sanchez, Greg Bird, Luis Severino, and Aaron Judge have comfortable feelings about the arbitration process and their bosses after Levine's outburst yesterday. And, frankly, that's the best case scenario. The worst case–from the player's point of view–is that it'll scare them into not going to arbitration and just take whatever the Yankees offer. After all, who'd want to be wrongly blamed for slagging ticket sales and missing the playoffs? Maybe, Randy, just maybe, ticket sales are down because the prices are too high and the team is in transition. Maybe, Randy, just maybe, the team hasn't made the playoffs much recently because of design.
The organization has more or less gotten it right with their plan to rebuild and look forward. However, comments like the ones Levine made yesterday are harmful. While they may not do much in terms of dissuading free agents to come play for the Yankees, there's still an insidiousness to them. They affect the players who have the least leverage in the game–not counting minor leaguers–whom the Yankees can "exploit" for cheap before not signing them to big contracts. In a year plus that has seen Lonn Trost bash non-rich fans (exactly a year ago yesterday!), Brian Cashman exploit domestic violence for a cheap trade, and Hal Steinbrenner downplay fan concerns about said domestic violence, this is just the cherry on top of a very unappetizing sundae. The past is the past, and that's where these comments should stay, but, please, Yankee front office, think about the future.