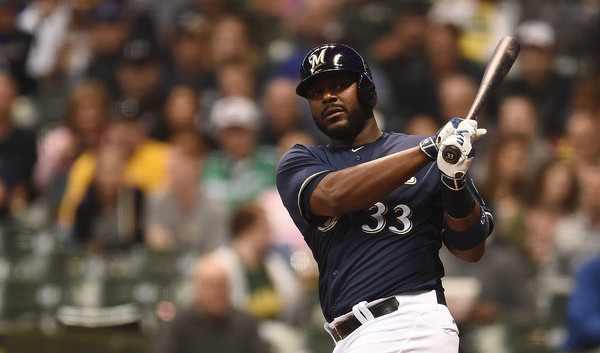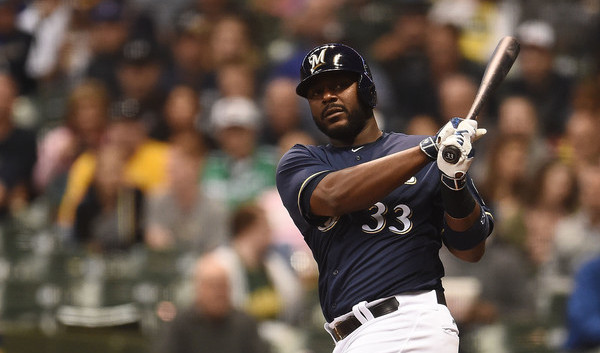 Turns out the Yankees had one more move left in them this offseason. Yesterday afternoon the team reportedly agreed to terms with reigning National League home run champ Chris Carter. It's a one-year deal with a $3.5M base salary plus another $500,000 in incentives based on plate appearances. Let's talk this one out, shall we?
1. I am mostly indifferent to the signing, and like many of you, the first thing that crossed my mind when I heard about it was "wooo dingers!" Gosh do I love home runs. They're the best. The second thing that crossed my mind is "where is Carter going to play?" My fearlessly bold prediction: this will work itself out. It always does. We fret over playing time in February and before you know it we'll be wondering where the Yankees would be without Carter. That's usually how this stuff works. The Yankees have a 37-year-old designated hitter (Matt Holliday) and a young unproven first baseman coming back from major shoulder surgery (Greg Bird). The at-bats will be there and they're paying him middle reliever money*. The Yankees wouldn't have signed Carter without some sort of plan in place, and you know what else? Carter probably wouldn't have signed with the Yankees without playing time assurances. We'll see how it shakes out. As always, the odds of playing time being a non-issue are better than we'd probably like to admit.
* The Rangers gave Mike Napoli a one-year contract worth $8.5M yesterday. How, exactly, is he $5M better than Carter?
2. Seriously though, where is he going to play? I don't think the Carter signing is the first step in some grand "trade Brett Gardner and clear the roster spot that way" scheme. Prior to the signing, Bird as well as Tyler Austin and Rob Refsnyder were fighting for two big league roster spots (first base and bench). One of those roster spots is now going to Carter. The kids all have minor league options, so sending them down to Triple-A for the time being isn't a problem, but the Yankees are in the middle of a rebuild transition and they just signed a 30-year-old one-dimensional slugger to take the roster spot of a young player. That … kinda goes against the plan, no? Again, I'm sure this will work itself out. Holliday isn't he most durable player at this point of his career and Bird is coming back from shoulder surgery. Heck, maybe the Yankees signed Carter because Bird's shoulder isn't 100% and they haven't told us yet. But, if everyone makes it through camp in one piece, now two of Bird, Austin, and Refsnyder are going to open the season in Triple-A. Not only one. (Sixty-five days in the minors delays Bird's free agency a year, remember.)
3. Who is going to lose their 40-man roster spot for Carter? I've been assuming Richard Bleier is next up on the 40-man chopping block all winter, but it hasn't happened yet, and it seems the Yankees like him more than I realized. If not Bleier, my guess is Johnny Barbato. Barbato made the Opening Day roster last season but pitched so poorly he didn't just wind up back in Triple-A, he didn't even get a September call-up. That's not a good sign. The Yankees aren't going to cut any of the kids they protected from the Rule 5 Draft earlier this offseason (Dietrich Enns, Yefrey Ramirez, Ronald Herrera, etc.) and I'd be surprised if Austin Romine or Ronald Torreyes got the axe even though the club has internal replacement candidates at their positions. Maybe Mason Williams? The Yankees will have plenty of outfielders in Triple-A, so perhaps Williams is expendable. Right now, I'm going with Barbato.
4. Carter is a right-handed hitter who socked 41 dingers a year ago and has averaged 38 home runs per 162 games over the last three seasons. He hit .224/.338/.537 (126 wRC+) against lefties last season and .222/.335/.486 (123 wRC+) against lefties over the last three seasons. The following left-handed starters pitch for rival AL East teams: J.A. Happ, Francisco Liriano, Wade Miley, Drew Pomeranz, David Price, Eduardo Rodriguez, Chris Sale, and Blake Snell. Yeah. The extra power right-handed bat is going to come in handy. Especially since Carter is a guy who can go the other way and take advantage of the short porch. Here is his spray chart over the last three years (via Baseball Savant):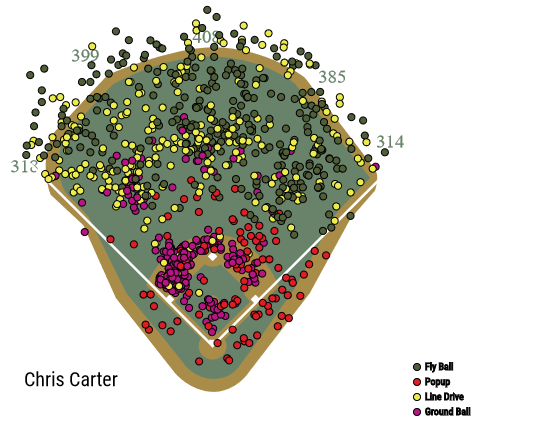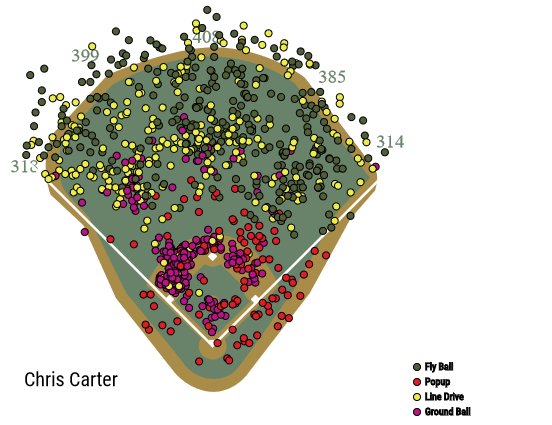 No one will mistake Carter for a great pure hitter who works the entire field and things like that. He's going to grip it and rip it, and sometimes the ball flies over the fence, even to the opposite field. The short porch will get some extra love in 2017.
5. The big drawback with Carter is, obviously, his strikeouts. He led the NL with 41 home runs last season and also with 206 strikeouts. His 32.0% strikeout rate last year was second highest among qualified hitters, behind only Chris Davis (32.9%). Only Mike Zunino (33.7%) and Davis (32.3%) have a higher strikeout rate than Carter (32.2%) over the last three years. That's a problem. Strikeouts are bad. You live with them in exchange for the power, but they're still bad. One big power/lots of strikeouts guy in the lineup is tolerable. More than one gets a little iffy, and there's a pretty good chance Carter and Aaron Judge will both be in the lineup a bunch of times next season. That's going to lead to a lot of empty at-bats and rallies dying without the ball being put in play. Judge is a top prospect and hopefully the right fielder of the future. He's a priority player. As long as the Yankees deem him big league ready, he should be in the lineup. He shouldn't sit just because Carter is owed a couple million bucks and Joe Girardi doesn't want two strikeout guys in the lineup. Judge has to play and I'm sure Carter is going to play a bunch too. The two might combine for 400 strikeouts this season, like for real, and that won't be pleasant to sit through at times.
6. This is worth pointing out: Carter will remain under team control as an arbitration-eligible player in 2018. He somehow still has fewer than five full years of service time. The Brewers non-tendered him earlier this offseason because they didn't want to pay a projected $8M salary through arbitration. Obviously no one else felt Carter was worth that salary either, because he signed for $3M with some incentives. Chances are the same thing will happen next offseason. The Yankees will non-tender Carter because his projected salary will outweigh his actual production. But, if Carter has a nice year, the club could bring him back in 2018 as their post-Holliday designated hitter. It'll be an option available to them. Hopefully Carter has a good season and forces the Yankees to think hard about bringing him back for another year. That would be cool.
7. One thing I do not expect to happen is a midseason trade. One of those "Carter plays well and the Yankees flip him for prospects at the deadline" situations. Nope. Can't see it. Carter hit .230/.317/.514 (113 wRC+) with 22 homers before the All-Star break last summer and the Brewers made him available at the deadline, but no team bit. The same way no team bit when Milwaukee put him on the trade market prior to the non-tender deadline. It's more likely Carter will be designated for assignment and released at midseason than traded for an actual prospect. An injury could always create a need somewhere else around the league, but, over these last seven months or so, the market has told us Carter doesn't have much value at all. Heck, you can go even further back than that, when the Astros non-tendered him following the 2015 season. They tried to trade him too. This is a straight one-year deal with upside in the form of dingers. That's about it.