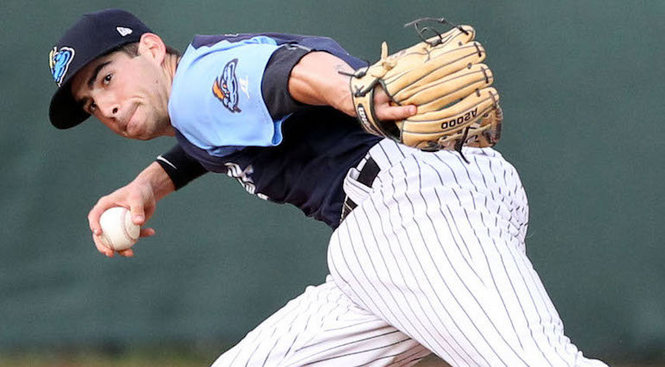 On Monday morning, Baseball Prospectus released their annual Top 101 Prospects list. It was a particularly exciting list for Yankees fans, as nine of the team's prospects made the cut – more than any other team in baseball. That was not necessarily unexpected, given that Keith Law and Baseball America placed six and seven Yankees, respectively, on their top-hundreds, and noted that a few more just missed the cut. What was surprising, however, was the name sitting at number 101 on BP's list: Tyler Wade.
The last time we saw Wade, he was slashing .241/.391/.278 with 10 steals in 18 games (69 PA) in the Arizona Fall League. He did so while learning a new position – or three, depending upon your point of view – as he played all three outfield positions for the Scottsdale Scorpions. And, by all accounts, he took to the outfield grass quite well, demonstrating range and the ability to track the ball off of the bat.
As a result of this, few doubt Wade's ability to serve as a true super-utility player at the highest level. While there are undoubtedly some kinks to work out, his transition to the outfield went as well as anyone could have expected, and his ability to play solid defense at second base and shortstop has never been in question (though his arm does limit his ability to make the tougher throws at short). There's a great deal of value in a player that can provide more than adequate defense in the infield and the outfield, and Wade stands to do so – and up the middle, at that.
Offensively, the best description of Wade's game that I've read comes from Mike's 2017 Preseason Top 30 Prospects list: "It's almost like a mini-Brett Gardner offensive skill set, minus the high-end speed — Wade is a good runner but not a truly great one — and before Gardner started socking double-digit dingers a few years back."
Wade spent the entirety of the 2016 season at Double-A as a 21-year-old, where he hit .259/.352/.349 (101 wRC+) with 5 HR, 27 SB (8 CS), 11.3% walks, and 17.7% strikeouts. That's essentially his career norm, as he's a career .267/.350/.344 hitter with 10.4% walks and 18.7% strikeouts in 1907 minor league plate appearances, averaging 3 HR and 32 SB per 650 PA. It's kind of uncanny, isn't it?
His lack of power is noteworthy, and it stems from both his build and his approach. The most generous scouting reports will throw a 35 to 40 on his raw power (on the 20-80 scale, with 50 being average), and there's no real uppercut to his swing. He's something of a slap-and-dash hitter, as well, and MLBfarm reveals that 50.92% of his batted balls were of the groundball variety. The combination of well below-average power and hitting the ball on the ground puts a very real cap on his actualized power potential.
Despite his modest offensive potential, the BP staff has been a fan of Wade for quite some time. They referred to him as "the perfect utility player" last April, and named his as a candidate for the 2017 Top 101 a couple of months later. In the second piece, Elvis Andrus with less defense was mentioned as a comp, and it was said that "Wade offers high upside combined with a high floor."
And, lo and behold, Wade made the BP Top 101 just seven months later.
The question here is twofold, though – should we have expected this, and is it deserved?
The answer to the former is somewhat straightforward, as BP all but choreographed it over the last ten months or so. In addition to the aforementioned articles, they slapped Wade with an overall future potential of 55 as a starter at second or in center their Yankees Top 10 Prospects list, which would essentially make him a solid average to slightly above-average regular. They key word there is 'starter,' which brings visions of Ben Zobrist, Steve Pearce, and Sean Rodriguez playing everyday at different positions. They note that scouts rave about "his energy, playing style, and instincts," and the value of a competent offensive contributor with strong defense at two up the middle positions is undoubtedly fairly high.
The second question is far trickier to answer. I am inclined to chalk it up to personal preference, noting that each list is different and every scout has a player that they like or dislike more than others. Additionally, we don't know how close he was to making the lists of Baseball America or Keith Law. However, we do know that John Sickels did not include Wade in his Top 200 prospects, though ten other Yankees do.
And should we take anything away from the team's handling of Wade? That is, shifting him between positions and leaving him at Double-A for the entirety of the season? The answer is almost certainly no, given that almost every Yankees shortstop prospect has played elsewhere – and that includes Gleyber Torres, even if it was only for one game. It does seem that the team views him as a utility player, as Brian Cashman routinely praises him for his versatility and athleticism, and notes how well he handled his outfield learning curve. As has been said before, though, that could me a great deal of nothing – after all, Cashman's not going to call him the second baseman, shortstop, or center-fielder of the future.
Inevitably, this is most noteworthy for the discussion that it brings. Is the ranking justified? If so, what are we missing? If not, what is BP missing (or exaggerating)? Or are we as fans simply putting too much stock in lists of this nature? Regardless, we will probably see Wade in the Majors at some point this season, and he'll need to be added to the 40-man roster after the season – so we should find out something sooner rather than later.