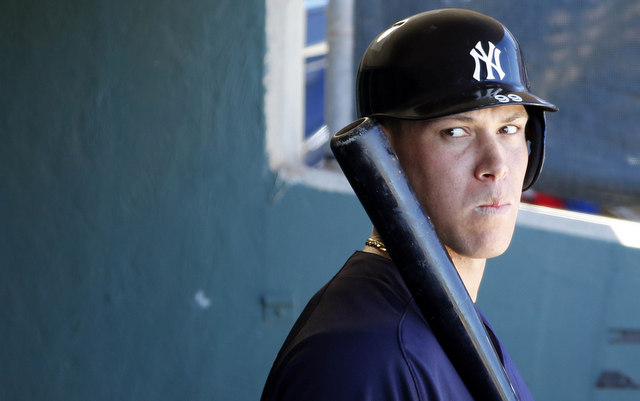 Here's a hot take to help break the recent blustery cold in my neck of the woods: 2017 is going to be a big year for Aaron Judge. After his intermittently successful cup of coffee at the end of 2016, he's poised to take over the starting right field job and hopefully lock it down for years to come. Of course, that future doesn't depend wholly on this year. It'd be nice, though, if he laid any doubts to rest. Part of cementing his place in right field will be making adjustments to the league, as it will be for every young player, both in and out of the Bronx.
The biggest wrinkle–in terms of results–in Judge's game is the fact that he strikes out a lot. He balances it with walks and homers, thankfully, so it makes you able to live with the whiffs. It would be disingenuous, though, to act like the high strikeout totals he racked up in MLB last year were not at last a little concerning. In 95 trips to the plate in 2016, Judge struck out 42 times, a percentage of 44.5. If we include his minor league numbers (98 Ks in 410 PA), the percentage drops down considerably to just over 27%, but that's still rather high. To cut down on that number, Judge will have to adjust how pitchers have approached him in two situations: the first pitch and with two strikes.
On the first pitch last year, a the thing that stands out is his various whiff/swing rates on different pitch types. On the first pitch fastballs, he missed on 20% of his swings. That number is small, though, compared to how he fared on first pitches that were anything but a fastball. Of the non-fastballs, he saw 10 changeups, 16 sliders, and 13 curveballs. When he swung at those pitches, he didn't make much contact. He whiffed at 100% of his first-pitch swings on changeups and curves, and 60% at the sliders. To his credit, Judge did a good job spitting on a fair amount of changeups and curveballs, as many of those went for balls on the first pitch. Some of that, though, could be due to location; those are pitches intentionally designed to dart out of the zone, and Judge's whiff/swing rates show us he's falling for that trick fairly often.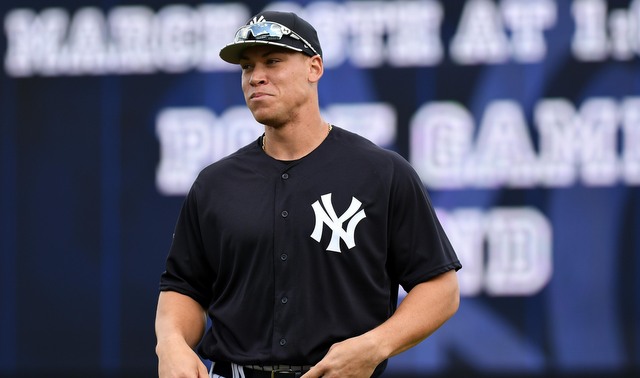 With two strikes, the whiff/swing numbers increase slightly. They stay the same on the slider, but drop to 50% and about 64% on the changeup and curve respectively. Those numbers are better than I thought, as the trick of memory made it seem like Judge whiffed all the time with two strikes. It's encouraging to see the two strike numbers be better than the first pitch numbers, though, as it does show he's capable of recognizing the non-fastball coming in the non-fastball counts.
To adjust to this issue, Judge will need to better recognize non-fastballs, both on the first pitch and with two strikes. Doing so will allow him to hold back from swinging and getting himself into bad counts, which will set up the strikeout. He's shown a good batting eye everywhere he's been and his power means pitchers will be naturally cautious around him. Exploiting that by forcing them to come into the zone with fastballs early in the count will help make him successful in 2017 and beyond.