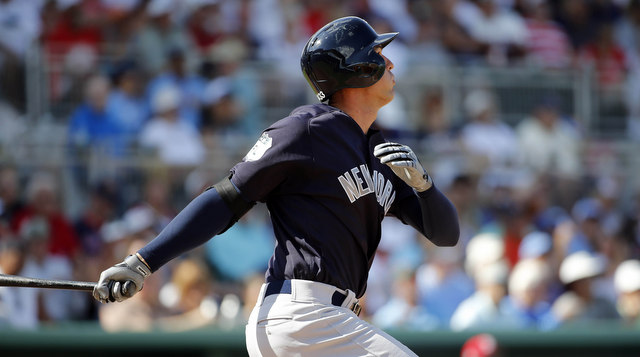 The theme for the Yankees early this Spring Training is home runs. They've hit a lot of dingers. Eleven in six games, to be exact. No team has hit more. I really hope this trend continues during the regular season. For now, I'll enjoy it while it lasts in February and March.
Tuesday afternoon projected first baseman Greg Bird smacked two of those eleven home runs in a Grapefruit League game against the Red Sox. He hooked one around the faux Pesky Pole in right, then lifted the other over the faux Green Monster in left. The game wasn't televised, though video still exists:
Spring Training performance generally means nothing. There's just so much noise to consider. For example: Bird took Kyle Kendrick and Edgar Olmos deep yesterday. The chances of those two seeing the big leagues this summer are quite small. Hitting dingers is fun! But there is always important context to consider, especially in the spring.
Part of that context is Bird's return from shoulder surgery, which makes yesterday's home runs a little more meaningful than your typical Grapefruit League dinger. Bird had a serious injury and procedure, and he missed the entire 2016 season. Beyond the rust typically associated with such a long layoff, an injury to a hitter's front shoulder (like Bird's) often results in a decline in power, even temporarily.
Matt Kemp, for example, had the same shoulder surgery back in October 2012. He had a .236 ISO in 2012 and a .125 ISO in 2013, his first season after surgery. It wasn't until 2014 that his power came all the way back (.220 ISO). Adrian Gonzalez was one of the game's top power hitters (.242 ISO from 2009-10) before going under the knife in October 2010. He had a .180 ISO in the three years after surgery.
Bird's home runs show that, if nothing else, he has regained strength in his shoulder and is still capable of driving the ball to all fields. (Going opposite field over the Green Monster lookalike is no small feat.) That's reassuring. We know it's still in there. He can still drive the ball out of the ballpark. Bird is close to a bat only player, so if his power is compromised following shoulder surgery, even temporarily, it would create some problems.
Furthermore, Bird says he feels better right now than he has in a long time. He was pretty good with the Yankees before the surgery, remember. He did all that despite pain and discomfort. Bird says that's gone and he feels better physically. "The results are great. I'll take them, obviously. But I'm feeling good and feeling good the next day and the next day. It wasn't like that for a long time," he said to Dan Martin yesterday.
Hitting home runs against Kyle Kendricks and Edgar Olmos on February 28th is not a sign Bird is ready to do damage against guys like Chris Sale and Aaron Sanchez during the regular season. All those homers tell us is Bird's shoulder is healthy and he's either regained his power following surgery or is in the process of regaining it. (Probably the latter.) When a player is coming off a major surgery, you look for signs he'll be his old self, and we saw a bit of that from Bird yesterday.