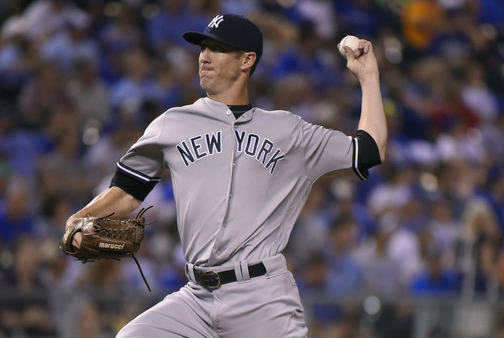 Over the last few days, we've covered the four key cogs in the Yankees' bullpen machine: Aroldis Chapman, Dellin Betances, Adam Warren and Tyler Clippard. If healthy, each will take up the main roles in Joe Girardi's 'pen and be called upon for the most important innings this season.
But the bullpen features far more than four guys. There will be at least seven on opening day. The Yankees had 20 different relievers pitch in at least one game last season. They had 26 the year before (24 if you take out position players).
So let's take a look at the rest of the bullpen. Chances are, far more than the guys listed below will log time in relief, but these are the ones that jump out with a chance right now.
The veteran pick-up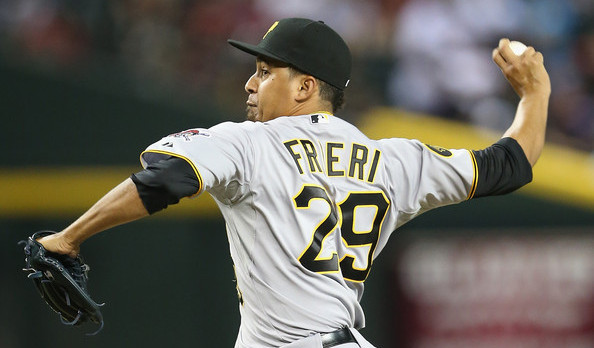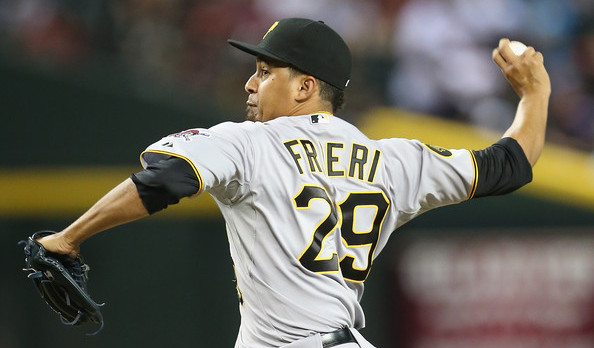 Last week, the Yankees added Ernesto Frieri on a minor league deal. Frieri didn't pitch at all in 2016 after an awful spring with the Phillies, but he played for Colombia in the World Baseball Classic. While there, he tossed two shutout innings against the Dominican Republic, even striking out Nelson Cruz.
Frieri, just 31 years old, was a pretty solid reliever from 2010-13, highlighted by a 2.32 ERA and 23 saves with the Padres and Angels in 2012. However, he was barely usable in 2014-15 with the Angels, Pirates and Rays with his ERA ballooning as high as 7.34 in 2014. At his best, he utilizes his mid-90s fastball to get hitters out, mixing in a slider and the occasional change or curve.
He's a real wild card for the Yankees' pen. There's a solid chance he'll make the team (seven batters into spring, he has six strikeouts and one HR allowed) but what he does from there is anyone's guess. His velocity seems to have returned after falling a bit in 2014-15 and could be the secret to an improved Frieri.
The lefties
Girardi loves his southpaws, so one has to figure there will be at least one on the roster at all times, if not two. That's not including Chapman, who won't be used as a matchup lefty and is the definitive closer.
First up is Tommy Layne. Layne, 32, is a classic LOOGY, much better against lefties than righties. He tosses a lot variations of fastballs alongside a slider and curveball to produce some strikeouts. He was perfectly fine in 29 games for the Yankees in 2016 and it's not outlandish to expect him to have another mid-3.00 ERA with a few too many walks and struggles against righties. Again, classic LOOGY.
Behind him lie a few different options, namely Chasen Shreve and Jon Niese. Niese, 30, has started most of his career and has succeeded at primarily keeping the ball on the ground. He'd provide a solid option as both another lefty and as a long man, two roles Girardi has said he sees Niese filling. He is coming back from a knee injury that he struggled with last season, so a healthy Niese would be an interesting piece.
We all know about Shreve. He was dominant for a couple months in 2015 with his low-90s fastball and changeup before becoming a liability late in '15 and shuffling between the bullpen and the minors in 2016. The 26-year-old southpaw isn't a LOOGY with the changeup as an out-pitch, but hitters appeared to figure out his off-speed offerings over the last couple seasons.
Two pitchers who reached Triple A last season are also in the mix for roles this summer, if not earlier. Jordan Montgomery and Dietrich Enns each played roles in Scranton's success last fall and looked solid in Double A Trenton before that. Enns was added to the 40-man roster this winter. Lefties hit Enns slightly better than righties last season and the soft-tossing southpaw may not be best suited for a role as a LOOGY.
Montgomery — who is potentially in play for a spot in the rotation on opening day, let alone a relief spot — isn't on the 40-man roster yet. Similar to Enns, Montgomery had a reverse split last year, although neither lefties or righties hit him well. He throws from a high arm slot and has a solid change-up and would be a solid long reliever if he isn't a starter.
Righties with a taste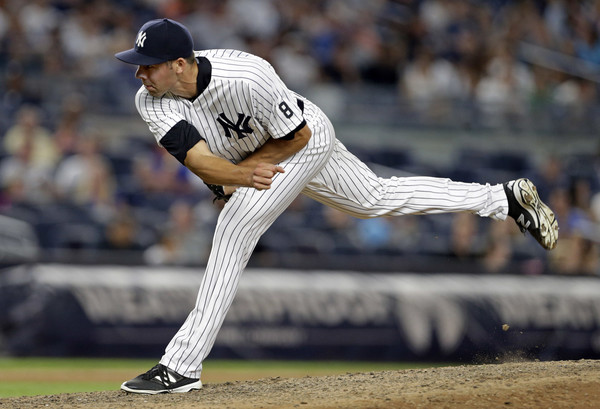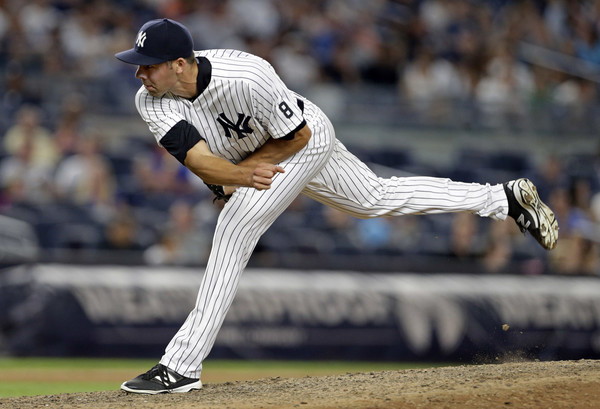 Both Ben Heller and Jonathan Holder got chances last September to help the Yankees bullpen and neither particularly impressed. Heller, a 25 year old who came over in the Andrew Miller trade, throws in the upper 90s with his fastball and mixes in an effective slider. Despite his 6.43 ERA in seven big league innings, he's certainly someone to keep an eye on because he has the stuff to be effective. He's posted strong strikeout numbers everywhere in the minors, solid enough to mask occasional issues with walks. I'd expect him to be one of the first relievers called up this spring, if not someone on the roster opening day after a lights-out spring (one run, 8 ks in 9 2/3 innings with 6 BB).
Like Heller, Holder couldn't seem to have his strikeout numbers translate in his short big league stint (8 1/3 innings). He also uncharacteristically struggled with control. Still, his fantastic strikeout rates (101 Ks in 65 1/3 innings last year over three levels) are the reason he was added to the 40-man roster early at 23 years old. He's likely behind Heller but still a solid option this spring/summer.
Long man
The Yankees' have a series of young pitchers competing for the final rotation spots right now and only two will walk away with said spots. Therefore, the rest will be relegated to Triple A or to spots in the bullpen. Frieri's addition to the team makes it less likely the team brings two of those losing out north — or actually south 20 miles from Steinbrenner Field to Tropicana Field — for opening day.
Still, there is likely one spot, if not two, for those who lose out. Let's say Luis Severino and Bryan Mitchell get the rotation spots. It's easy to see Luis Cessa take the long-man role while Chad Green and Montgomery go to Triple A. The latter two would still be likely to see time in the majors and could be see it quickly considering the bullpen shuttle of recent years.
40-man roster and beyond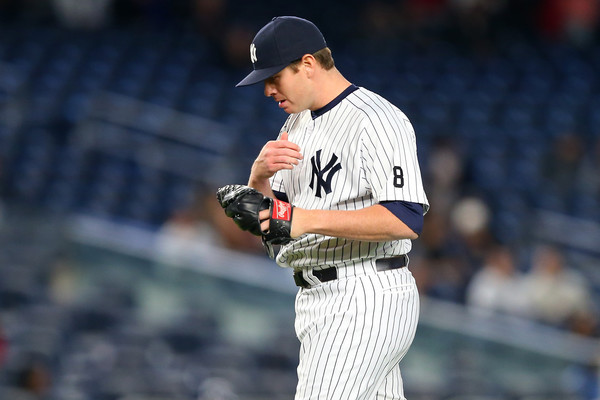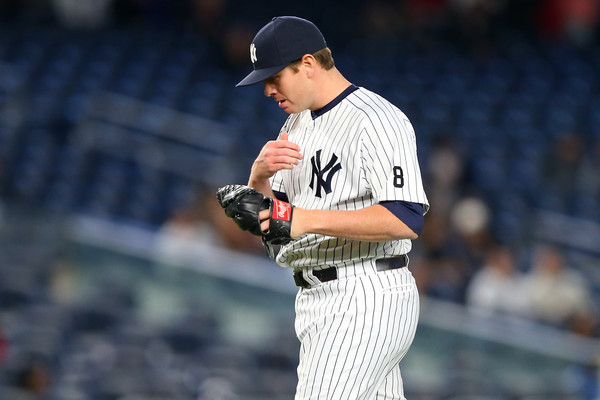 There is a gaggle of relievers that got opportunities to show off their stuff this spring with the Yankees, way too many to go through in detail. Johnny Barbato and Gio Gallegos are both on the 40-man and closest to the majors.
Further down the 40-man, Yefrey Ramirez and Domingo German both have strikeout worthy stuff, but they're starters at the moment and haven't pitched above Single A. Ronald Herrera, acquired for Jose Pirela a couple years ago, has all of five innings above Double A.
Off the 40-man roster, it's worth paying attention to a few names. Nick Rumbelow, outrighted off the 40, is coming off Tommy John surgery and once showed promise for a middle relief role. Joe Mantiply — a southpaw who was claimed off waivers, DFA'd and then re-signed to a minor league deal this winter — has solid strikeout rates in the minors but hasn't thrown much above Double A. Finally, J.P Feyereisen was acquired in the Miller deal with Heller and co. and was solid as a fireman for Double A Trenton in the MiLB playoffs last year. Could be something down the road and I wouldn't be shocked if he is seen in the majors for a stint this summer.