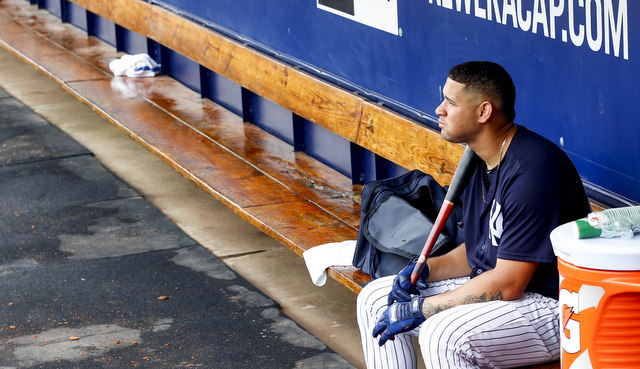 According to Jon Heyman, the Yankees and Gary Sanchez have agreed to a contract for the 2017 season. Financial terms are unknown, though Heyman says the two sides agreed to a deal and the Yankees didn't renew their budding star. As a pre-arbitration-eligible player, Sanchez's salary will be something close to the $535,000 minimum salary.
As you may remember, the Yankees were unable to come to a contract agreement with Dellin Betances prior to the 2016 season, his final season as a pre-arbitration-eligible player, so they renewed him at the league minimum. Betances felt the team's offer was too low, so they renewed him, which is their right. Dellin knew what would happen.
Who knows whether the contract renewal created bad blood between Betances and the Yankees, but the fact the two sides went to an arbitration hearing a few weeks ago sure makes it seem like that's the case. (Randy Levine didn't help matters either.) Thankfully, the Yankees were able to avoid similar animosity with Sanchez this year.
Sanchez, 24, hit .299/.376/.657 (171 wRC+) with 20 homers in 53 games last season (lol), his first extended taste of the big leagues. Many teams, including the Yankees, have a sliding salary scale for pre-arbitration-eligible players based on service time, with escalators for All-Star Games and major awards, things like that.
Because he will enter 2017 with only 86 days of service time, the Yankees still have all six years of contractual control over Sanchez. He won't even qualify as a Super Two player. Sanchez will make something close to the league minimum from 2017-19 before making decent bucks through arbitration from 2020-22.
It's unclear whether the Yankees have reached contract agreements with their other pre-arbitration-eligible players. That stuff usually isn't widely reported. The Yankees have 22 pre-arbitration-eligible players on the 40-man roster, including Luis Severino, Greg Bird, Aaron Judge, and Ronald Torreyes.