We've got a dozen questions in the mailbag this week, the penultimate mailbag before Opening Day. As always, use the RABmailbag (at) gmail (dot) com email address to send us anything.
Zachary asks: I used Baseball Musings lineup tool and ZiPS/Steamer/ATC projections to try to find the best 2017 lineup for the Yankees. No matter the numbers I used, the tool insisted that Matt Holliday leading off would produce the best run-scoring lineup in 2017. Thoughts on that? Is it something you would do as manager? Can you see Joe doing something that radical?
The lineup tool is a bit outdated — the model is based on research from 2006 — and all it does it put the highest OBP player in the leadoff spot. If two players are within a few OBP points of each other, it'll give the higher SLG player more at-bats. When I put together the All-RAB Era Team a few weeks back, the lineup analysis tool stuck 2007 Jorge Posada in the leadoff spot because he led those players in OBP. Just about every projection system has Holliday leading the Yankees in OBP by a point or two over Brett Gardner.
There's no chance Joe Girardi will bat Holliday leadoff. He's a veteran middle of the order guy and that's where Girardi will hit him. If I were manager, I wouldn't bat Holliday leadoff either. For starters, I don't think Holliday will actually out-OBP Gardner. Secondly, that's a waste of Holliday's pop. If you have two players with similar OBPs, I say bat the guy with power a little lower in the order so there are more men on base when he hits. The Cubs are planning to bat Kyle Schwarber leadoff and Ben Zobrist cleanup. That seems completely backwards to me. If you think Schwarber is a 30-homer guy, you're setting him up to hit a lot of solo homers by batting him behind the pitcher.
Paul asks: There are several examples of prospects who have seen their mph tick up with the Yankees. Is this normal for other teams? Is it just kids' bodies maturing, or do the Yankees have some advantage in their training program that maximizes fastball speed?
This does happen elsewhere, but it happens so often with the Yankees that I don't think we can wave it off as a fluke at this point. James Kaprielian, Jordan Montgomery, Chance Adams, Taylor Widener, and Chad Green are among those who gained velocity after joining the organization. It must be something with the Yankees' throwing program or training regimen, right? For what it's worth, here's what Eric Longenhagen said in his weekly chat this week:
John: are you able to tell how the yankees' development team is getting velocity boosts out of so many college arms? change in delivery, selective drafting, conditioning, or something else?

Eric A Longenhagen: There seems to be a common arm action so I'd guess they have a way to teach it. It's pretty cool. We'll start talking about the Dodgers like this soon, I'm guessing. Like half a dozen of their guys were touching 95+ yesterday on Day 1 of minor league spring training games.
That's about the best answer I can give. When one or two guys add velocity, maybe it's just a fluke. When five or six or seven (or more) do it, there's probably something to it. Ever since Gary Denbo replaced Mark Newman as the farm system head in October 2014, the team's player development seems to have taken a big step forward. It's only been two seasons, but the top prospects aren't stalling out and several lower profile guys are making big gains. It's exciting.
Robert asks (short version): Hindsight is always 20/20 and I trust the front office (especially with cash almost fully in charge) but do you think there's some regret from within trading solarte a few years back? He's developed into a nice little player who can play multiple positions teams now seek.
Oh sure. I'm guessing the Yankees would like to take that trade back given what they know now. Yangervis Solarte isn't a star or anything, but he's hit .275/.330/.428 (110 wRC+) with +4.7 fWAR and +4.8 bWAR since the trade. Chase Headley has hit .256/.333/.379 (97 wRC+) with +6.9 fWAR and +5.9 bWAR during that time. The difference in their salaries are pretty substantial too. I do think Headley's advantage in defense outweighs the difference in offense, but ultimately, it's similar production at very different prices.
Remember though, at the time of the trade Solarte was a career minor league journeyman who hit well the first 40 games of the season (.336/.414/.521) before completely falling off (.180/.264/.256 the next 41 games) and having to be sent to the minors. There was reason to think the clock had struck midnight. What can you do? You win some and you lose some, and when your biggest trade mistake over the last three or four years is trading away Yangervis Solarte, you'll be fine.
Anonymous asks: According to Baseball America, the Yankees had the 27th best prospects ranking in 2004. The following year Robinson Cano would have his rookie season, the first in a career that currently has him easily as one of the top 20 2B of all time, and likely top 5 by the time he retires. The system produced little else (CM Wang, Melky Cabrera, Tyler Clippard, Dioner Navarro.) Would you rather take that 2004 prospect group or the current one?
Oh man, that's tough. On one hand you have a Hall of Fame caliber second baseman (Cano), an elite reliever (previous versions of Clippard), and a solid everyday outfielder (Melky) in addition to Chien-Ming Wang's two excellent years before his injuries. On the other hand you have everything guys like Gleyber Torres and Clint Frazier and Aaron Judge and Kaprielian can become. They won't all work out. We know that. But the sheer volume of prospects suggests the Yankees will get several quality players out of this group.
It's hard for me to say no to a likely Hall of Famer, so I'll take the 2004 group thanks to Cano. But! Keep in mind Gary Sanchez and Greg Bird are no longer prospect eligible. New York's best non-prospect eligible young big leaguer in 2004 was, uh, Travis Lee? Seriously, try to find a quality young player on that roster. Sanchez and Bird are two pretty significant bats, and if you add them to the current farm system, I'd take it over the 2004 group. Otherwise I'll hitch my wagon to Robbie Cano.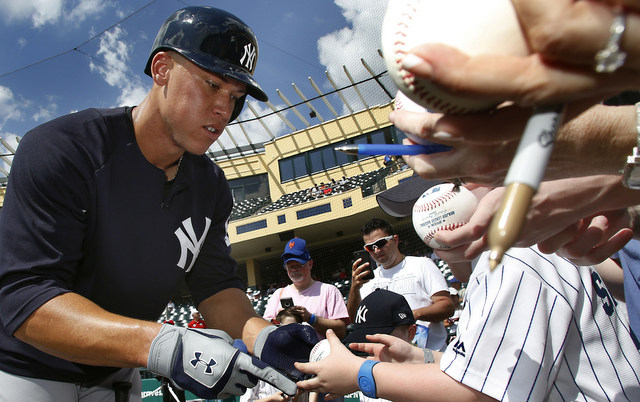 Seth asks: Which Yankee rookie could you possibly see winning ROY? What would need to happen or what kind of stat line do you think they would need to put up to win? Are there any early ROY favorites in the AL right now?
There are really only two candidates for 2017: Judge and Green. Others like Torres and Frazier probably won't spend enough time in the big leagues to be serious Rookie of the Year candidates. (If Sanchez couldn't win Rookie of the Year doing what he did last year, how could Gleyber or Frazier?) Judge and Green could very well spend the entire season in the big leagues and in prominent roles. Judge as the starting right fielder and Green as a starting pitcher. Playing time is important.
The Rookie of the Year award tends to skew towards position players — Michael Fulmer, Jacob deGrom, Jose Fernandez, and Jeremy Hellickson are the only starters to win the award since 2007 — so I think Judge's chances of winning the award are better than Green's. He'll be in the race if he gets his strikeouts under control and smacks, say, 25 dingers or so. When it's all said and done, the power numbers will get Judge votes, not WAR. (Sanchez, Bird, Luis Severino, Luis Cessa, and Bryan Mitchell aren't Rookie of the Year eligible anymore. Too many at-bats and innings.)
That said, Red Sox outfielder Andrew Benintendi is the odds on favorite to be the AL Rookie of the Year right now. He's got a full-time lineup spot and he's annoyingly good. I suppose White Sox righty Lucas Giolito should be considered a Rookie of the Year candidate, though he hasn't looked very good since being called up. My sleeper pick: Athletics righty Jharel Cotton, who has a rotation spot locked up. I could see him putting up nice numbers in that ballpark.
Ethan asks: Hey Mike! I was looking back at the old Top 30 Prospects lists from MLB.com, and saw that Refsnyder hit his peak at #4 in the Yankees' system in 2015 when they had only 2 players in the Top 100. Just wondering with the current system having 7 Top-100 players, where do you think Refsnyder would be placed if he was at his prospect peak?
Those were the days, eh? When a good but not great prospect like Rob Refsnyder was among the five best prospects in the system. For the record, the highest Refsnyder ever ranked on my top 30 lists was No. 6 in 2016. That ranking was based more on his probability of being a solid big leaguer than pure upside. Refsnyder at his prospect peak would have ranked no higher than 15th on this year's top 30. Way too many players with more upside in the system to rank him any higher. I think there's a chance Refsnyder will still be able to carve out a career as a righty platoon bat, but he's going to have to start hitting for power. Below-average defenders who only hit singles aren't a hot commodity, you know?
Elliot asks: For the first time since following you guys, Gary Sanchez isn't even a candidate for the minor league spotlight (sidebar) this season. With all of the deadline moves and graduations last lear, who gets your vote? Torres? Frazier? Kaprielian? Mateo? What options!!!
I'll post the annual Prospect Watch poll a few days before Opening Day. I don't want to post it early and have someone get hurt or traded, and have to do it all over again. And like you said, there are a ton of good candidates this year. Torres, Frazier, Kaprielian, Blake Rutherford, Justus Sheffield, Jorge Mateo, Miguel Andujar, on and on it goes. In most years someone like Adams or Dustin Fowler would be prime Prospect Watch fodder. I'm not even sure I'll include them in the poll at this point. No, I don't believe in the Prospect Watch curse — the little pixels in the RAB sidebar don't have those kind of powers — so it'll again be a choice among the top prospects, and gosh the Yankees sure do have lots of them.
Nico asks: Sorry if I missed this, but does Spring Training offensive performance appear to correlate at all with regular season offensive performance? I know it won't be a exact correlation, but still – would be good to know how much stock to put into the yankees' ST dominance.
Alas, there's very little correlation between Spring Training performance and regular season performance. And that applies to everything. Team record, offense, pitching, the whole nine. Lance Rinker and Neil Paine ran the numbers and found a tiny little correlation between spring and regular season offensive performance. So tiny that it's basically insignificant. Bird probably won't have a 1.500 OPS during the regular season, sadly.
There have also been a ton of studies (like this one, this one, and this one) showing spring win-loss records don't mean much either. My go to example: the 2001 Mariners had the second worst Spring Training record among AL teams (13-19), and then went 116-49 during the regular season. The only AL team with a worst spring record that year? The Yankees, who went 9-20 in the spring, won 95 games during the regular season, then beat the Mariners in the ALCS. The Yankees are hitting well and winning games this spring and that's cool. It doesn't tell us much about the upcoming season, unfortunately.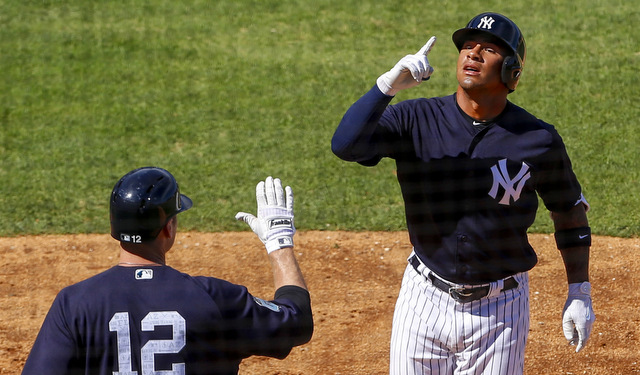 John asks: The "problem" of too many shortstops has been talked about a lot here on RAB. Are the yankees showing their hand this spring in terms of where the expect Torres to wind up? It seems that with Didi gone at the WBC Torres has been getting way more action at second than at short. If Torres plays well this season in the minors at second, what are the chances he's starting at second for the yanks on opening day in 2018?
Torres has played many more innings at short (42.1) than at second (16) this spring, and I don't think it's a secret what the Yankees are doing with their shortstops. They want to increase their versatility because a) versatility is good, and b) it'll allow them to get everyone into the lineup at once. Chances are the best Yankees teams in 2018 and beyond feature both Torres and Didi Gregorius, and, well, how are you supposed to get them into the same lineup? The same goes for Mateo (center field) and Tyler Wade (outfield). I do think there's a chance Gleyber will reach MLB in 2017, which would presumably set him up to be on the 2018 Opening Day roster. At which position? Who knows. The Yankees seem to be trying to figure that out themselves.
Nathan asks: How interesting or uninteresting, or competitive, would this team be? Sanchez at C, Bird at 1b, Wade at 2nd, Didi at SS, Gleyber at 3b, Frazier in LF. Fowler in CF and Judge in RF. On personal level, I don't know if they'd be good, but I think they'd be fun as heck to watch, and easy to cheer for.
Very interesting and not terribly competitive, I don't think. You've got five rookies in the lineup plus two non-rookies playing their first full MLB season, and history (and common sense) tells us there will be growing pains. Even Mike Trout struggled in his first attempt at the big leagues (.220/.281/.390 in 40 games in 2011). They would be fun to watch though. That's for sure. The lineup includes lots of exciting young guys who play with a ton of energy and you're right, they'd be easy to root for. Chances are that lineup wouldn't be very good in 2017, but they sure would be entertaining.
Andrew asks: I know backup catcher isn't that big of a deal. But with Derek Norris being released by Washington, he's better than Romine right? Worth it to sign him to a league minimum deal since Washington already on the hook for the rest?
I wouldn't be a league minimum deal. Like every other pre-arbitration and arbitration-eligible player, Norris was on a non-guaranteed contract. The Nationals released Norris earlier this week on the last day teams could release players with non-guaranteed contracts and only pay them 30 days termination pay. Norris will receive roughly $688,000 of his $4.2M salary, and he can now sign a contract of any size with any team. Players who have been released from guaranteed contracts and are still being paid are the guys you can sign for the pro-rated portion of the league minimum. That doesn't apply to Norris.
As for the question, yes I'd absolutely prefer Norris to Austin Romine for the backup catcher spot. Is that the job Norris wants though? Hard to think he wants to spend his age 28 season stuck behind Sanchez when several clubs could offer more playing time behind the plate. The White Sox, Angels, Rays, Diamondbacks, and Brewers could all offer Norris their starting catcher job. Perhaps the job market will be so dry Norris would be willing to sign a cheap deal with the Yankees to back up Sanchez, but I can't see it. These seems like one of those "he makes sense for the Yankees but the Yankees don't make sense for him" deals.
Brian asks: Last year Billy Butler beat out Brian McCann in a footrace. Who wins in Chris Carter vs. Matt Holliday?
I haven't seen either guy run enough this spring to form a solid opinion. I'll go with Carter because he has youth on his side. I'll roll the dice with the 30-year-old over the 37-year-old. Neither Carter nor Holliday will be in the lineup for their speed though. They're there to sock dingers. I wonder who'd win a footrace between Sanchez and Bird? They're both young and in shape, though neither is fleet of foot. Make it happen, Yankees.