We have eleven questions in the mailbag this week. As always, RABmailbag (at) gmail (dot) com is where you can send us any questions throughout the week. We get a lot of submissions and I can only answer so many, so don't take it personally if yours doesn't get picked.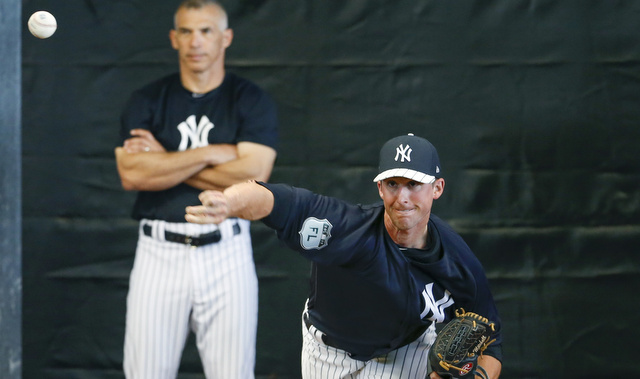 Mike asks: I think we all have high hopes for Bryan Mitchell to be an important part of the rotation this year and based on his velocity, love his stuff. However, according to Eno Sarris on the Sleeper and the Bust podcast, he expressed concerns about his spin rate. Can you put those numbers into context? Are they fair concerns?
Spin rate is exactly what it sounds like: how fast does the ball rotate? Spin rate isn't everything the same way velocity isn't everything. It's one tool in the shed. There's been a lot written about spin rate recently (like this, this, this, and this) and, with fastballs, a high spin rate correlates well to swings and misses while a low spin rate correlates well to ground balls. That is not necessarily true for breaking balls or offspeed pitches though.
We don't have a ton of data for Mitchell given his limited time in the big leagues. Here's what we do have have on him, as well as the relevant league averages via Baseball Savant:
| | % Thrown | Mitchell's 2016 Spin Rate | 2016 MLB AVG Spin Rate |
| --- | --- | --- | --- |
| Four-Seamer | 51.5% | 2,268 | 2,264 |
| Cutter | 23.7% | 2,352 | 2,313 |
| Curveball | 21.4% | 2,800 | 2,471 |
| Changeup | 3.4% | 1,862 | 1,753 |
Spin rate is measured in revolutions per minute even though it takes less than a second for a pitch to reach the plate. Last year Mitchell had almost perfectly league average spin rates on his four-seamer and cutter. That's not great, but it's not automatically a bad thing either. It just means his fastball isn't particularly conducive to whiffs or grounders. The pitch can still be effective through location, pitching sequencing, etc.
Mitchell's curveball had a very high spin rate last year — among the 439 pitchers to throw at least 50 curveballs in 2016, Mitchell had the 30th highest average spin rate — and unlike fastballs, a high spin rate for curveballs correlates well to swings and misses and grounders. The curveball has always been Mitchell's bread and butter pitch and there's no reason to think that's going to change. His fastball spin rate isn't great, but his curveball's is, and having a dominant offering like that gives him a chance to be successful.
Mark asks: Are the Yanks a better all around team with Carter at DH, Holliday in LF and Gardy in CF and Ellsbury on the bench?
I don't think so. Matt Holliday is really bad defensively, we're talking Ibanez-esque, and I think that would more than negate any offensive advantage gained by replacing Jacoby Ellsbury's bat with Chris Carter's bat. Also, Holliday is 37 years old now, so playing him regularly in the outfield is a good way to wear him down during the season. Chances are he won't hit as well as a result of the extra fatigue. Given the available options, I'm totally cool with Brett Gardner and Ellsbury in the outfield, Holliday at DH, and Carter getting spot starts at first base and DH.
Kris asks: I know that the chances of every top prospect panning out is slim, but in a perfect world, if Judge/Frazier/Torres/Andujar all seem like solid starting options in the next couple of seasons could you see a scenario where the Yankees pass on the 2018 FA's like Machado and Harper who they're so often linked to?
Oh sure. I don't think the Yankees want to sign Manny Machado or Bryce Harper in two years. I think they will sign one of those guys if necessary — and if they get under the luxury tax threshold in 2018 — but Plan A is the kids. Cheap and productive Aaron Judge and Clint Frazier in the corner outfield spots, not Harper at $35M+ a year. Cheap and productive Gleyber Torres or Miguel Andujar at third base, not Machado on a ten-year contract with three opt-outs. The fact Harper and Machado are still so young — they'll both hit free agency at 26 — makes me think the Yankees will be more open-minded about signing them to huge dollars. It's not like they're 31. But yeah, Plan A is the kids.
Jonathan asks (short version): If Gary Sanchez hits lets say 25-30 homers, has about a 280/350/500 slash and plays solid defense. Do you think he would be be a top 10 asset in baseball after this year? Like Bryce Harper and Manny Machado are top 10 players easily but not type 10 assets since they will be a free agents in a year.
Yes, absolutely. A good defensive catcher who hits .280/.350/.500 with 25+ homers is an MVP candidate. Add in all the team control — remember how much we talked about Sanchez's service time and keeping him down for 35 days and all that last year? Sanchez still has six years of team control remaining, and he won't qualify as a Super Two either — and Sanchez would easily be a top ten asset in baseball. That level of production for a catcher is incredible.
No one asked me, but here is my really quick list of the top ten assets in baseball right now. Again, these aren't necessarily the ten best players. These are the ten most valuable assets based on production, team control, etc.
Mike Trout
Francisco Lindor
Kris Bryant
Corey Seager
Carlos Correa
Mookie Betts
Anthony Rizzo
Christian Yelich
Starling Marte
Noah Syndergaard
I feel like I'm missing someone obvious. Keep in mind players like Nolan Arenado, Jose Altuve, Chris Sale, and Madison Bumgarner will all be free agents within three years. Everyone in the top ten has at least five years of contractual control remaining except Trout, who has four. He's still No. 1 because he's just that damn good. Sanchez doing what Jonathan suggested in the question would without a doubt make him a top ten asset at this time next year.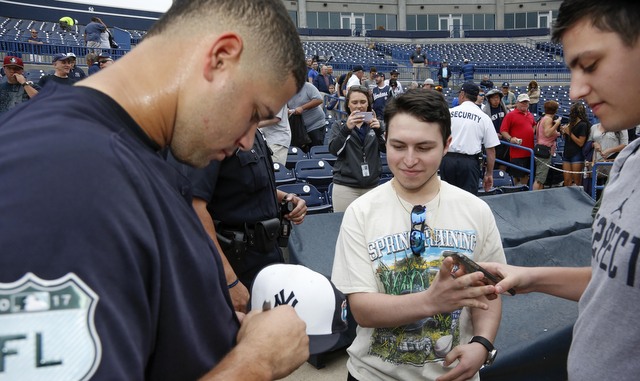 Bart asks (short version): In the 2002 Yankees article you mentioned "Ideally, that'd mean they'd face the AL's worst playoff team (the 94-win Twins) in the ALDS, but instead they got the wild card winners, the 99-win Anaheim Angels." Why did they play the Angels instead of the Twins?
The 2002 AL postseason picture was slightly complicated. Here are the records of the four AL playoff teams:
Yankees: 103-58
Athletics: 103-59
Angels: 99-63 (wildcard team)
Twins: 94-67
Notice the Yankees only played 161 games that season. That's because they had a game against the (Devil) Rays rained out in September that they never made up. The Yankees won the season series over the Athletics, so even if the Yankees played that makeup game against Tampa and lost, they still held the tiebreaker over the A's and would have been considered the league's top seed going into the postseason. Because of that, MLB never made them play the makeup game.
The team with the best record in the league plays the wildcard team, so the Yankees were matched up with the 99-win Angels. But! Even if the A's had gone, say, 104-58 to finish with the best record in the league, the Yankees still would have played the Angels in the ALDS. Back then two teams in the same division weren't allowed to meet in the LDS, so an Athletics-Angels ALDS was impossible. Nowadays two teams in the same division can play in the ALDS. That rule changed when the second wildcard was added, hence the Yankees-Orioles ALDS in 2012.
Marc asks: Mike mentioned the idea of trading a few potential 40-man guys to acquire competitive balance picks which made me wonder if the Yanks could explore the same for international free agency bonus money. Not sure how the new CBA treats this and how beneficial it could be (i.e. likely not enough money to lure Otani).
The text of the new Collective Bargaining Agreement has not yet been released, though from all the reports we've seen over the last few months, teams can still trade their international bonus money. Teams can only acquire an additional 50% of their bonus pool, however. The Yankees have $4.75M in cap space this year, so add in the extra 50% and their max pool is $7.125M.
Over the last few years trades involving international bonus money have been really minor. Two years ago the Braves traded four fringe prospects (in three separate trades) for $1.1M in bonus money. The Yankees might be able to deal someone like, say, Kyle Haynes for $200,000 or so in international money. These deals are rarely significant, and remember, we're talking about money that gets spent on 16-year-old kids who are far away from MLB. I don't love the idea of trading any of the Rule 5 Draft eligible prospects for a few hundred grand in international money. A Competitive Balance draft pick is much more valuable.
Brian asks: While the popular Yankee beat narrative has focused on breaking up Gardner and Ellsbury at the top of the order (please be Gardner 1 Ellsbury 8 or 9) I haven't heard any discussion about pushing both of them further down in the lineup against lefties. Do you think they should? Last year Gardner had a .313 OBP vs lefties and Ellsbury .292. Wouldn't it make more sense to put righties at the top of the lineup vs a lefty? Perhaps Hicks could lead off?
Well, Aaron Hicks was pretty bad against lefties last year. He hit .161/.213/.271 (25 wRC+) against them last season, and while his career numbers against southpaws are better (.234/.314/.387, 92 wRC+), he's not someone you want to give more at-bats than anyone else on the team right now. I'm not sure who the Yankees could hit leadoff other than Gardner or Ellsbury. Starlin Castro? He doesn't get on base nearly enough (.308 OBP vs. LHP in 2016). Didi Gregorius? Same problem. I can't see Joe Girardi hitting Judge leadoff. For better or worse, Gardner is the best leadoff option on the team, even against lefties. He gets on base more than anyone.
Michael asks: I have a fallacious comparison for Miguel Andujar…is he not the mirror of Robbie Cano at the same age? The lack of plate discipline and polish, but the raw power and cannon arm. I know that most prospects the caliber of 2005 Cano were failures and he doesn't have that beautiful swing, but let me dream will ya!!
That's not fair to Andujar. When Robinson Cano was Andujar's age, he hit .297/.320/.458 (105 wRC+) with 14 homers in the big leagues. Andujar just got to Double-A and set a career high with 12 homers. Cano's bat-to-ball skills are truly elite, they're the reason the guy is knocking on the door of the Hall of Fame, and while Andujar is really talented, he's not a magician with the bat like Robbie. Let's just let Miguel Andujar be Miguel Andujar. Comparing him to a guy like Cano does nothing but create unrealistic expectations.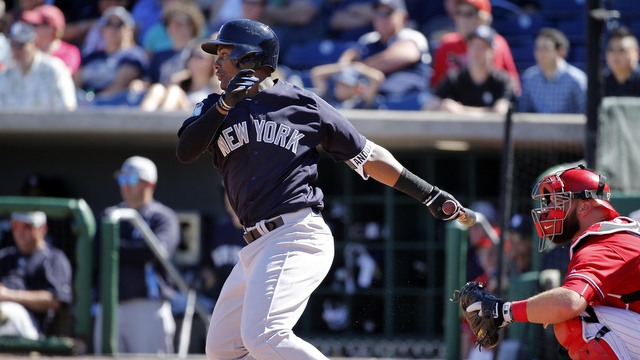 Mike asks: In your opinion who has the higher ceiling – Miguel Andujar or Dermis Garcia? And then what percentage discount is that higher ceiling from Manny Machado's ceiling?
Dermis has the higher ceiling, pretty clearly I think. He legitimately might have the highest offensive ceiling of any player in the farm system. We're talking about a potential 30+ homer bat with high OBPs. Garcia is just so far away from the show that the likelihood of him reaching that ceiling is tiny. Andujar has a chance to be a pretty darn good player himself, and he's much closer to the big leagues.
Machado is one of the what, five best players in the world? He's right there with Trout, Bryant, and Harper. Machado is a legitimate +7 WAR player. Dermis and/or Andujar turning into a +4 WAR player would be an amazing outcome, yet they'd still lag so far behind Machado's production. Similar to what I said with Andujar and Cano earlier, comparing Andujar and Garcia to Machado is unrealistic and unfair. It's not particularly close.
Andrew asks: Any interest in Carlos Gonzalez next winter?  He wouldn't exactly fit with the youth movement/rebuild/transition, but he's a talented player and might not get a massive payday at 32. Would your interest be heavier if, say, Judge looks very poor this year?
I don't think CarGo gets enough credit for being as good as he is because of the Coors Field stigma, though I don't love the idea of pursuing him as a free agent. The Yankees are trying to trade one of their veteran outfielders (Gardner) and likely have to demote the other lower in the lineup with four years left on his contract (Ellsbury). Do they really want to add another big money veteran on top of that group, even if they trade Gardner? Even if Judge has a tough year, the Yankees still have others like Frazier, Dustin Fowler, and Tyler Austin to try in the outfield. Maybe Billy McKinney too. The time to get CarGo was a few years ago, when he was clearly in his prime. Now, with the Yankees in transition, signing him in his early-to-mid-30s probably isn't the smartest move.
Daniel asks: Manny Banuelos' career obviously has not played out the way any of us had hoped. Looking backwards, were there any significant deals that did not happen, in part because the Yankees refused to trade him?
Like every other big name Yankees prospect, Banuelos was mentioned in plenty of trade rumors over the years, mostly because other teams kept asking for him. Here, via Manny's MLB Trade Rumors archive, are the rumors over the years:
Summer 2011: Mentioned constantly in Ubaldo Jimenez trade talks with the Rockies.
December 2011: White Sox wanted Banuelos and Jesus Montero for John Danks or Gavin Floyd.
January 2012: Cubs wanted two of Banuelos, Montero, and Dellin Betances for Matt Garza.
That's pretty much it. The archive jumps from the Garza rumor in 2012 to the actual Banuelos trade in January 2015. Nothing too exciting there, though I was all about trading for Ubaldo back in 2011. I thought he had legitimately turned a corner with his command and was poised to be an ace caliber starter for another few years. Whoops. Shows what I know.