I've got a dozen questions in the mailbag this week. As always, send your questions to RABmailbag (at) gmail (dot) com. We gets lots each week, so don't take it personally if you're doesn't get picked.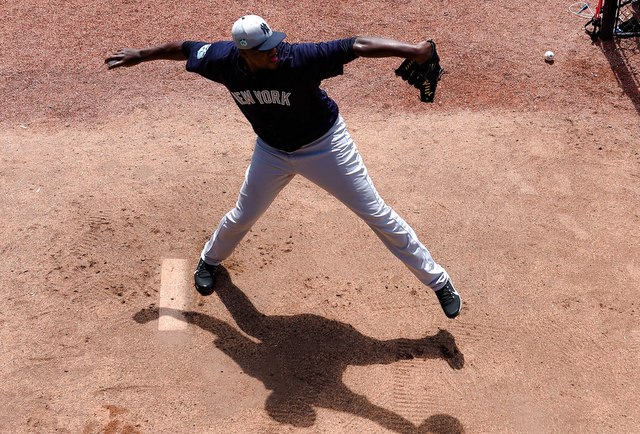 Justin asks: Considering the 2018 free agent market and the Yankee's current situation with starting pitchers after this season, how much does Michael Pineda need to improve before becoming a Qualifying Offer candidate after this season?
I'm not sure there's anything Pineda can realistically do this season to get a qualifying offer. The new Collective Bargaining Agreement completely changed everything. The Yankees will pay luxury tax this season, and because of that, they can only receive a pick after the fourth round (!) for a qualified free agent. The qualifying offer will be worth over $18M this coming winter. That's a lot of money to risk for such a low draft pick.
To become a qualifying offer candidate, Pineda would have to do something similar to his 2011 rookie season with the Mariners, and even that might not be enough. He had a 3.74 ERA (3.42 FIP) with 24.9% strikeouts and 7.9% walks in 171 innings that year. If Pineda does that again, the Yankees would probably think about making him the qualifying offer because getting him back on an expensive one-year contract wouldn't be the worst thing in the world. Still, I don't have high hopes for Pineda putting it all together this season. He is what he is. Hopefully I'm wrong.
Bob asks: So far Pineda has had an impressive spring, which could mean nothing, but it got me thinking. Suppose Pineda, in his contract year, puts together a great first half. Maybe that puts the Yankees in the hunt for a play-off spot. When you get to the trading deadline, do you deal Pineda because you believe some team will over-pay for him? Or do you keep him in order to keep your play-off hopes alive?
This question was sent in before Pineda's tough start last time out. I am generally a "go for it" guy. The entire point of playing the game is to win, and if the Yankees are in the race at midseason — I mean really in the race, not five or six games back and "well if we win 20 of our next 25 we'll have a chance" in the race — they should keep him and go for it. We're all getting to be a little starved for October baseball, no? The postseason would be cool.
The best answer to this question is: let's see what's going in July. Pineda's situation is similar to Ivan Nova's situation last year. The Yankees probably won't make him the qualifying offer, which means it makes sense to move him at the deadline if he's still sputtering along and not living up to the potential that is oh so obvious. And if Pineda is pitching well and the team isn't winning, it would make sense to at least kick the tires on an extension, I think. It never hurts to ask.
Andrew asks: Do you think that Cashman's contract status might result in him choosing a high floor pitcher like Warren rather then a high ceiling pitcher like Severino for the 4th or 5th starter job?
Nah. I don't think Brian Cashman's contract situation will influence any roster decisions. We've seen countless other general managers (in every sport) make big splashy moves in an effort to save their jobs when they're on the hot seat — Jack Zduriencik throwing all that money at Robinson Cano stands out — but Cashman seems very comfortable with his place with the Yankees. Hal Steinbrenner loves him and I think Cashman will be given the opportunity to see this rebuild transition through. I can't see Cashman making decisions designed to scratch out a few extra wins in an effort to secure a new contract after the season.
Yogi asks (short version): With Bird officially being named the everyday 1B, where does that leave Carter? I find it difficult to believe he is willing to be the backup for the full year. Assuming they can't trade him, what's your over/under on Carter being on the roster on May 1?
Definitely over on May 1st. They're not going to cut the guy 24 games into the season, especially with his primary replacement (Tyler Austin) starting the year on the disabled list. I bet Chris Carter ends up getting a heck of a lot more playing time than we expect. I could see him starting three times a week between first base and designated hitter, especially with all those lefties in the AL East. Greg Bird is coming back from shoulder surgery and Matt Holliday is 37. The Yankees will give them regular rest, I'm sure.
Carter has been dreadful this spring — he's hitting .122/.234/.195 with 22 strikeouts in 47 plate appearances — but who cares? It's Spring Training. That just means he's going to come out of the gate and mash in the regular season. That's usually how it works out, right? Garrett Jones managed to stick around until the trade deadline and I'm guessing Carter will get similarly long leash. The Yankees won't cut a dude with this much power a few weeks into the season, nor should they. Not unless you want to see more Rob Refsnyder or Ji-Man Choi.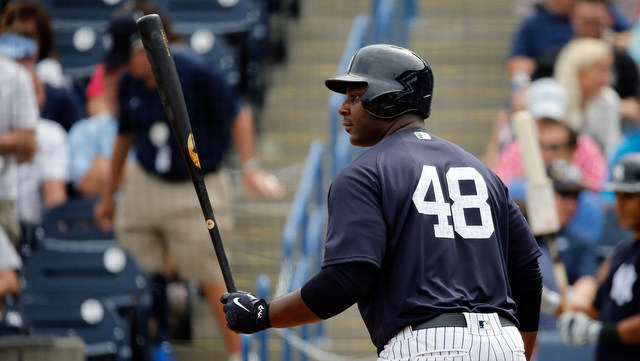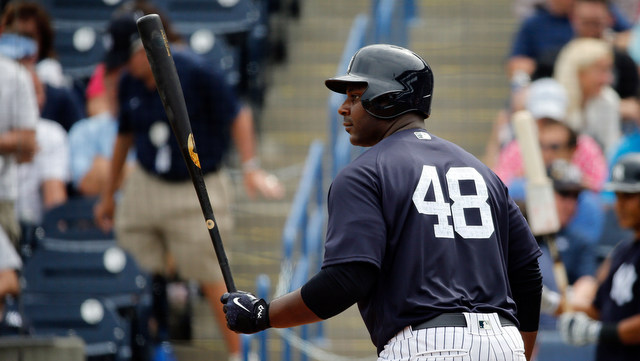 Andrew asks: Presuming they are used only as starters, what do you think the innings limits for Warren, Mitchell and Kaprielian would be this season? My theory is that low innings limits for Warren and Mitchell make it more likely they start in the rotation and then get moved to the pen in June, rather then risk having to waste innings stretching them out.
I don't think Adam Warren will have an innings limit this year. He's going to turn 30 in August. If he does start the season in the rotation, the Yankees will keep an eye on him and look for signs of fatigue, but I don't think they're going to say, "okay, Warren has 140 innings max this year" or anything like that. He's no kid who needs to be babied. Give him an extra day here and there, otherwise let him pitch.
Bryan Mitchell and James Kaprielian are different stories, obviously. Both missed a bunch of time with injuries last season and need to be handled a little more carefully. Mitchell's career high is 145.1 innings back in 2013 and I think the Yankees would push him back to 150 innings again this year. Maybe they'd even push him to 175 innings or so if he's pitching well and looks strong. It's not like Mitchell hurt his arm last year.
Kaprielian's career high is 119 innings between college and pro ball in 2015, and we already know the Yankees are going to handle him carefully. He didn't appear in his first Spring Training game until last week, and the team plans to bring him along slowly once the regular season begins. I wonder if the Yankees targeted 150 innings or so for Kaprielian last year. If so, that might be the target again this year, albeit with a little more caution along the way.
Nathaniel asks: What are you impressions of Tyler Wade so far this Spring Training, and what kind of future does he have? Yankees or trade bait.
This question was sent in before the Didi Gregorius injury thrust Wade into the starting shortstop mix. I'm glad he's opened some eyes this spring and people are seeing just how good he really is. I've been a Wade fan for years now — there have been plenty of "I'm not seeing it/he's ranked too high in the top 30" comments and emails over the years — and have always though he's good enough to be someone's starting shortstop down the road. Didi's injury means it could be with the Yankees this year.
It seems the Yankees have made their intentions clear with Wade: they want to keep him, and they're trying to figure out ways to get him playing time. Hence the whole super utility thing. Gregorius isn't going anywhere for the foreseeable future, so shortstop isn't an option. Same with second base and Starlin Castro, so that's why they've been moving Wade around. He's not a top prospect, so you can't rule out the possibility of a trade, but I think the Yankees intend to keep Wade and figure out where he'll play when the time comes.
Nick asks: I am interested in seeing a "wear and tear" comparison between Tanaka and CC. The knee-jerk reaction following another productive season would be "we must re-sign him" but would the Yankees be risking again paying premium dollars for the back end of a pitcher's career?
Masahiro Tanaka turned 28 in November and the Yankees signed CC Sabathia six months after his 28th birthday. So this coming offseason Tanaka will essentially be six months older than Sabathia was when the Yankees first signed him, back during the 2008-09 offseason. Here are their career workloads through their age 27 seasons:
Sabathia: 1,684.1 innings including postseason.
Tanaka: 1,810 innings including MLB postseason (can find postseason stats for Japan).
That surprised me. I would have thought Sabathia threw more innings than Tanaka through their age 27 seasons, but nope. Tanaka made 28 starts and threw 186.1 innings for the Rakuten Golden Eagles at age 18 (!) and he's been a full-time starter ever since. Geez.
Sabathia had another four high-quality seasons after signing his contract, but every pitcher is different, and that doesn't mean Tanaka will hold up another four years as well. Pitchers get hurt all the time, especially older pitchers with thousands of innings on their arm, and it's fair to say Tanaka is a greater risk than most given his elbow situation. The Yankees know him and his elbow better than anyone. All they can do is make the best decision based on the available information.
Adam asks: Given that Tanaka has his opt-out available after this year and there's a possibility that the Yankees could have three pitchers leave town if he does opt out, would it make sense for the Yankees to offer to move up a couple of million from the back years of his contract in exchange for deferring the opt-out for a year?
It's a nice idea, but there's no way Tanaka and his agent would go for that. Not unless we're talking tens of millions of dollars. He'd be walking away from three years and $67M by using the opt-out, which he should clear easily in free agency. Tanaka will probably be able to add $40M in guaranteed money after the season. Maybe $60M. Asking him to push back the opt-out clause means delaying that huge payday and assuming a ton of risk. It's close to all downside for Tanaka. It would have to be huge amount of money to get him to agree to that. It's not realistic. I wish it was.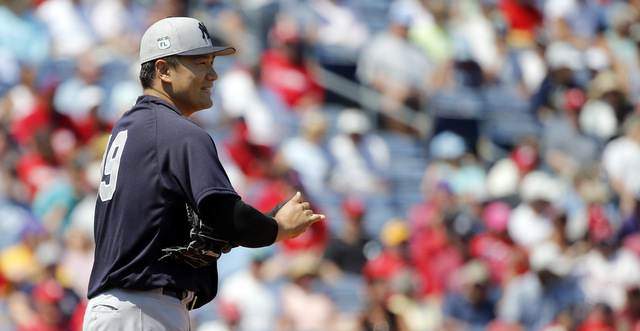 Tom asks: Where would the prospects traded in the Chapman deal to the Reds rank in the farm system today (Rookie Davis etc). Haven't followed to see how they've panned out thus far and based on getting back Torres plus, it was obviously a worthwhile deal anyway. Just curious to see what those guys are up to these days.
The trade looked ridiculously lopsided the day it was made and it looks even more lopsided now, and you don't even need to factor in the Gleyber Torres stuff. Here's an update on the four players the Yankees sent to the Reds for Aroldis Chapman last offseason:
Yeah, not great. Maybe Jagielo figures it out and maybe Renda carves out a niche as a bench player, otherwise the Chapman trade is going to boil down to Davis for the Reds. If he turns into a decent mid-rotation starter, Cincinnati will probably come out ahead in the "add up the WAR" game, but yeah. Pretty much a disaster. They sold Chapman for pennies on the dollar. Pennies.
As for the question, Jagielo and Renda definitely would not have made my top 30 list. Jagielo might not have made a top 50 list at this point. He was always a bat first guy with questionable defense, and if the bat is gone, he's a non-prospect. Davis is a legitimate prospect and I would have had him in the top 30. Somewhere in the 19-22 range seems about right, alongside guys like Chad Green and Tyler Austin.
Ryan asks: Do the Yankees have any 60 Day DL candidates when the time comes they can put players on the DL? This could pave the way for a Wade to SS scenario. Thank you.
Gregorius and Austin. That's it. As best I can tell, the first day teams were able to place players on the 60-day DL was February 14th, and Austin broke his foot on February 17th. Backdating the 60-day DL stint would still allow the Yankees to activate Austin as early as April 18th, so maybe that's how they'll make room on the 40-man roster for whoever needs to be added before Opening Day (Wade, Ernesto Frieri, Ruben Tejada, etc.).
The Gregorius situation is different. Putting him on the 60-day DL would mean the Yankees couldn't activate him until May 19th, and from the sound of things, he could be back much sooner than that. So for now Austin is the only real 60-day DL candidate. (Remember: Teams can only use the 60-day DL when the 40-man roster is full, and someone has to be added to the 40-man right away. You can't put someone on the 60-day DL and sit on the open 40-man spot.)
David asks: Would there be any benefit to the teams in the Grapefruit and Cactus leagues playing one another during spring training? Obviously you want to reduce unneeded travel during the spring, but what about a quick one week swing through a couple teams in the other league to break up the monotony of playing the same teams.
Interesting idea! I think this would be pretty darn cool, though I doubt the clubs would go along with it because it means more travel and all that. Wouldn't it be cool to see the Yankees spend, say, three days going through the Cactus League? I'm sure the fans there would love it. A Yankees fan in Phoenix doesn't get to see their team play all that often. Maybe it doesn't have to be every team that makes the trip. Maybe they could send the Yankees and Red Sox to Arizona for a few days, and the Cubs and Dodgers to Florida for a few days. Seems like it would be pretty neat and exciting, which means it definitely won't happen. So it goes.
Adam asks: What are your predictions for the 2017 season for the following?
We're going to post our annual season predictions at CBS at some point soon. Next week, I think. And I'm always wrong. Last year I picked the Mets to beat the Rangers in the World Series, and Aaron Hicks to be the AL's breakout player. Whoops. Here's what I'm thinking for this season:
World Series: Dodgers over Mariners. Why the hell not?
MVPs: Mike Trout and Bryce Harper. I'm boring, I know, but they're the best players.
Cy Youngs: Contract year Masahiro Tanaka and Noah Syndergaard.
Rookies of the Year: Andrew Benintendi and Dansby Swanson. Too easy.
There doesn't seem to be much mystery to the division races this year, huh? The Red Sox, Indians, Astros, Nationals, Cubs, and Dodgers are all the clear cut favorites in their divisions, I think. The wildcard races are where it'll be at. Then again, nothing ever goes according to plan. Perhaps the Cubs and Indians will be hit with a huge World Series hangover a la the Royals last year.