I've got a dozen questions for you in the mailbag this week. Only thee more mailbags until the regular season begins, you know. As always, send your questions to RABmailbag (at) gmail (dot) com.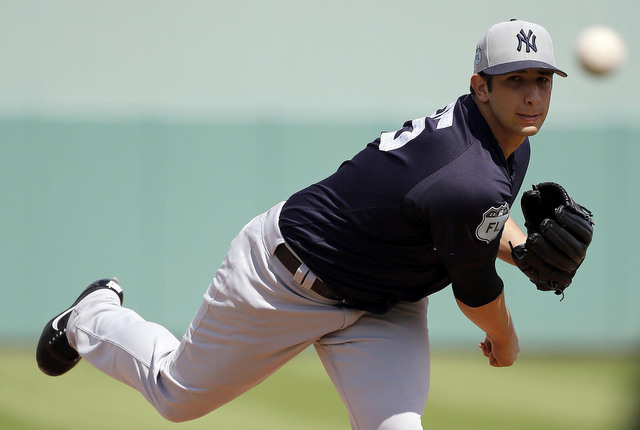 Christian asks: Based on the first two weeks of games, who of the candidates for the 4th and 5th rotation spots have the upper hand?
Joe Girardi said earlier this week it's still pretty even, which was nothing more than a diplomatic answer in early-March. Why say someone is ahead of everyone else with more than three weeks to go in camp? I'm not sure that benefits anyone. Here are the spring stats:
Luis Cessa: 6 IP, 5 H, 3 R, 2 ER, 1 BB, 5 K, 0 HR
Chad Green: 3.2 IP, 4 H, 1 R, 1 ER, 1 BB, 0 K, 0 HR
Bryan Mitchell: 7.1 IP, 6 H, 4 R, 4 ER, 1 BB, 5 K, 1 HR
Luis Severino: 4.1 IP, 4 H, 2 R, 2 ER, 2 BB, 5 K, 1 HR
Yeah, good luck picking a favorite out of that group right now. Based on what we've seen, I think Mitchell has looked the best, but that doesn't mean much of anything. This still seems very wide open to me, so I'm going to stand by my initial prediction: Cessa and Severino in the rotation, Mitchell in the bullpen, and Green in Triple-A to start the season. And by the end of the season, Cessa will emerge as the best long-term rotation option of the four.
Update: I forgot about Adam Warren. His spring line: 8 IP, 5 H, 3 R, 3 ER, 2 BB, 5 K, 3 HR. He's looked exactly like Adam Warren has always looked. As I've said several times over the last several weeks, I'll be very surprised if Warren ends up in the rotation. It seems the Yankees prefer him in the bullpen. Maybe they'll surprise me.
Bob asks: In Spring Training, the pitchers throw bullpen sessions, throw live batting practice, and pitch in simulated games before pitching in spring training games. What exactly is involved in pitching simulated games and why would the team assign a pitcher to simulated games rather than Spring Training games which is a real game situation?
In a simulated game, typically two batters (one righty and one lefty) alternate at-bats against the pitcher with a coach calling balls and strikes, usually from behind a screen behind the mound. There are no fielders or runners or anything like that. The pitcher pitches, and if the ball is put in play, the coach determines whether it was a hit or an out or whatever. It's a way to simulate actual at-bats with counts and game situations (runner on second, etc.).
Simulated games are much more controlled than actual games. If a pitcher gets hit around and loads the bases with no outs in a simulate game, they can shut the inning down so he doesn't throw too many pitches and risk injury, then start with a fresh inning after a resting for 10-15 minutes. Can't do that with a real game. This is especially useful when you're bringing a pitcher along slowly, like James Kaprielian following last year's elbow injury.
Ron asks: Why should the playing time be between Hicks and Judge? As you've said before that Hicks is better with more playing time. He should be challenging for the left field job as both Gardner and Ellsbury are basically the same type of player as both are lead off hitters. Wouldn't it be more to the Yanks benefit to rotate those two in center field and see what Hicks can do with more at bats?
If the choice is between Aaron Judge and Aaron Hicks, give me Judge all day, every day. Now, if it were Hicks or either Brett Gardner or Jacoby Ellsbury, I'd go with Hicks, but we all know that's not going to happen. Right now, it seems the only path Hicks has to regular playing time is a) one of the regular outfielders gets hurt, b) Judge struggles so much he has to go back to Triple-A, or c) Gardner is traded. I'm not really sure what the Yankees can do with Hicks, who isn't all that young anymore (27) and hasn't done nearly enough in his career to warrant more playing time. A switch-hitting outfielder with some power and speed is a nice asset, but where is he supposed to play? How do you justify playing him over Gardner, Ellsbury, or Judge?
Justin asks: Why is Ben Heller not included on any of the prospect lists? He's only pitched 7 MLB innings. His upside is that of a solid major league reliever. Probably more than you can say for some of the other right handers lower down on the prospect list.
Heller nearly made my top 30 prospects list. He's the best relief prospect in the system in my opinion. Heller's fastball is ridiculous and his slider is pretty good too. I expect him to ride the shuttle this year and emerge as a full-time bullpener by the end of next season. Generally speaking though, it's really tough to rank a reliever among the best prospects in a farm system this deep. The Yankees have so many everyday position player and starting pitcher candidates that ranking a reliever requires an awful lot of faith in his ability to carve out an MLB role. I've done this long enough to know bullpen prospects are more unpredictable than any other type of prospect.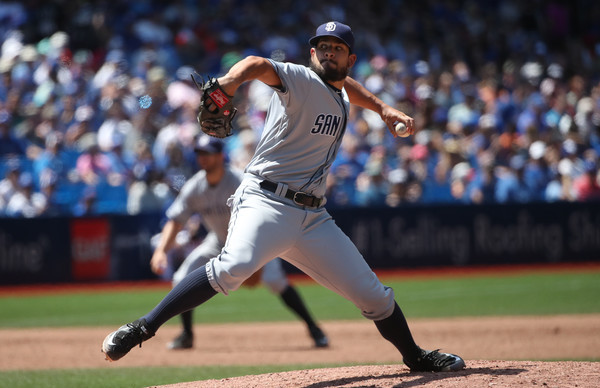 Brandon asks: First time long time hello, would love to hear one player not currently in the Yankees organization that will play at least 30 games for the Yankees this season?
The Yankees weirdly did not have anyone like this last year. Here are the leaders in games played for the 2016 Yankees among players who were not in the organization on Opening Day:
Adam Warren, Tommy Layne, and Tyler Clippard — 29 games each
Blake Parker — 16
Billy Butler — 12
Ben Heller — 10
Ike Davis — 8
Eric Young Jr. — 6
Phil Coke — 3
Billy Butler, man. Remember when people were talking about re-signing that guy? What the heck was that about? Anyway, as for the question, the smart money is on a pitcher because the Yankees have internal position player options at nearly every position thanks to the farm system. Teams always need pitchers though.
A few weeks ago I said I had a hunch the Yankees would trade for Carter Capps this summer, though his delivery has since been made illegal (in theory), so I'm calling an audible. The 30-game minimum rules out a starting pitcher. I'm going to say … Brad Hand. How's that for a weird one? Hand was pretty good last year, throwing 89.1 relief innings with a 2.92 ERA (3.07 FIP) and 30.5% strikeouts for the Padres. San Diego is in full blown tear it down mode and the Yankees are said to be looking for another lefty reliever. (Sorry, Jon Niese.) I guess you could say the pinstriped glove fits the Hand. Dammit. Sorry. I'm so sorry.
Mark asks (short version): Sanchez was supposed to be good but he blew way past anyone's expectations. He was in the 30s to 50s on most prospect boards. He wasn't a top 10 or even top 25 on most if any prospect boards. Gut feeling which Yankee prospect do you think can blow past expectations?
Gary Sanchez was a classic example of prospect fatigue. He was around for so long — the Yankees signed him in July 2009 and it wasn't until August 2016 that he stuck in MLB for good — that people got tired of waiting and were bored of following him as a prospect. Check out where Sanchez ranked on Baseball Prospectus' top 101 prospects list through the years, via Baseball Reference: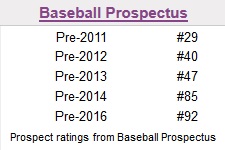 Amazing. That isn't to say we should have expected Sanchez to do what he did last year, that was an unreal pace, but the idea his prospect status was falling had more to do with the folks ranking him than Sanchez himself. He was never not an excellent catching prospect.
As for the question, Justus Sheffield definitely seems like someone who could exceed expectations to me. MLB.com's free scouting report says he "has the upside of a No. 3 starter," and the other major scouting publications have written similar things. I dunno, I see a lefty with three really good pitches and a ton of athleticism. Yes, Sheffield needs to throw more strikes, but his clean delivery and athleticism suggest it should happen in time. I think Sheffield has a chance to be a top 25-30 pitcher in baseball at his peak.
Judge is another one, if only because so many people seem to be down on him following his big league cameo last year. The innate hitting ability is there and he has more than enough power. It's just a matter of recognizing how pitchers are attacking him. The road may be bumpy, but Judge's offensively upside is ridiculously high. Want a lower ranked prospect? Domingo German. He's healthy now and has a mid-90s sinker with a great changeup, and his slider showed more promise than, say, Domingo Acevedo's prior to his Tommy John surgery.
Brent asks: Are we being unfair and undervaluing Castro? He strikes out a ton, low on base, and somewhat shaky defense at a new position. However, he hit 270 with 20 bombs. We've had Brendan Ryan, Drew, and Brian Roberts play second. Give me Castro all day.
Well yeah, give me Starlin Castro over guys like Ryan, Roberts, and Stephen Drew. That's not really who we should be comparing him to though. Twenty-one second basemen qualified for the batting title last year and Castro ranked 17th in wRC (94 wRC+), 17th in bWAR (+1.2), and 19th in fWAR (+1.1). Castro is among the worst everyday second basemen in baseball right now. He has two things going for him. One, his contract. He's owed $30M from 2017-19 and that will continue to buy him opportunities. And two, the idea that he is still young and could, in theory, get better. That said, Castro has nearly 4,400 big league plate appearances under his belt and he's made basically zero adjustments to his approach. He still hacks and hacks and hacks. Starlin isn't good enough to be a key contributor to a winning team and he's not bad enough replace, which is pretty much the worst place to be.
Mike asks: Does McKinney have enough bat/athleticism to play first? I love Bird, but shoulders are tricky. If McKinney isn't an alternative and Bird's shoulder is a long term issue, is there anyone in the system?

I think Billy McKinney could handle first base defensively once he gets some experience under his belt. There's nothing in his physical tools to suggest he can't handle first. Will he hit enough though? The offensive bar at first base is quite high and right now McKinney's bat is a question. I know he has a pretty swing and has had a great Grapefruit League season, and that's encouraging, but I'm going to need to see lots more than a dozen Spring Training at-bats to think he's turned the corner after a tough 2016 season. I say keep McKinney in the outfield for the time being. Let him force the issue with his bat before worrying about changing his position as a way to get him in the lineup.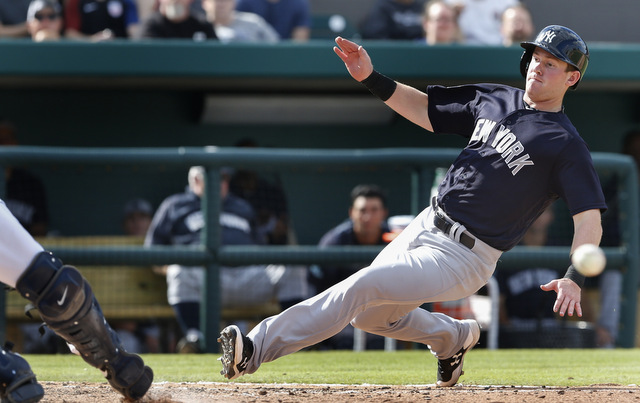 Greg asks: Lets just say McKinney keeps hitting and regains his old prospect shine. Assuming he does, what kind of prospect are we dealing with? on a scale of 1 to 5 (1 being Ben Gamel and 5 being Clint Frazier)
On that scale … a three? Yeah, a three. In this scenario Dustin Fowler would be a four for me. He and McKinney have similar offensive upside but Fowler offers so much more on defense. A two would be someone like Mason Williams or Tyler Austin, I guess. A former top prospect who has been trying to regain their old prospect shine for a period of several years, not one year like McKinney. The thing with McKinney is he doesn't offer a ton of defense, so he's going to have to hit and hit big to be an above-average big leaguer. He has the talent to do that, but there's a reason this guy was the third piece in a trade for a reliever. His stock is down and he has quite a way to go to build it back up. This spring is a nice start.
Jason asks: Is it at all possible for Higashioka to win the backup job this spring? And if not, what's a realistic time we might see him in the majors?
Possible? Yes. Likely? No. I know Kyle Higashioka has smashed some dingers (against minor league pitchers) this spring and that's cool, but I have a hard thinking the Yankees will dump Austin Romine, go with Higashioka as the backup, and leave Wilkin Castillo as the third catcher in Triple-A. We'll see Higashioka in the bigs this year. Don't worry. At worst he'll be a September call-up. Chances are he'll have to come up as an injury replacement for a few weeks before that. Catchers have a way of getting banged up. I'd bet on Higashioka being the primary backup catcher in 2018. Just not on Opening Day 2017.
Mike asks: Going into camp it looked for certain Romine would be the backup and Higashioka would be depth in AAA – I know camp numbers are not to be trusted, but it's hard to ignore Higashioka's bat, especially considering the 68 wRC+ Romine put up last year. Who has more (any) trade value? Romine or Higashioka? Who has more value to the Yankees? Romine or Higashioka?
Higashioka has more trade value because he hasn't had the same opportunity to fail at the MLB level as Romine. That's usually how it works. The prospect always feels more valuable than the big leaguer because you can dream on the prospect whereas the big league has already slapped you in the face with the reality that hey, MLB is hard. Higashioka undeniably has more power than Romine and he might be a better defender. I do think he's the better long-term asset. Remember though, there is no Higashioka in MLB and Romine in Triple-A. That scenario doesn't exist. Romine is out of options, and even if he clears waivers, he's likely to elect free agency to look for a better opportunity elsewhere, like every other fringe player who has cleared waivers.
Anthony asks: I was looking at San Diego's ST stats and noticed Torrens hasn't gotten into any games so far, which made me wonder if you think any of the four we lost in this years Rule V draft are going to be coming back?
Torrens has played a handful of games since this question was sent in. The Yankees lost four players in the Rule 5 Draft over the winter, and here's an update on their spring performance:
RHP Tyler Jones, Diamondbacks: 4 G, 3.1 IP, 3 H, 2 R, 1 ER, 0 BB, 6 K, 0 HR
LHP Caleb Smith, Cubs: 2 G, 3 IP, 6 H, 3 R, 3 ER, 0 BB, 3 K, 3 HR
C Luis Torrens, Padres: 6 G, 0-8, 1 BB, 2 K
LHP Tyler Webb, Pirates: 3 G, 4 IP, 3 H, 0 R, 0 ER, 1 BB, 2 K, 0 HR
I still expect Torrens to come back even though he is second in innings caught among Padres catchers this spring. The track record of Rule 5 Draft catchers sticking is so terrible, and Torrens will be trying to make the jump from Low-A at age 20 after missing all of 2015 and the first half of 2016 to shoulder surgery. San Diego has two veteran backup catcher candidates in camp (Tony Cruz and Hector Santiago, plus two-way player Christian Bethancourt can catch) and all that leads me to believe Torrens is coming back.
There's basically no way Smith sticks with the Cubs, and that was true even before the whole three homers in three innings thing. Chicago has a small army of bullpen candidates in camp, many of them with big league time, and it's not often you see a legitimate World Series contender (favorite?) carry a Rule 5 Draft guy on the roster. Jones has a good chance to stick with the D-Backs because they stink. Based on their depth chart, Webb is on the outside of Pittsburgh's bullpen looking in, though that could change in a hurry.
My guess is Torrens and Smith come back at the end of the camp, Jones sticks with Arizona, and Webb opens the season with the Pirates before bouncing around on waivers a bit, then eventually comes back to New York during the summer.