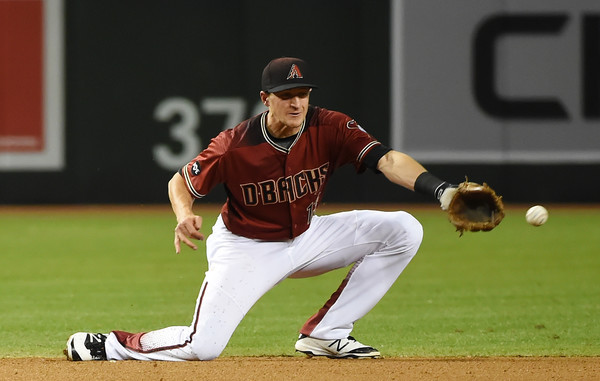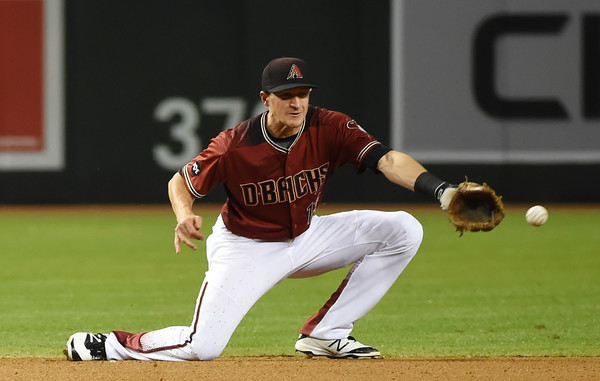 According to Nick Piecoro, the Yankees are believed to have some level of interest in Diamondbacks shortstop Nick Ahmed. Arizona has plenty of middle infielders (Ketel Marte, Chris Owings, Brandon Drury, Daniel Descalso) and they reportedly started gauging interest in Ahmed a few days ago. The Yankees will be without Didi Gregorius for a few weeks, hence their interest.
Ahmed, 27, starred at UConn and was a second round pick by the Braves in 2011. They sent him to the D'Backs in the Justin Upton trade a few years ago. Ahmed has spent the last two seasons as Arizona's most of the time shortstop, hitting .223/.271/.335 (56 wRC+) in 767 plate appearances overall. He had surgery to repair the labrum and an impingement in his right hip last August, but he's fully recovered and playing without restrictions in Spring Training.
As you probably figured given that batting line, Ahmed isn't in the lineup for his bat. It's his glove. He's an excellent defender beloved by both the stats — he is third among all shortstops in DRS (+32) and sixth in UZR (+19.9) the last two seasons despite playing less than full-time — and the eye test. You better be able to pick it when you hit like that. Here's some video:
The Yankees have some decent shortstop options in-house
, though you can understand why they'd keep an out for anyone who might become available. Also, they've shown a willingness to completely punt offense when no great options exist. They did it for entire seasons with Stephen Drew at second base and Chris Stewart behind the plate, remember. Ahmed would be a defensive upgrade over Ronald Torreyes, Ruben Tejada, etc.
As always, it boils down to cost. The Yankees will check in on Ahmed because they should absolutely check in following the Gregorius injury, but that doesn't mean they'll pay big to get him. I wonder if Tyler Jones could be a factor. The D'Backs took Jones from the Yankees in the Rule 5 Draft, so New York could trade his rights to Arizona, thereby removing the Rule 5 shackles. Jones plus a low-to-mid range prospect? My trade proposal sucks.
I would be remiss if I didn't point out Ahmed is still in his pre-arbitration years, so he's making something close to the league minimum, plus he has at least one minor league option remaining. (Possibly two but it's hard to tell for sure.) He won't cost much money and the Yankees could stash him in Triple-A once Gregorius is healthy. Not the worst piece of infield depth when the alternatives are guys like Tejada and Pete Kozma.
Anyway, we'll see whether this leads anywhere. Like I said, the Yankees are smart to check in following the Gregorius injury, and if the price is right, perhaps there's a deal to be made. Maybe not. Maybe the D'Backs value Ahmed highly and are willing to stash him in Triple-A themselves if they don't get an offer they like.
(For what it's worth, Brendan Kuty says Jose Iglesias and Zack Cozart have also been "floated as potential targets." They'd both cost quite a bit more than Ahmed, both in terms of prospects and salary. Cozart is definitely available because the Reds are rebuilding. I have a hard time believing the Tigers would trade their starting shortstop though.)