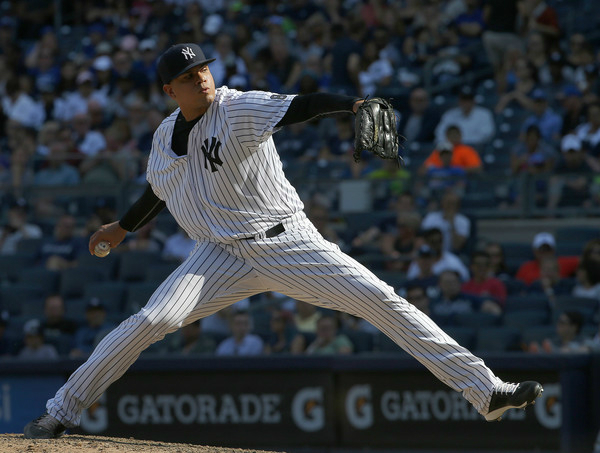 For the last three years, I have essentially marked games as wins in my mind whenever Dellin Betances comes in. Sure, there have been a few blown saves here and there, but for the most part, the Yankees win when Dellin comes into the game whether they lead or are tied.
And it isn't just his pure performance. He's fun to watch, too. That nasty breaking pitch surely haunts the dreams of every hitter in the AL East and sends Yankee fans home happy. That's even before you get to his fastball.
What does Betances — who turns 29 on Thursday — have in store for 2017? Let's take a look.
All-Star stuff with some concern
Betances, when he gets to utilize his stuff to the best of his ability, is unhittable and it's memorizing. He walks a few too many batters (3.5 per 9 career and in 2016) and his hits rose to 6.7 per 9 last year, but his pure stuff is still beautiful.
His fastball averaged 98.42 mph in 2016, which is just silly good. It doesn't hurt that he has an above-average 2509 RPM spin rate. It's surprising considering his September struggles, but his velocity actually jumped higher from August to September. Same for his curveball. When Betances really needs to hit another gear, he can. That 100 mph strikeout of Miguel Cabrera from 2014 is perhaps the best example. Or perhaps the 2016 All-Star Game.
And then there's his curveball. It's genuinely my favorite pitch going these days with all respect to Andrew Miller's slider. It sits in the mid-80s and just falls off the table. Even the best hitters in baseball — like Giancarlo Stanton — have zero idea what to do with it.
As he displayed in the WBC this spring, he's among the best relievers in the game when he's on. The Yankees' AL East rivals know this all too well.
He throws his four-seamer (39.3) and his curve (55.3) about 95 percent of the time, occasionally mixing in a cutter. His curveball remained a behemoth in 2016, holding batters to a .371 OPS (14 wRC+) and accounting for 103 of his 124 strikeouts.
Hitters actually got to his fastball pretty well last year. They batted .350/.447/.563 (184 wRC+) against it, a mark much higher than previous years (124 wRC+ against in 2015 and 95 in 2014). He peaked as a pitcher in 2014 (his -21 wRC+ against for the curveball says more than enough), but the trend with his fastball is a bit concerning. It began in the later months of 2015 and continued throughout 2016. Luckily, he still has a dynamite curveball, yet it's worth monitoring how hitters do against Betances' normally overwhelming velocity in 2017.
One quick aside: If you want to see how dominant Betances can truly be, check out the ISO power against him, especially right-handed batters. On pitches on the inner third of the plate, righties literally had a .000 ISO. All singles and outs. Here's the chart via Baseball Savant.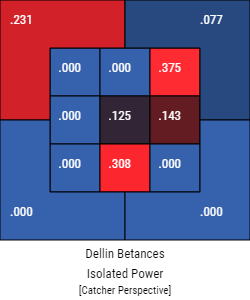 Workload
If there's one chief concern for Betances, it's his workload. In his three full big league seasons, he's pitched in at least 70 games and thrown at least 73 innings. His innings have decreased year-by-year (90 to 84 to 73) and his ERA has increased year over year, including more than doubling from 2015 to 2016 (1.50 to 3.08). There have certainly been times when Betances, cursed in part by his own success, has been overused as the Yankees try to sneak out close victories.
There is no better example than this past September. After Aroldis Chapman and Andrew Miller were dealt at the trade deadline, the closer role fell to Betances, a role which he is more than capable of filling. He may be more valuable as the stopper in the 7th and 8th innings, yet I think there are few people (maybe outside the front office) that believe Betances can handle the 9th. He surely has the stuff.
But the Yankees were in the midst of a playoff chase and they needed to hand him the ball as much as possible with plenty of save chances. Therefore, Joe Girardi used him on three straight days twice within an 11-day span. It started out just fine but ended with two straight losses, one because he couldn't field the ball and the other simply because he was exhausted. That five-run ninth in Boston essentially finished the Yankees and also showed that Betances needed a rest. For the month, hitters were getting to not only his fastball but also hit curveball.
With Chapman's return, Betances is obviously back in the middle innings, but that doesn't mean he's going to get much of a reprieve from important spots. He consistently comes in during the highest leverage situations, sometimes for more than one inning, and now has 217 games in the last three seasons in his recent past. Hopefully, Tyler Clippard, Adam Warren and the rest of the 'pen will be able to handle some big innings because the big man needs a rest.
World Baseball Classic
Wasn't it fun to watch Betances pitch in the WBC? He seemed to really enjoy himself while dominating hitters during the tournament. It was even better than when he takes down a set of National League All-Stars in the Midsummer Classic.
He threw five innings for the Dominican Republic, giving up six baserunners while striking out five batters. Basically normal Dellin. If you add in his two innings with the Yankees earlier in the spring, he's only thrown two more innings than Aroldis Chapman and is just as ready for the season. Perhaps more?
This is just to say that the WBC doesn't seem to have hurt Betances going into April and may even have him more prepared for opening day. Maybe have high-ish leverage innings earlier will benefit him early in the season but help wear him down later in the season. It remains to be seen.
Contract welp and minor flaws
Things really got ugly between Betances and the Yankees front office after his arbitration hearing in February. Randy Levine made some really boneheaded comments about Betances in an unnecessary conference call and created some significant tension between Betances and the club. That shouldn't affect his performance on the field — baseball is a business after all — but it may make Betances think twice before re-signing long-term.
As for the arbitration hearing itself, the Yankees brought up Betances' struggles fielding the ball and holding runners. These are legitimate issues for the big righty. He's allowed extra runs to score because he's been unable to throw the ball to the bases or prevent runners from stealing. Even Gary Sanchez with his laser from behind the plate was unable to throw out runners with Betances' deliberate delivery.
Good news is that Betances is working on his flaws. He made a basic fielding play during the WBC (nothing major) and Sanchez did throw out a runner during one of Dellin's early spring outings. If Betances could improve on those two flaws, it'd make him that much more dominant, both at preventing runners from getting on base and then from scoring.
—
He may not throw 105 mph, but Betances is pretty much everything you want in a reliever. High velocity, killer breaking pitch and general fantastic performance. The guy literally struck out over 15 batters per nine innings last season. However, he may not be quite as good as his out-of-this-world 2014-15 in 2017 and there are reasons to doubt him after a lesser 2016. Still, expect Betances to be an essential part of the Yankees' bullpen in this season.