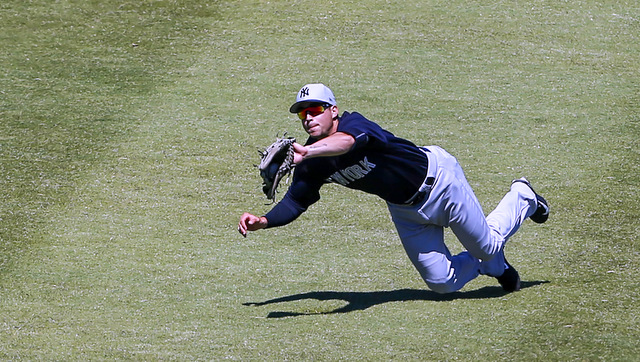 Welp, it appears this afternoon's game will not be televised. It was on the original YES Network broadcast schedule and it's still listed on today's MLB.tv schedule as of this writing, but it's been removed from the updated YES schedule and they're advertising a 2pm ET NYCFC game on Twitter. Womp womp. If the game is on YES or MLB.tv or whatever, use this as a game thread (here's the lineup). Otherwise here are some links to check out.
Yankees making Wade a super utility player
As suspected, the Yankees are indeed trying to turn Tyler Wade into a super utility player. Their Ben Zobrist, basically. Farm system head Gary Denbo told Brendan Kuty they approached Wade with the idea last August, and he was all for it. "Does it get me to the big leagues? … Then sign me up," Wade told Denbo at the time. Here's what Joe Girardi had to say:
"(Wade) gives you a ton of options. He loves it. And that's why I think he's done so well with it. He loves the idea. You think about it, you have your everyday players, but realistically does it hurt to give him a day off a week? No. So if you've got a guy who can play six positions, he could actually play five or six days a week."
Wade told Kuty being a super utility guy is "a good thing for me, a good thing for the team." He got his first taste of the outfield in the Arizona Fall League, and this spring he's already played second, short, third, left, and center. (He played right in the AzFL.) I had a feeling the Yankees were going to try to turn one of their shortstop prospects into a 400-500 plate appearance supersub, and Wade is a good candidate given his athleticism.
Yankees prospects among best tools lists
Over at Baseball America (subs. req'd), J.J. Cooper polled scouts and executives about the best individual tools in the minor leagues. The best tools among legitimate prospects, that is. They didn't worry about the light hitting journeyman outfielder with an 80 arm. Several Yankees prospects appeared on the lists. A quick recap:
Best Athlete: SS Jorge Mateo (fourth)
Best Power Hitter: OF Aaron Judge (fourth)
Fastest Baserunner: SS Jorge Mateo (fourth)
Best Fastball: RHP Domingo Acevedo (eighth)
Best Defensive Infielder: SS Kyle Holder (seventh)
Again, these rankings cover the entire minor leagues, so they're saying Mateo is the fourth best athlete and baserunner among the hundreds of prospects in the minors. Baseball America puts together league specific best tools lists each year as well, and the Yankees will be heavily featured when those are released.
MiLB.com ranks Yankees system second in baseball
These last few weeks every major scouting publication said the Yankees have the second best farm system in baseball, behind the Braves. Baseball America, Baseball Prospectus, Keith Law, and MLB.com all agree. The crew at MiLB.com takes their farm system lists a step further and ranks teams based on different criteria. Here's where the Yankees rank:
The Yankees are heavy on position player prospects at the moment — the top four and seven of the top ten prospects on my top 30 list are position players — but there's no shame in ranking 13th among pitchers. Not when you have guys like RHP James Kaprielian and LHP Justus Sheffield in the system.
Besides, I am totally cool with a position player heavy farm system. Pitchers are very risky. You need them, but they get hurt often and it's hard to build around young arms long-term. Give me a lineup loaded with high-end young position players and I'll figure out the pitching as we go. Offense is becoming harder find these days because of all the velocity and shifts and whatnot. Focusing on a great offense is the way to go in my books.