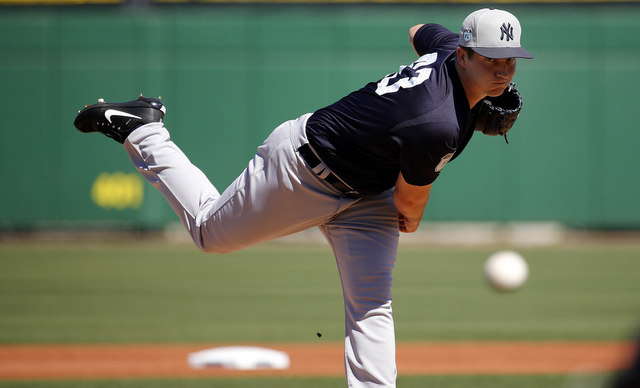 The Yankees have six exhibition games remaining, and if they're leaning toward certain players for the fourth and fifth rotation spots, they haven't said as much. They might be leaving some clues though. Luis Cessa has already been sent to minor league camp, so he's out of the running. Duh. Also, in recent days Chad Green and Luis Severino came out of the bullpen. Bryan Mitchell and today's starter, Adam Warren, are still starting. Hmmm.
Of course, both Mitchell and Warren came out of the bullpen earlier this spring, but Opening Day is one week from tomorrow. Would they be making full fledged five or six-inning starts this late in camp while the other guys are throwing three innings in relief if they weren't the leading candidates for the rotation? What about Jordan Montgomery? Intrigue! I haven't seen the Blue Jays' lineup anywhere, so we're in for a surprise. Here are the players the Yankees will use today:
LF Brett Gardner
CF Jacoby Ellsbury
DH Matt Holliday
1B Greg Bird
2B Starlin Castro
3B Chase Headley
RF Aaron Hicks
SS Tyler Wade
C Austin Romine
RHP Adam Warren
Available Pitchers: LHP Aroldis Chapman, LHP Tommy Layne, LHP Jon Niese, RHP Jonathan Holder, and RHP Matt Marsh are all expected to pitch today. (Shane Hennigan says Chapman is pitching in a minor league game instead.) LHP Chasen Shreve, RHP J.R. Graham, and RHP Ernesto Frieri are the extra arms.
Available Position Players: C Wilkin Castillo, 1B Mike Ford, 2B Donovan Solano, SS Ruben Tejada, 3B Ronald Torreyes, LF Rob Refsnyder, CF Mason Williams, and RF Zack Zehner will be the second string off the bench. C Kyle Higashioka, C Radley Haddad, IF Pete Kozma, and OF Aaron Judge are the extra players. Ford, Williams, Zehner, and Haddad are up from minor league camp for the day.
It's a bit cloudy in Tampa this afternoon, though it's warm and there's no rain in the forecast, so that's good. This afternoon's game will begin at 1:05pm ET. You can watch on YES and the FOX Sports Go app locally, and MLB.tv nationally. Enjoy the game.