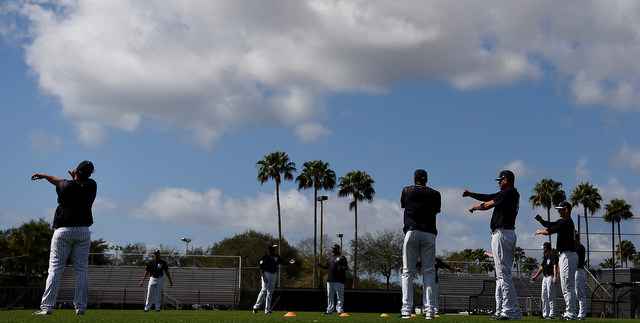 For the first time this spring, the Yankees are on the east coast of Florida. They made the long trek across the state to West Palm Beach for this afternoon's game against the Astros. And because they have to play the Nationals at West Palm Beach tomorrow — the Astros and Nationals share the Ballpark at the Palm Beaches, which just opened this year — they're going to stay in town tonight rather than go all the way back to Tampa.
Anyway, this afternoon both Adam Warren and Luis Severino will make their latest Grapefruit League appearances as they hope to secure Opening Day rotation spots. I still think Warren will end up in the bullpen, but we'll see. Also, Ben Heller has quietly had a nice spring and he'll pitch today as well. Even if he doesn't make the Opening Day roster, I'm certain we'll see Heller at some point this summer. Here is the Astros' lineup and here are the players the Yankees sent across the state:
LF Brett Gardner
CF Aaron Hicks
1B Greg Bird
DH Matt Holliday
3B Chase Headley
RF Aaron Judge
2B Ronald Torreyes
C Kyle Higashioka
SS Tyler Wade
RHP Adam Warren
Available Pitchers: RHP Luis Severino, RHP Ben Heller, and RHP Gio Gallegos are all expected to pitch after Warren. RHP J.R. Graham, LHP Jason Gurka, RHP Jonathon Holder, RHP Travis Hissong, RHP Matt Marsh, RHP Cale Coshow, RHP Andrew Schwaab, and LHP Nestor Cortes are the extra arms. Hissong, Marsh, Coshow, Schwaab, and Cortes are all up from minor league camp for the two-day road trip.
Available Position Players: C Wilkin Castillo, 1B Ji-Man Choi, 2B Gleyber Torres, SS Pete Kozma, 3B Donovan Solano, LF Clint Frazier, CF Dustin Fowler, and RF Billy McKinney will be the second string off the bench. C Austin Romine, C Radley Haddad, IF Thairo Estrada, IF Ruben Tejada, and UTIL Rob Refsnyder are the extra players. Haddad and Estrada are up from minor league camp.
It is nice and sunny in West Palm Beach today. Good baseball weather. This afternoon's game will begin a little after 1pm ET, and if you're in the Houston market, you can watch on ROOT Sports. If not, MLB.tv is your only option. MLB Network is not showing the game live. Enjoy the game.