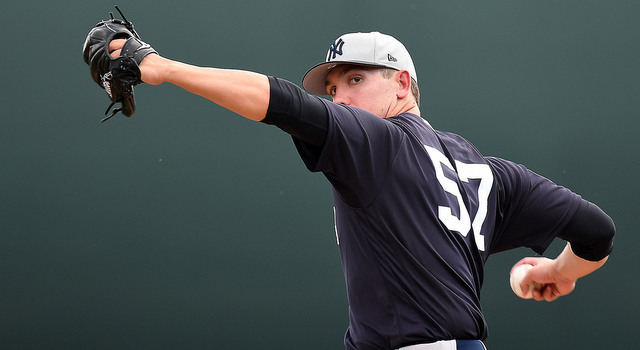 The Yankees return to television today, thankfully, and rotation candidate Chad Green will be making his second Grapefruit League start. It's his second start and third appearance. As I mentioned in today's mailbag, there doesn't seem to be a standout among the rotation candidates thus far, but there are still three weeks to go before Opening Day. Green could start to separate himself this afternoon.
What else should you watch today? Well, Chance Adams and Justus Sheffield, for one. Or two, I guess. They're both scheduled to come out of the bullpen. There's a pretty good chance both guys will be making their final Grapefruit League appearance today before being sent out to minor league camp. We've reached that time of the spring. Here is the Phillies' lineup and here are the players the Yankees sent across the causeway to Clearwater:
CF Aaron Hicks
C Gary Sanchez
1B Greg Bird
DH Matt Holliday
3B Chase Headley
2B Starlin Castro
RF Aaron Judge
LF Clint Frazier
SS Tyler Wade
RHP Chad Green
Available Pitchers: RHP Chance Adams, LHP Jon Niese, LHP Justus Sheffield, and RHP Jonathan Holder are all scheduled to pitch after Green. LHP Jordan Montgomery, RHP Matt Marsh, and RHP Kyle Haynes are the extra arms. You know what? It might be RHP Mark Montgomery, not Jordan. The lineup card only lists "Montgomery." Jordan last pitched Monday and he's been on a strict every five days schedule this spring. Seems weird to send an extra pitcher who presumably can't pitch. Marsh and Haynes are up from minor league camp for the road trip. Mark Montgomery might be as well. Whatever.
Available Position Players: C Kyle Higashioka, 1B Ji-Man Choi, 2B Jorge Mateo, SS Gleyber Torres, 3B Ruben Tejada, LF Rashad Crawford, CF Dustin Fowler, RF Rob Refsnyder, and DH Miguel Andujar will be the second string off the bench. C Jorge Saez, IF Pete Kozma, and UTIL Wilkin Castillo drew the short straws and had to make the road trip even though they aren't scheduled to play.
The internet tells me the weather in Clearwater is typical Florida weather. A little cloudy but warm. Good baseball weather. This afternoon's game will begin a little after 1pm ET. If you live in the Phillies home market, you can watch the game on CSN Philly TCN. The game will also be shown on MLB Network, even in the New York market. There's also MLB.tv. Enjoy the game.