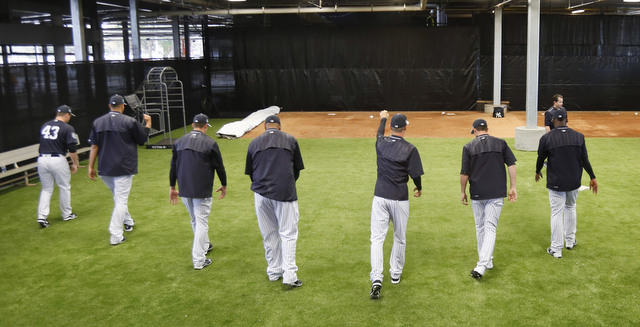 The Yankees will again play a Spring Training game under the lights tonight, and this time the Red Sox will be in town. Get ready to renew the Grapefruit League rivalry, y'all. The Red Sox brought Chris Sale to Tampa too. Spoiler alert: he's good. The Yankees have been a wrecking crew all spring though. It would be kinda cool if they lit up Boston's shiny new rotation toy.
Anyway, on to more important matters. Rotation candidates Bryan Mitchell and Luis Cessa will pitch tonight, and gosh, it sure would be cool if someone stepped up and grabbed one of those spots. Joe Girardi insists there are no favorites in that race right now, and while I buy that in general, I do think Luis Severino is one of their preferred options. Here is the Red Sox's lineup and here are the players the Yankees will use:
CF Jacoby Ellsbury
C Gary Sanchez
2B Starlin Castro
DH Matt Holliday
1B Chris Carter
LF Aaron Hicks
RF Aaron Judge
SS Ronald Torreyes
3B Ruben Tejada
RHP Bryan Mitchell
Available Pitchers: LHP Aroldis Chapman, RHP Luis Cessa, LHP Jon Niese, and LHP Tommy Layne are all scheduled to pitch tonight. RHP Matt Marsh, RHP Dillon McNamara, RHP Ernesto Frieri, RHP Eric Ruth, RHP Mark Montgomery, and RHP Anyelo Gomez are the extra arms. Frieri is in big league camp. The rest of the extra guys are up from minor league camp for the night.
Available Position Players: C Austin Romine, 1B Wilkin Castillo, 2B Pete Kozma, SS Gleyber Torres, 3B Thairo Estrada, LF Ji-Man Choi, CF Dustin Fowler, RF Clint Frazier, and DH Donovan Solano will come off the bench. C Kyle Higashioka, C Radley Haddad, OF Billy McKinney, and UTIL Tyler Wade are the extra players. Thairo and Haddad came over from minor league camp.
It is cool and clear in Tampa tonight. Nice night for a ballgame. There is no YES Network broadcast tonight. If you're in the Red Sox's home market, you can watch on NESN+. If not, MLB.tv is your only option. There is no MLB Network simulcast. Tonight's game will start at 6:35pm ET. Enjoy the game.