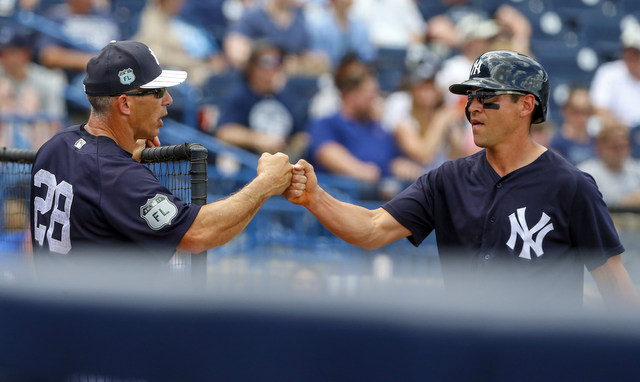 One week from right now, the Yankees will be either 1-0 or 0-1 one game into the 2017 regular season. Opening Day is only five days away. Can't wait. Here are some random thoughts as Spring Training draws closer to an end.
1. At one point earlier this month three consecutive runners were thrown out trying to steal second base with Dellin Betances on the mound. The first was thrown out when he was still in Yankees camp, the other two were thrown out while he was away at the World Baseball Classic. That's notable because, as I'm sure you know, runners were a perfect 21-for-21 stealing bases against Betances last season, including 6-for-6 with Gary Sanchez's rocket arm behind the plate. And yet three straight were thrown out a few weeks ago. Huh. Betances worked on his fielding over the winter — he's also fielded several weak tappers back to the mound with no issue this spring — as well as his pickoff move and ability to hold runners, and perhaps that work led to the three straight caught stealings this spring. I don't think anyone is expecting Betances to develop a Nathan Eovaldi caliber pickoff move, but he clearly has to be better, and he worked at it over the winter. Perhaps those three runners who were thrown out are an indication Dellin is doing a better job slowing guys down and making sure their lead and/or jump isn't quite as great as they have been in the past. Or perhaps it's just an anomaly and it doesn't mean anything. That'd be lame.
2. Two years ago Keith Law (subs. req'd) ranked Greg Bird as the 81st best prospect in baseball, and in his scouting report, he noted Bird was "rarely putting the ball on the ground because he squares it up so frequently" during his minor league career. I wrote it about more in-depth that August. We didn't get to see Bird last year because of his shoulder surgery, but he's back now, and he's torn the cover off the ball this spring. MLB.com has very basic batted ball data available for Spring Training games, and because I am a crazy person, I went through the game logs. Here are Bird's batted ball rates for the 37 balls he's put in play this spring:
Ground Balls: 8 (21.6% of all balls in play)
Fly Balls: 14 (37.8%)
Line Drives: 12 (32.4%)
Infield Pop-Ups: 3 (8.1%)
The limited sample size is an issue, so let's not read too much into this, but once again Bird has an extremely low ground ball rate. He had a 26.7% ground ball rate during his 2015 cameo, which is tiny. The MLB average was a 44.7% ground ball rate last season. We don't have any exit velocity or contact quality data for Spring Training games, but the batted ball data tells us Bird is still getting the ball in the air at an astronomical rate. Hitting the ball hard in the air is a wonderful recipe for doing serious damage, especially as a left-handed hitter in Yankee Stadium. We saw Bird do that back in 2015, and so far this spring, he's getting the ball airborne again. It sure seems like he's consistently hitting the ball hard too based on the eye test too. I am: overly excited.
3. I get the feeling Jordan Montgomery will be pitching for an Opening Day rotation spot tomorrow afternoon. He threw very well in his first Grapefruit League start last week, and in the outing prior to that he tossed four perfect innings to close out the no-hitter. (A Spring Training no-hitter! That still cracks me up.) We've been waiting for someone to separate themselves in this pitching staff competition and Montgomery has surprisingly done it, not Luis Severino or Luis Cessa or whoever. It would be awfully hard for the Yankees to keep Montgomery off the Opening Day roster with another strong outing tomorrow. This isn't like skipping Tyler Wade over Triple-A to fill in for Didi Gregorius. Montgomery is a polished pitching prospect who has succeeded everywhere and has both the command and repertoire necessary to start. I don't think he'll be an ace or anything, but I think he'll be a reliable back-end arm, and the Yankees could really use one of those right now. There's not much work left to be done with Montgomery. If the Yankees deem him ready, he should be on the roster, not wasting bullets in Triple-A. Tomorrow's start could very well determine one of those still open Opening Day roster spots.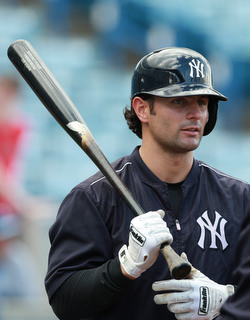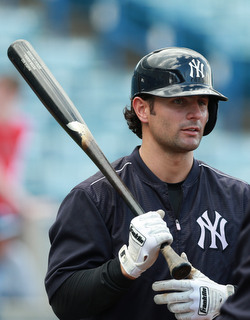 4. As for shortstop, my guess is the Yankees will go with Pete Kozma over Wade or Rob Refsnyder for that last bench spot. Ronald Torreyes has played more short than anyone since the Gregorius injury, which gives you an idea which way the team is leaning. Kozma can play shortstop and Refsnyder can not, and I don't think the Yankees want to lean on Starlin Castro as the backup at short. Castro still hasn't played short this spring. He's taken some ground balls during defensive drills and that's it. The Yankees don't seem all that eager to put him back on the other side of second base, which leads me to believe Kozma is ahead of Refsnyder on the depth chart. Wade, on the other hand, is a just turned 22-year-old prospect with a development plan I don't think the Yankees want to alter, especially not with Gregorius due to back reasonably soon. There's also the 40-man roster situation on top of that. Kozma, for lack of a better term, is easily disposable. When Gregorius is healthy the Yankees can designate Kozma for assignment and not think twice about it. Wade would be on the 40-man for good. And maybe that's not a good enough reason to go with Kozma over Wade, but that's what I think will happen. Teams sign dudes like Kozma for exactly this reason, to make sure they don't have to rush prospects when the regular has to miss a few weeks.
5. The Yankees can open one 40-man roster spot by placing Tyler Austin on the 60-day disabled list. He got hurt so early in camp that backdating the disabled list stint would still allow him to be eligible to be activated in mid-April. Opening a second 40-man roster spot would take a little more work, and I wonder if the Yankees will swing one of those last minute Spring Training trades rather than expose someone to waivers. The Giants just lost ace lefty reliever Will Smith to Tommy John surgery, so maybe they'd be interested in Chase Shreve. The Rays and Braves could both use another utility guy, making them potential landing spots for Refsnyder. (George King says Tampa indeed has interest in Refsnyder.) Point is, if the Yankees do take Montgomery and Kozma north at the end of Spring Training (or even Wade instead of Kozma), they're going to have to open another 40-man spot, and I think that'll happen via trade, not waivers.
6. Weird complaint: I'm bummed we didn't get to see Domingo German or Yefrey Ramirez pitch this spring. They did pitch in Grapefruit League games before being sent to minor league camp — they each made two appearances and threw three innings — but their outings were not televised. The top prospects are cool and everyone focused on them for obvious reasons, though the secondary guys intrigue me too. German pitched in the 2014 Futures Game (video) and came over from the Marlins in the Eovaldi-Martin Prado trade, then he blew out his elbow in Spring Training 2015 and kinda became a forgotten prospect. I was hoping to see what he looks like these days because the post-Tommy John surgery reports have been pretty excellent. Yefrey was a minor league Rule 5 Draft pick who pitched well enough last season that the Yankees added him to the 40-man roster. I woulda liked to have seen what he was all about, you know? Alas. The Yankees have had a phenomenal Spring Training and just about every prospect in camp was been outstanding, and here I am complaining about not getting to see two secondary pitching prospects. Go figure.