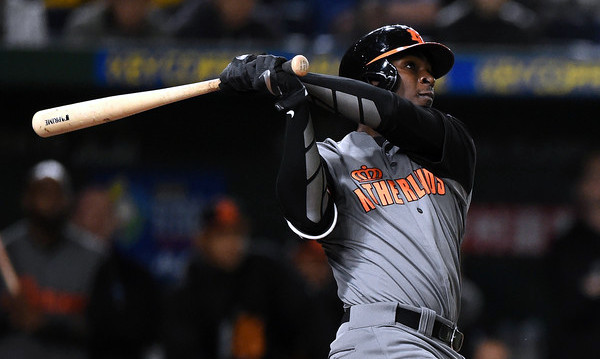 The Yankees were dealt some tough news these last two days, as starting shortstop Didi Gregorius suffered a shoulder strain while away at the World Baseball Classic. He's going to be shut down from baseball activities for two weeks, and it's possible he'll miss all of April. Sucks. The Yankees suddenly have an opening at shortstop. I have some thoughts on the injury and the shortstop situation.
1. All things considered, I'm actually pretty relieved Gregorius will be shut down only two weeks. (He'll then need some time to get back into game shape, and you know the Yankees will be cautious with him.) I was worried this injury would be something much more serious and keep Gregorius out for months, not weeks. A strain is by definition a tear, though obviously this isn't something so severe he needs surgery. Worst case scenario was Gregorius having a big enough tear in his rotator cuff that he'd have to go under the knife. Thankfully that's not the case. A little rest and rehab is expected to knock this out. Huge relief. Huge. Losing Gregorius really sucks because he's a good player and fun to watch, but at least it isn't worse. This is the best of a bad situation, I'd say.
2. Without Gregorius, the Yankees are going to be really short on left-handed power to start the season. It's basically Greg Bird. That's it. Perhaps Brett Gardner and/or Jacoby Ellsbury will turn back the clock to their double digit home run days, but I'm not counting on it. The Yankees have some righty bats who can take advantage of the short porch, so maybe the lack of lefty pop won't matter. It will almost certainly create some lineup imbalance though. The only left-handed hitting replacement shortstop candidate is Tyler Wade. Everyone else is a righty. The Yankees are now looking at the possibility of a lineup with three lefties (Bird, Ellsbury, Gardner), one switch-hitter (Chase Headley), and five righties (Gary Sanchez, Starlin Castro, Aaron Judge, Matt Holliday, replacement shortstop). I'd feel a little better about that if Ellsbury, Gardner, and Headley were better hitters than they are at this point of their careers. Alas.
3. Brian Cashman told Brendan Kuty yesterday Wade is now indeed in the mix for the shortstop job, and while playing him everyday would be fun as hell, I don't think it's the right move. The Gregorius injury shouldn't change a prospect's development plan, whether it's Wade or Gleyber Torres or whoever. Wade is not magically more MLB ready today than he was three days ago because Didi got hurt. The Yankees and every other team sign dudes like Ruben Tejada and Pete Kozma each offseason specifically so they won't have to rush prospects whenever someone gets hurt. The Yankees know Wade better than I ever will and if they deem him ready to be the starting big league shortstop, even for only a month while Gregorius is out, then they'll go with him. And hopefully it'll work. From where I sit, jumping him over Triple-A completely seems like maybe not the best idea, even if it would be the most fun idea (aside from Torres).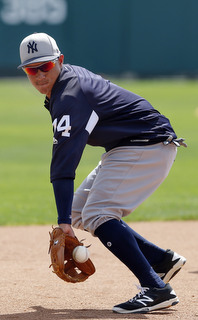 4. The Yankees now have ten days or so to figure out the shortstop situation before Opening Day. The easiest solution is sticking Ronald Torreyes at shortstop, relying on Castro as the backup, and carrying Rob Refsnyder on the bench as the backup second baseman. That wouldn't require any kind of 40-man roster move and I'd argue those are three most prepared, ready to help players. The Yankees could do that for a bit, see how it works, then change plans if necessary. My gut feeling is it will not be one guy who fills in at short while Gregorius is sidelined. They'll probably cycle through a few players, a la Cody Ransom and Angel Berroa at third base while Alex Rodriguez was injured early in 2009. And Rakin' Ramiro Pena too. Forgot about him. When the Yankees have gone young the last few years, such as calling up Bird and Luis Severino in 2015, and Sanchez and Judge in 2016, it was done as part of a plan. They weren't called up in response to someone getting hurt. That's why I think it'll be some combination of Torreyes, Tejada, Kozma, and Donovan Solano that handles short. That why you sign those guys in the first place.
5. I have a hard time blaming Didi's injury on the WBC. Players make thousands and thousands of throws from the start of Spring Training through the end of the season, and this injury could have happened on any one of them. What was so different about this one? The injury happened during an exhibition game. How is the intensity any different than a Grapefruit League game? Joe Girardi said Gregorius hurt himself making a throw from second base on a double play, a throw he's made countless times before and will make countless times again. Same deal with Mark Teixeira's wrist in 2013. What was so different about the swings he took in batting practice with Team USA and the thousands he would have taken with the Yankees? I am in no way convinced Didi's injury is a result of the WBC. It just so happened Gregorius was away when it happened. Heck, the Yankees are probably a little happy about that since the WBC will pay his salary while he's on the disabled list (I think). I know it's cool to hate the WBC and we need to be outraged and assign blame all the time, but sometimes injuries just happen. That's baseball. An infielder hurting his shoulder making a throw is not something caused by the WBC.