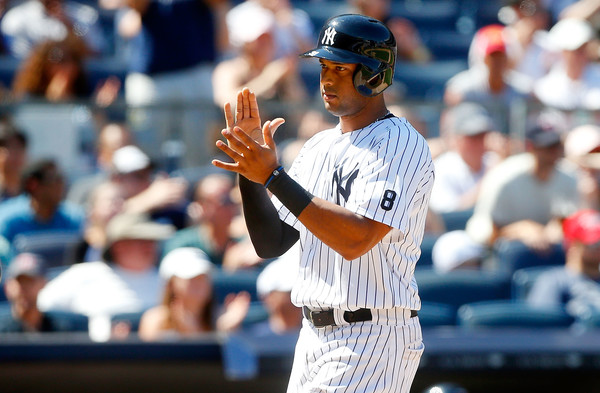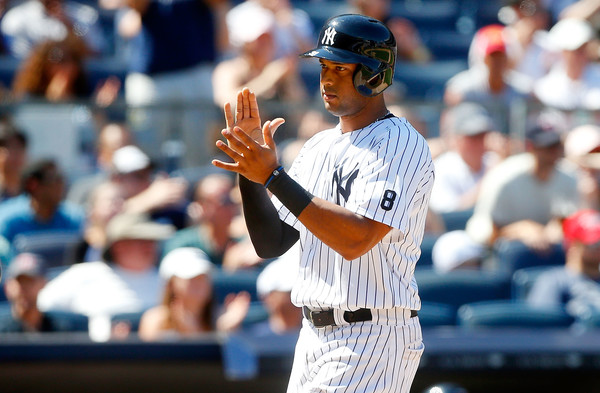 For the first time in what feels like forever, MLB is on the verge of having a true two-way player.
That's right, the same person as a pitcher and position player on a semi-regular basis. Christian Bethancourt, to this point almost exclusively a catcher for the Padres, is in spring training splitting his time between catcher and pitcher and is set to pitch Wednesday. He did pitch twice last season and threw 96 mph, so his stuff is there, and he began to fulfill more of a utility role last season, a hint towards his versatility/athleticism.
One of my favorite things to see is when position players pitch or pitchers rake. Remember Brendan Ryan tossing two shutout innings in 2015? It made attending a 15-1 loss a ton of fun.
Anyway, with Bethancourt and Japanese two-way superstar Shohei Otani in the news, I thought we could take a gander at which current Yankees would make the best potential two-way player, even if there is approximately a zero percent chance any of them actually become one. First up, the outfielder with the rocket arm.
Aaron Hicks
Hicks is the obvious choice here because he has a freaking cannon. It isn't always on the money and it doesn't always get a baserunner out, but it surely makes any runner think twice about taking the extra base. His 105.5 mph throw last April is the fastest recorded throw in the Statcast era and even tops the fastest pitch of Aroldis Chapman. Granted, it's different heaving the ball with a running start on a lazy fly ball vs. what a pitcher does, but it's a perfect display of what Hicks is capable.
Hicks also still has my favorite outfield assist ever, even though it came when he was with the Twins against the Yankees. Indulge me and re-watch this masterpiece that really shows off how strong Hicks' arm really is.
With all that in mind, it should come as little surprise that Hicks was also a pitcher when he was drafted 1st round, 14th overall, out of high school. Baseball America mentions it in their blurb about Hicks in multiple prospect handbooks back in his Twins days, including right off the bat when he was Minnesota's No. 4 prospect in 2012. Here's what they said about him in 2011, when he was the Twins' No. 2 prospect.
"Some teams liked him more as a pitcher coming out of high school, thanks to his athleticism and a fastball that reached 97 mph at times, and he retains excellent arm strength, his best present tool."
It's still his best tool and Hicks still has that top-notch velocity. Hicks threw a near no-hitter in high school and after the game mentioned his curveball as one of his top pitches. At the 2007 Perfect Game Showcase, Hicks hit and pitched. You can catch a glimpse of his pitching at 2:38, 6:13 and 11:30 of the showcase video, in which Hicks says he had been told he had "starter stuff" but indicated he wanted to be a position player. In a world where the Yankees now asked him to be a pitcher in addition to his hitting, they'd have to build back up his off-speed offerings.
CC Sabathia
Of the players I'll list, this is more a dream than anything. CC Sabathia isn't going to start playing a position in 2017. At most, he'll get an extra chance or two to swing away compared to other Yankees' pitchers in interleague play.
But back in the day, CC was a capable hitter. From 2002 to 2008, he hit .261 (22-for-84), having his 'breakout' offensive season in 2008 when he switched leagues for the second half of the season and carried the Brewers to the playoffs. That year, he hit two mammoth home runs, one with the Indians and one with the Brewers, including this moon shot at Dodger Stadium.
Sabathia didn't ever have the speed and athleticism to man anything other than maybe first base and a corner outfield spot. If you put him in a corner, you know he'd have a good arm, even if he lacked range. As a Yankee, he has only two hits, none for extra bases, in 27 at-bats while laying down just one sacrifice hit.
Didi Gregorius
Gregorius would make a much more realistic two-way player than Sabathia, although his role as the everyday shortstop makes it a true impossibility. His arm is the entire argument. Watching him throughout the season, he fires some lasers to first base and has some solid accuracy as well. No word on how hard he throws off a mound or even if he ever has. Baseball America rated his arm as a 65 on the 20-80 scouting scale when he was a prospect in the Reds system.
While Didi doesn't have a history of pitching like Hicks, there is evidence of possible aspirations. The YES Network posted a video of Gregorius pitching on flat ground to a teammate in warmups before a game last season.
The Yankees wouldn't risk injury to Gregorius, but I have a feeling he'd go out to the mound with the same infectious zeal that Ryan had when he got his opportunity in a game.
Quick Hits
Aaron Judge on the mound would be a spectacle to behold. He is perhaps the most unlikely person to be a two-way player because working out mechanics for a 6-foot-7 pitcher is tough enough as it is but especially from scratch. He's another guy with a strong arm in the outfield, but yeah, this one's a pipe dream.
Gary Sanchez, like Sabathia, doesn't quite have the athleticism to pull off the two-way life, but he's got the arm. While Hicks had the fastest recorded throw on Statcast, Sanchez had the quickest for a catcher throwing out a base stealer. We'll see plenty more attempted base stealers thrown out as long as he's the Yankees' backstop.
In the minor leagues, Cito Culver seems like an obvious choice. Like Didi, he's a middle infielder with a strong arm, but Culver actually had experience on the mound in high school. BA said he hit 94 mph. They said the same thing for Jake Cave, who had 17 outfield assists last season across three outfield positions.