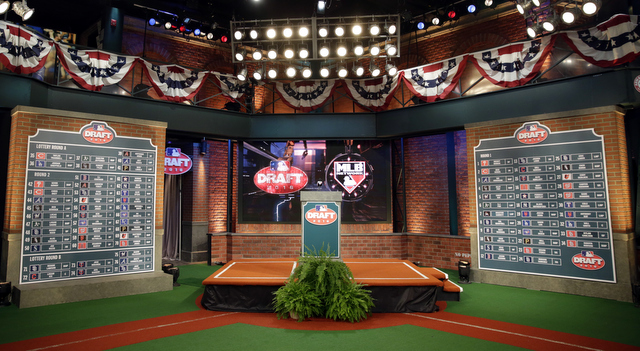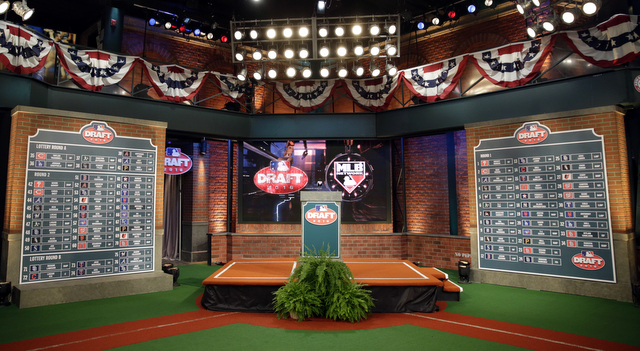 Baseball's annual three-day amateur draft will begin seven weeks from today. The 2017 draft runs from June 12th to 14th this season and it's safe to assume MLB Network will again broadcast the first day. Based on previous years, the broadcast will cover 75 picks on Day One, stretching from the First Round to Competitive Balance Round B. Here is the full 2017 draft order.
The Yankees will make two selections on Day One — their first (16th overall) and second (54th overall) round picks — and for the third straight year, they will pick in the top 20. They held the 18th pick last year (OF Blake Rutherford) and the 16th pick (RHP James Kaprielian) the year before. Only once in the previous 19 years did the Yankees have a top 20 pick. They used the 17th pick to take SS C.J. Henry in 2005. He was later traded for Bobby Abreu.
At some point soon, perhaps later this week, I'll begin profiling draft prospects and potential draft targets for the Yankees. I never did profile Rutherford last summer because I didn't think he'd fall all the way to 18th. It would be cool if something similar happened this year. Here's the draft profile I wrote about OF Aaron Judge back in 2013. The profiles will look similar again this year. Here are a few draft notes seven weeks out from the main event.
Yankees will have a $6.91M bonus pool
A few weeks back it was reported the Yankees will have a $6.583M bonus pool, but it turns out that's low. They'll actually have a $6,912,800 pool this year, according to Jim Callis. More important than the overall bonus pool are the individual slots. Here are New York's slot values for the 2017 draft:
First Round (16th overall): $3,458,600
Second Round (54th): $1,236,000
Third Round (92nd): $588,700
Fourth Round (122nd): $433, 100
Fifth Round (152nd): $323,400
Sixth Round (182nd): $247, 600
Seventh Round (212nd): $193,700
Eighth Round (242nd): $157,200
Ninth Round (272nd): $141,200
Tenth Round (302nd): $133,300
As a reminder, if the Yankees fail to sign a player in one of those slots, they lose the associated pool money. If they sign a player below the slot value, they can use the savings elsewhere. The Yankees, like many teams, tend to select college seniors in the sixth through tenth rounds, sign them dirt cheap, then spend the savings on other players. That's the only way you can give out overslot bonuses now.
MLB and the MLBPA agreed to direct more bonus pool money to the top of the draft as part of the new Collective Bargaining Agreement, which is why the first round slot is so high. Last year the Yankees had a $2,441,600 slot bonus for Rutherford and the 18th pick. Yeah. The money was distributed much more linearly through the top ten rounds. Now it's top heavy.
Baseball America, MLB.com top draft prospects
In recent weeks both
Baseball America
(no subs. req'd) and
MLB.com
released their top draft prospect lists. Baseball America's list runs 100 players deep at the moment. Eventually that will grow to 500 based on previous years. MLB.com's list covers 50 players and will eventually expand to 200. As always the MLB.com information is completely free. Scouting reports, video, 20-80 grades, the whole nine. It's an amazing resource.
The consensus top draft prospect this year is California HS SS/RHP Hunter Greene, who Keith Law recently said has a "chance (to be) a generational talent." Greene is a legitimate prospect as both a shortstop and a pitcher, though most believe he has more upside on the mound. It's worth noting a high school right-handed pitcher has never been selected first overall. Greene has a chance to make history this summer. (Don't miss the Greene vs. Rutherford video above!)
As for potential Yankees targets, I'd start by looking at players from Southern California. That is scouting director Damon Oppenheimer's wheelhouse. Both high school and college, and if the college guy has had success in the Cape Cod League, that's a bonus. Rutherford, Kaprielian, LHP Ian Clarkin, RHP Gerrit Cole, RHP Ian Kennedy … all first round picks under Oppenheimer and all SoCal products.
Baseball America's mock draft v2.0
Last month John Manuel posted his first mock draft of the year, though it only covered the top ten picks, so the Yankees were not included. He had the Twins selecting Greene (as a pitcher) with the No. 1 overall pick. Last week Manuel posted his second mock draft — this time he had the Twins taking Louisville 1B/LHP Brendan McKay — and this one covered the entire first round. He has the Yankees taking California HS 1B/OF Nick Pratto with the 18th overall selection. Here's the blurb:
Fresh off Blake Rutherford's strong start, the Yankees could go to the SoCal hitter well again with Pratto, who also has a fallback as a lefthanded pitcher. While the Yankees have had confidence in their ability to draft and develop pitching, the injuries to James Kaprielian and success of homegrown hitters such as Aaron Judge could nudge them back in the hitter direction. Pratto runs well enough to give the outfield corners a shot rather than just being limited to first base.
Even with the draft six weeks away, it's still a bit too early to start connecting teams to individual players. Lots and lots can and will change between now and draft day. As I said before, Southern California is a safe bet for the Yankees, so I guess that means Pratto fits.