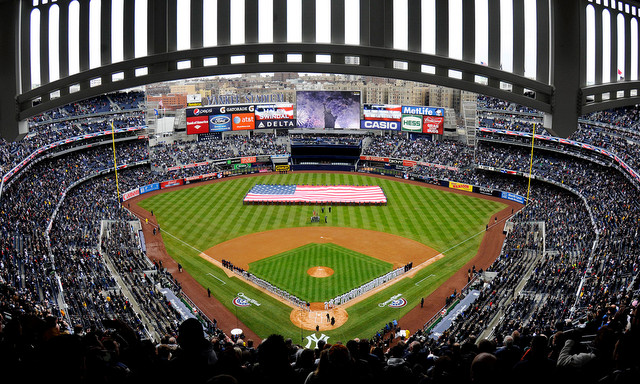 Welcome back, baseball. The Bronx has missed you. The Yankees open the Yankee Stadium portion of their schedule this afternoon with the first of three games against the Rays. The same Rays they played in Tampa last week. The Yankees may be out of Florida, but the Florida has followed them back to New York. Figures. They dropped two of three at Tropicana Field last week, as you know.
What Have They Done Lately?
The Rays come into this series, their first road series of the season, riding a three-game winning streak. They took three of four from the Blue Jays over the weekend. Tampa Bay is 5-2 on the young season, which, believe it or not, is the best start in franchise history. This is the first time the Rays (or Devil Rays) have ever won five of their first seven games. They also have a +7 run differential.
Offense & Defense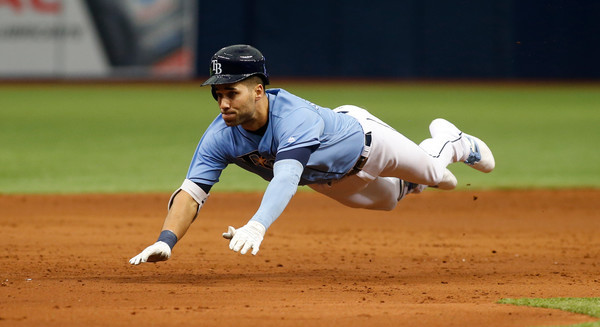 Tampa currently ranks fifth in baseball with 33 runs scored, and they're hitting .271/.356/.411 (126 wRC+) as a team so far. OF Colby Rasmus (hip), C Wilson Ramos (knee), and SS Matt Duffy (Achilles) are all on the disabled list, just like they were last week, when these clubs played in St. Pete. Here are the early season numbers and projections:
2017 Stats
2017 ZiPS Projection
C Derek Norris
4-for-18 (.222)
.229/.302/.382 (80 wRC+)
1B Logan Morrison
8-for-24 (.333), 1 HR
.242/.318/.399 (96 wRC+)
2B Brad Miller
5-for-26 (.192), 1 2B
.248/.313/.440 (104 wRC+)
SS Tim Beckham
3-for-21 (.143), 1 2B
.236/.286/.388 (82 wRC+)
3B Evan Longoria
6-for-26 (.231), 2 HR
.266/.318/.485 (113 wRC+)
LF Mallex Smith

4-for-26 (.250), 1 2B, 3 SB
.231/.296/.322 (71 wRC+)
CF Kevin Kiermaier
8-for-27 (.296), 1 2B, 1 3B
.258/.316/.426 (101 wRC+)
RF Steven Souza
10-for-24 (.417), 3 2B, 1 HR
.242/.314/.419 (101 wRC+)
DH Corey Dickerson

9-for-25 (.360), 2 2B, 2 HR
.251/.300/.461 (103 wRC+)
BENCH
C Jesus Sucre
2-for-7 (.286), 1 HR
.236/.263/.292 (51 wRC+)
IF Daniel Robertson
3-for-10 (.300)
.241/.316/.340 (83 wRC+)
OF Peter Bourjos
0-for-4
.230/.286/.361 (71 wRC+)
UTIL Rickie Weeks
2-for-8 (.250), 1 2B
.213/.299/.374 (85 wRC+)
Manager Kevin Cash has been platooning Morrison with Weeks, Bourjos with Smith, and Robertson with Dickerson. The Yankees are throwing all righties this series though, so if we see those guys, it figures to be off the bench. Longoria, Miller, and Souza always seem to crush the Yankees at Yankee Stadium. Hopefully they can keep them in park this week. I'll set the over under on their combined homers for the series at 3.5.
Since we just previewed the Rays last week, I'm going to copy and paste what I wrote about the defense before the series in Tampa:
The Rays started sacrificing defense for power a few years ago, leading to Souza in right and Miller at second. Both are liabilities in the field. Kiermaier is excellent, probably the best defensive center fielder in baseball, and Longoria is very good at the hot corner. The Smith/Bourjos platoon will save runs in center field. Beckham and Morrison are solid defenders, and while Norris doesn't have much of an arm, he rates as a very good pitch-framer. So, overall, the Rays are good defensively, but not otherworldly like they were three or four years ago.
Tampa Bay looked better than that last week, so maybe I sold them short. Or maybe it was just a random three-game sample. Eh, whatever. We just saw the Rays a few days ago. You remember what they're all about, right?
Pitching Matchups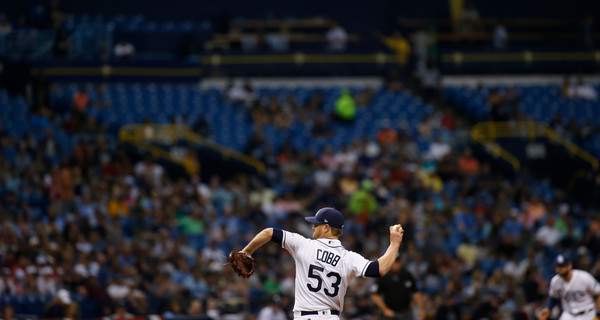 Monday (1pm ET): RHP Michael Pineda (vs. TB) vs RHP Alex Cobb (vs. NYY)
It only took seven games for the Yankees to face a pitcher for the second time this season. They saw Cobb last week in Tampa and he held them to one run on four hits and a walk in 5.2 innings. He struck out four. Cobb returned from Tommy John surgery at midseason last year and was pretty terrible, throwing 22 innings with an 8.59 ERA (5.60 FIP). He's better than that though. We saw it last week. Cobb sets up his knockout mid-80s splitter with a low-90s four-seam fastball. He'll also throw an upper-70s curveball. Hopefully the Yankees will have more success against him the second time around.
Wednesday (1pm ET): RHP Luis Severino (vs TB) vs. LHP Blake Snell (vs. NYY)
Yes, this is a 1pm ET start for some reason. Weird. There's also an off-day Tuesday, the token off-day after the home opener in case it rains. (It won't rain today.) Anyway, my lasting memory of Snell last season was his eight-out, 88-pitch grind against the Yankees on September 9th. The Yankees were not a good offensive team last year but they worked Snell hard that night. Aside from that though, he handled New York pretty well in 2016. Three runs in 15.1 total innings in three other starts. Snell had a tough time with the Blue Jays in his first start of the season last week, allowing five runs (four earned) in 6.2 innings. Last year he had a 3.54 ERA (3.39 FIP) with 24.4% strikeouts and 12.7% walks in 89 innings. His ground ball (36.5%) and home run (0.51 HR/9) rates don't match up. One of those numbers figures to climb going forward. Snell has a mid-90s fastball and a good mid-80s changeup, and his breaking ball is more of a slurve than a true curveball or slider. It sits in the 78-82 mph range.
Thursday (7pm ET): RHP Masahiro Tanaka (vs. TB) vs. RHP Matt Andriese (vs. NYY)
The Rays opted to go with Andriese as their fifth starter, though from what I understand he's basically keeping the rotation spot warm for top pitching prospect Jose DeLeon, who came over from the Dodgers in the Logan Forsythe trade. DeLeon was just placed on the Triple-A disabled list with a flexor mass issue though, so he might not be coming up anytime soon. Anyway, if Andriese's name sounds familiar, it's probably because he's the guy who gave up the back-to-back home runs to Tyler Austin and Aaron Judge last season. Here's the video. I'll post this video any chance I get from now through the end of time:
Andriese had a tough go of it in his first start of the season last week, allowing five runs (four earned) in four innings against the Blue Jays. Last season he posted a 4.37 ERA (3.78 FIP) in 127.2 innings overall, including a 4.80 ERA (3.95 FIP) with 20.2% strikeouts and 4.9% walks in 19 starts and 105 innings. Andriese is a cutter pitcher. The low-90s cutter is his main fastball, and he also throws a mid-80s changeup and a curveball right around 80 mph. I could go for some more back-to-back dingers Thursday, couldn't you?
Bullpen Status
Cash has gotten nice work from his relievers so far. They've combined to allow only five runs (four earned) in 22 total innings, and the Yankees are responsible for two of those five runs. (Including the unearned run.) The personnel has not changed since last week. Here is Tampa's current bullpen:
| | Role | 2017 Stats | 2017 ZiPS |
| --- | --- | --- | --- |
| RHP Alex Colome | Closer | 4.1 IP, 2 H, 0 R, 0 ER, 0 BB, 3 K | 2.93 ERA (3.18 FIP) |
| RHP Danny Farquhar | Setup | 3.2 IP, 4 H, 1 R, 1 ER, 1 BB, 2 K | 3.79 ERA (3.92 FIP) |
| LHP Xavier Cedeno | Setup | 0.2 IP, 1 H, 0 R, 0 ER, 3 BB, 0 K | 3.40 ERA (3.45 FIP) |
| RHP Tommy Hunter | Middle | 3.2 IP, 1 H, 0 R, 0 ER, 1 BB, 4 K | 3.81 ERA (3.70 FIP) |
| RHP Jumbo Diaz | Middle | 4.1 IP, 1 H, 0 R, 0 ER, 0 BB, 3 K | 3.82 ERA (4.20 FIP) |
| RHP Erasmo Ramirez | Middle | 3.2 IP, 1 H, 0 R, 0 ER, 1 BB, 3 K | 4.08 ERA (4.61 FIP) |
| RHP Austin Pruitt | Long | 1.2 IP, 5 H, 4 ER, 3 R, 2 BB, 1 K | 4.69 ERA (4.51 FIP) |
Pruitt, a 27-year-old rookie, is the only reliever who has had a tough time for the Rays early this season. This group collectively doesn't miss a ton of bats — Colome typically does and I'm sure he will as the season progresses — which is preferable to a bullpen that comes in and blows everyone away. They'll give you a chance to put the ball in play.
The Rays bullpen is in good shape going into the series. Diaz threw two innings and 32 pitches yesterday while Hunter threw one inning and eleven pitches. Everyone else got the day off. Check out our Bullpen Workload page for the status of Joe Girardi's relievers.