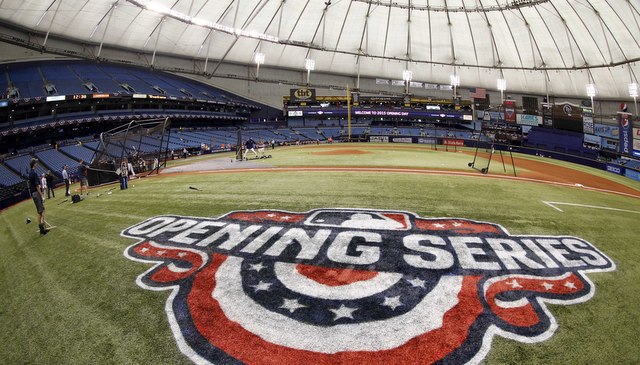 At long last, meaningful baseball is back. The Yankees open the 2017 regular season this afternoon with the first of three games against the Rays at Tropicana Field. For some reason the Yankees and Rays have an off-day Monday even though this series will be played in a dome. I guess the Opening Day game was originally scheduled for Monday before ESPN flexed it to Sunday. The Yankees' schedule the next ten days goes game, off-day, game, game, off-day, game, game, game, game, off-day. Fun.
What Have They Done Lately?
Last season was pretty much a disaster for the Rays, who went 68-94 with a -41 run differential overall, including 37-62 in their final 99 games. They hold the fourth overall pick in the 2017 draft as a result. Tampa hasn't picked that high since taking Tim Beckham first overall in 2008. Buster Posey was picked fifth overall that year. Not the greatest moment in Rays history. Anyway, the Rays went 12-16-5 with a +14 run differential this spring. That means nothing me.
Offense & Defense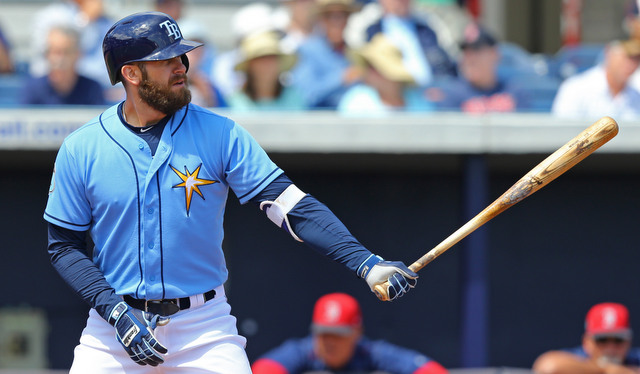 Over the last few seasons the common theme has been the Rays can pitch, but they can't hit. Last year they started to hit, but their pitching let them down. Go figure. Tampa Bay averaged 4.15 runs per game with a team 98 wRC+ a year ago, and their biggest position player loss over the winter was noted Yankees killer Logan Forsythe. Won't miss that dude at all. He crushed the Yankees.
No one has any stats because the season hasn't started yet, and there's no chance I'm going to regurgitate Spring Training numbers here, so instead here is each player's 2016 performance and their 2017 ZiPS projection.
2016 MLB Stats
2017 ZiPS Projection
C Derek Norris
.186/.255/.328 (55 wRC+), 14 HR, 458 PA
.229/.302/.382 (80 wRC+)
1B Logan Morrison
.238/.319/.414 (101 wRC+), 14 HR, 398 PA
.242/.318/.399 (96 wRC+)
2B Brad Miller
.243/.304/.482 (111 wRC+), 30 HR, 601 PA
.248/.313/.440 (104 wRC+)
SS Tim Beckham
.247/.300/.434 (98 wRC+), 5 HR, 215 PA
.236/.286/.388 (82 wRC+)
3B Evan Longoria
.273/.318/.521 (123 wRC+), 36 HR, 685 PA
.266/.318/.485 (113 wRC+)
LF Mallex Smith

.238/.316/.365 (84 wRC+), 16 SB, 215 PA
.231/.296/.322 (71 wRC+)
CF Kevin Kiermaier
.246/.331/.410 (104 wRC+), 12 HR, 414 PA
.258/.316/.426 (101 wRC+)
RF Steven Souza
.247/.303/.409 (94 wRC+), 17 HR, 468 PA
.242/.314/.419 (101 wRC+)
DH Corey Dickerson

.245/.293/.469 (101 wRC+), 24 HR, 548 PA
.251/.300/.461 (103 wRC+)
BENCH
C Jesus Sucre
.480/.522/.680 (244 wRC+), 1 HR, 29 PA
.236/.263/.292 (51 wRC+)
IF Daniel Robertson
N/A (110 wRC+ in Triple-A)
.241/.316/.340 (83 wRC+)
OF Peter Bourjos
.251/.292/.389 (79 wRC+), 5 HR, 383 PA
.230/.286/.361 (71 wRC+)
UTIL Rickie Weeks
.239/.327/.450 (102 wRC+), 9 HR, 205 PA
.213/.299/.374 (85 wRC+)
Reminder: The Rays traded Trea Turner (+3.8 WAR from 2015-16) and Joe Ross (+3.5) to the Nationals for Souza (+1.9) two years ago on purpose. That's going to go down as an all-time bad trade. If you're a big market team like the Yankees, you can survive that because you can paper over the mistake with money. A small payroll team like the Rays? Forget it. Total disaster.
Aside from a Smith/Bourjos platoon in left field, the Rays look to be fairly set with their lineup. We're used to seeing them employ multiple platoons and all sorts of different lineup arrangements. That doesn't seem to be the case this year. Longoria is the center piece, obviously. Even if the Rays do opt for multiple platoons, Longoria will be in the lineup day after day, not posting a .900 OPS.
I should note the Rays will not have three key-ish players to start the season due to injury: SS Matt Duffy (Achilles), OF Colby Rasmus (hip), and C Wilson Ramos (knee). Ramos won't be back until midseason after tearing his ACL for the second time in four years. Tampa Bay signed him to a two-year deal over the winter knowing that. Duffy and Rasmus are expected back sometime point in April, possibly in time for the series between these two clubs at Yankee Stadium next week.
The Rays started sacrificing defense for power a few years ago, leading to Souza in right and Miller at second. Both are liabilities in the field. Kiermaier is excellent, probably the best defensive center fielder in baseball, and Longoria is very good at the hot corner. The Smith/Bourjos platoon will save runs in center field. Beckham and Morrison are solid defenders, and while Norris doesn't have much of an arm, he rates as a very good pitch-framer. So, overall, the Rays are good defensively, but not otherworldly like they were three or four years ago.
Pitching Matchups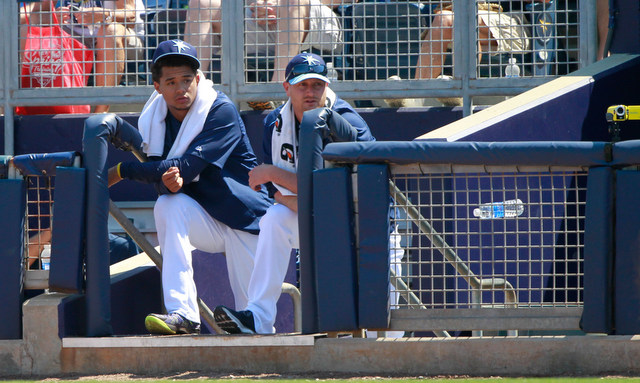 Sunday (1pm ET): RHP Masahiro Tanaka (vs. TB) vs. RHP Chris Archer (vs. NYY)
Nice pitching matchup to start the season. Archer is better than last year's numbers (4.02 ERA and 3.81 FIP) would lead you to believe, and I think we all know that. His strikeout (28.2% from 2015-16) and ground ball (46.9% from 2015-16) tendencies suggest good things will happen. I have no evidence to back this up and I'm too lazy to look through the game logs, but it seems Archer usually dominates the Yankees for a few innings before giving it up late. Am I the only one that feels that way? Whatever. As always, Archer is primarily a mid-90s fastball/upper-80s slider pitcher, though his mid-80s changeup has come a long way the last few seasons. His slider is one of the best in the business, hence the strikeouts. It gives both lefties and righties fits.
Tuesday (7pm ET): LHP CC Sabathia (vs. TB) vs. RHP Jake Odorizzi (vs. NYY)
It's too bad the Yankees don't have Brian McCann anymore. He's wrecked Odorizzi throughout his career: 13-for-28 (.464) with three doubles, three homers, and a triple (!). Last season Odorizzi pitched to a solid 3.69 ERA (4.31 FIP) in a career high 187.2 innings, and, like everyone else, he became very home run prone (1.39 HR/9). The ball was flying out of the park last summer. I hope it does again this year too. Homers are fun. Odorizzi's strikeout (21.5%), walk (7.0%), and grounder (36.6%) rates were right where they always are in 2016. He's more of a pop-up guy that a long fly ball guy, so don't get too excited by the lack of grounders. Odorizzi has a deep repertoire that includes three fastballs (low-90s two and four-seamers, upper-80s cutter), one offspeed pitch (mid-80s splitter), and two breaking balls (low-80s slider and low-80s curve). The split has become his go-to put-away pitch. Odorizzi has been pretty tough on Yankees not named McCann the last few seasons.
Wednesday (7pm ET): RHP Michael Pineda (vs. TB) vs. RHP Alex Cobb (vs. NYY)
Future Yankee Alex Cobb? He'll be a free agent after the season and seems like a potential alternative to pricier free agents like Yu Darvish and Jake Arrieta (and Tanaka?). He's good, he's reasonably young (29), and he's had success in the AL East. Seems like someone the Yankees would gravitate toward. Anyway, Cobb missed all of 2015 and most of 2016 with Tommy John surgery, and when he returned last year, he had an 8.59 ERA (5.60 FIP) in five starts and 22 innings. His walk (6.7%) and grounder (52.5%) rates were in line with his career norms, though his strikeouts (15.4%) were way down and his homers (2.05 HR/9) were way up. Typical post-Tommy John surgery rust and small sample size weirdness, I'd imagine. A mid-80s splitter is Cobb's moneymaker, and he also throws a low-90s four-seamer and an upper-70s curveball.
Bullpen Status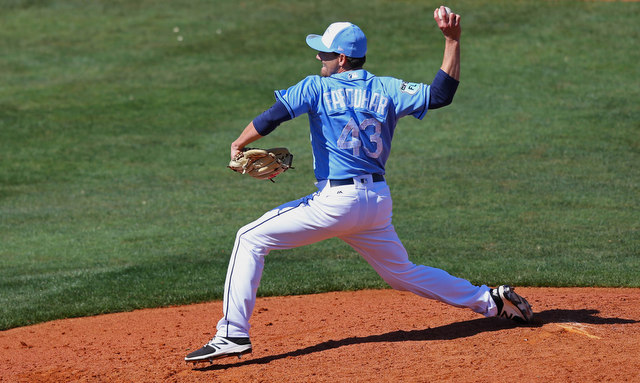 Manager Kevin Cash will be short a few relievers to start the season because of injuries. RHP Brad Boxberger (lat), RHP Shawn Tolleson (flexor), and Rule 5 Draft pick RHP Kevin Gadea (elbow) are all on the disabled list. Tolleson and Gadea are on the 60-day DL already, so they're out long-term. Boxberger could return later this month.
Unlike the Yankees, the Rays can not use early season off-days to skip their fifth starter, so they'll open the new season with a normal seven-man bullpen. Remember when six-man bullpens were normal? Good times. Here is Tampa's relief crew:
| | Role | 2016 MLB Stats | 2017 ZiPS |
| --- | --- | --- | --- |
| RHP Alex Colome | Closer | 1.91 ERA (2.92 FIP), 31.4 K%, 56.2 IP | 2.93 ERA (3.18 FIP) |
| RHP Danny Farquhar | Setup | 3.06 ERA (5.10 FIP), 29.1 K%, 35.1 IP | 3.79 ERA (3.92 FIP) |
| LHP Xavier Cedeno | Setup | 3.70 ERA (2.64 FIP), 34.7 K%, 41.1 IP | 3.40 ERA (3.45 FIP) |
| RHP Tommy Hunter | Middle | 3.18 ERA (3.06 FIP), 16.6 K%, 34 IP | 3.81 ERA (3.70 FIP) |
| RHP Jumbo Diaz | Middle | 3.14 ERA (5.24 FIP), 20.3 K%, 43 IP | 3.82 ERA (4.20 FIP) |
| RHP Erasmo Ramirez | Middle | 3.77 ERA (4.76 FIP), 16.7 K%, 90.2 IP | 4.08 ERA (4.61 FIP) |
| RHP Austin Pruitt | Long | N/A (3.76 ERA and 3.53 FIP in AAA) | 4.69 ERA (4.51 FIP) |
As the only lefty in the bullpen, I assume Cedeno will be Cash's designated Greg Bird specialist these next three games. That's not the most intimidating bullpen in the world — the middle relievers don't figure to miss many bats at all — but Colome is an All-Star caliber closer, so if the Rays have a lead after eight innings, the Yankees will be in trouble. Farquhar, by the way, is one of the players the Yankees traded to the Mariners for Ichiro Suzuki back in 2012.