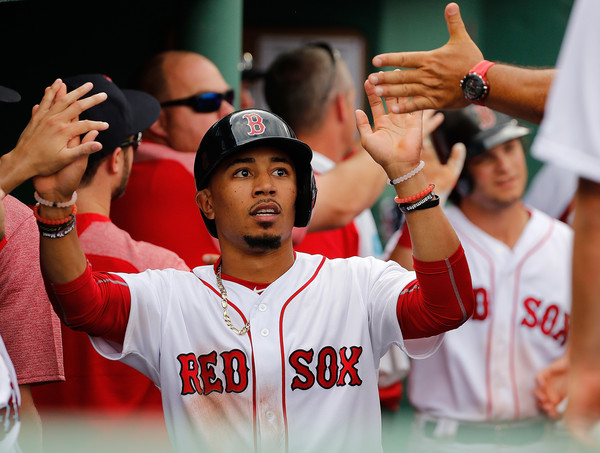 The Yankees are heading up to Boston for their first meeting with the Red Sox in 2017. It only seems as though the Red Sox are always either the last team they played, or the next team they will play – but it just so happens to be true this time around. This will be the only time the teams meet in the first two months of the season, as they won't square-off again until June 6 in Yankee Stadium.
The Last Time They Met
In the penultimate series of the 2016 season, the Yankees hosted the Red Sox for a three-game set beginning September 27, and the good guys walked away with the sweep. That sweep had precious little impact on the Yankees season; however, it did help to bump the Red Sox down to third in the American League, costing them homefield advantage in the ALDS, where they were swept by the Indians.  We can call that a tiny victory. Some other notes:
Gary Sanchez and Didi Gregorius both reached the 20 home run mark in the first game of the series.
Mark Teixeira hit the final home run of his career in the second game of the series – a walk-off grand slam to right-center. It may well be the most memorable home run of his stint with the Yankees, and it was a hell of a way to put a stamp on his career as a whole.
That second game was incredible in general, as the Yankees went into the bottom of the 9th trailing 3-0, with only four men reaching base (a single and three walks) in the first eight innings. Craig Kimbrel's ERA jumped from 2.65 to 3.35 thanks to Teixeira and Co.
CC Sabathia had one of his best starts of the season in the last game of the series, posting the following line – 7.1 IP, 4 H, 1 R, 2 BB, 8 K. He struck out the first four batters he faced, as well, in Aaron Hill, Andrew Benintendi, Xander Bogaerts, and David Ortiz.
Speaking of which – Ortiz went 0-for-10 with 2 BB in his last visit to the Bronx.
Injury Report
David Price (forearm/elbow soreness), Tyler Thornburg (shoulder soreness), Carson Smith (recovering from Tommy John Surgery), Brock Holt (vertigo), Pablo Sandoval (knee), and Roenis Elias (oblique strain) are all on the disabled list, and none are slated to be ready for this series. The timetables for Price, Thornburg, Smith, and Elias are somewhat unclear, though Price did throw a 30-pitch bullpen session on April 21.
There is also a chance that Dustin Pedroia could miss some time, due to swelling in his knee and ankle resulting from a hard slide by Manny Machado on Friday night. He had to be helped off the field following the collision, and sat on both Saturday and Sunday, and is currently considered day-to-day.
Their Story So Far
Injuries have plagued the Red Sox in 2017, as one might guess from their current disabled list. That doesn't tell the whole story, though, as Jackie Bradley Jr. just returned from the DL, and Xander Bogaerts and Hanley Ramirez are dealing with nagging injuries that have held them out of the lineup. Their depth has been tested quite a bit already, but they've managed to keep their collective head above water (they're currently 11-8 with a +3 run differential).
The Lineup We Might See
The Red Sox lineup has seen a great deal of mixing and matching, and that stems from the injuries. Manager John Farrell isn't known for platooning or riding the hot hand, so it's fairly safe to say that the lineup will look like this if Pedroia can suit up:
Pedroia, 2B
Benintendi, LF
Mookie Betts, RF
Ramirez, DH
Mitch Moreland, 1B
Bogaerts, SS
Bradley, CF
Marco Hernandez, 3B
Sandy Leon/Christian Vazquez, C
If Pedroia sits, the Yankee pitching staff will probably see something along these lines:
Bogaerts, SS
Benintendi, LF
Betts, RF
Ramirez, DH
Moreland, 1B
Bradley, CF
Hernandez, 2B
Leon/Vazquez, C
Josh Rutledge, 2B
The Pitchers We Will See
Wednesday (7:10 PM EST): RHP Luis Severino vs. RHP Rick Porcello
It has been a less than ideal start to Porcello's defense of his Cy Young award, as the 28-year-old has allowed at least three runs in each of his four starts. (As an aside, am I the only one who continuously forgets that Porcello is so young? This is his ninth season in the majors, and he's thrown just shy of 1500 IP.) His peripherals remain strong – particularly his 21.1 K% and 4.6 BB% – but he's been hit hard (only seven pitchers have surrendered a higher hard-hit percentage), and it shows in his 5.32 ERA and 1.90 HR/9.
Porcello is a true five offering pitcher, with a couple of low-90s fastballs, a slider, a curveball, and a change-up. He usually racks up grounders with the fastball, and picks up whiffs on the slider and change piece.
Last Outing (vs. TOR on 4/19) – 7 IP, 6 H, 3 R, 1 BB, 5 K
Thursday (7:10 PM EST): RHP Masahiro Tanaka vs. LHP Chris Sale
The Red Sox paid a king's ransom for Sale this off-season, and he has been well worth the price thus far. His line to date: 29.2 IP, 15 H, 6 BB, 42 K, 0.91 ERA, 1.10 FIP, 1.5 fWAR. Sale's obscene 38.9% strikeout rate leads the majors, as does his 33.3 K-BB%. There was some concern about his dip in velocity and strikeouts last season, but pitching to contact and saving some stress was the game plan in 2016 – this year's strategy seems to be making opposing hitters look foolish.
Sale throws two low-to-mid 90s fastballs (a four-seamer and a two-seamer), a mid-80s change-up, and a high-70s slider that may well be illegal in some jurisdictions. He generates whiffs on all four pitches, to boot.
Last Outing (vs. TOR on 4/20) – 8 IP, 4 H, 0 R, 1 BB, 13 K
The Bullpen
The Red Sox acquired Carson Smith to be the set-up man last year, and he pitched three games before going under the knife. They picked-up Tyler Thornburg to fill that role in 2017, and he has yet to pitch due to a shoulder issue. Their bullpen nevertheless remains fairly stout, with Craig Kimbrel closing, and Heath Hembree and Joe Kelly doing a fine job in the middle innings. The group as a whole sports a 2.21 ERA, and most everyone should be available for the upcoming series due to Monday's off-day.
Yankees Connection
These two teams rarely come together as trade partners, and understandably so. As a result of this, OF Chris Young is the only former Yankee on the Red Sox roster. He's currently batting .225/.344/.283 (82 wRC+) in part-time duty, after putting up a solid 125 wRC+ in a similar role in 2016. Also, hitting coach Chili Davis played for the Yankees in 1998 and 1999, and third base coach Brian Butterfield spent many years with the Yankees in many different capacities.
The Yankees have two former Red Sox on the roster in Jacoby Ellsbury and Tommy Layne.
Who (Or What) To Watch
If the season ended today, Andrew Benintendi might just be Aaron Judge's chief competition for Rookie of the Year. The 22-year-old is currently batting .347/.415/.444 (146 wRC+) with a 8.5 BB% and 12.2 K%. He's also reached base safely in 16 of 18 games thus far. As much as I would like to mock his lack of power, he has some of the best pure bat-to-ball skills around right now. Between Benintendi, Bradley, and Betts, the Red Sox have three young and very good outfielders that are sure to frustrate the lot of us for the next several years.