What's your favorite Aaron Judge home run so far this year? I'm partial to the ball he hit nearly to the flag poles against the White Sox (video) because I saw that one in person. His blast against the Pirates this weekend (video) is another good one. Can't forget about the Spring Training home run off the scoreboard (video), right? It happened this year. It counts.
We've seen Judge hit some massive home runs already this season and I'm sure there are many more to come this year and in the future. I'm excited. The home runs are great and I have a hard time picking my favorite. Picking my favorite Judge base hit is a different story. That one is an easy call. It was his opposite field two-strike single with one out in the ninth inning Sunday. Here's the contact point: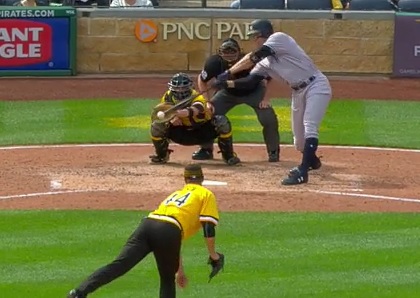 That pitch isn't a strike. That pitch isn't close to being a strike. Judge was in protect mode with two strikes though, and Tony Watson did show him a fastball away earlier in the at-bat, so it was in the back of his mind. The Yankees were down one run at the time and we were all thinking about Judge putting a ball into orbit to tie the game. Instead, he got a generally unhittable pitch and took it the other way for a hit. (Here's a GIF of the hit.)
As broadcasters will tell you over and over again, hits to the opposite field are a "nice piece of hitting," and that two-strike single to right field Sunday certainly qualifies. It helps that Judge is 6-foot-7 with long arms and was able to reach that pitch, but the point is he recognized the pitch and reacted appropriately. He wasn't sitting on an inside heater he could yank to left field or anything like that. Judge took what Watson gave him and did all he could do with it.
Hits like that one are the difference between 2016 Aaron Judge and 2017 Aaron Judge. As Matt detailed over the weekend, Judge has shown improved plate discipline in the early going and he's cut down his strikeouts, which was a necessity after last season. Another thing Judge has improved is his plate coverage, which we saw in action on that opposite field single Sunday night. Here is his 2016 contact heat map, via FanGraphs: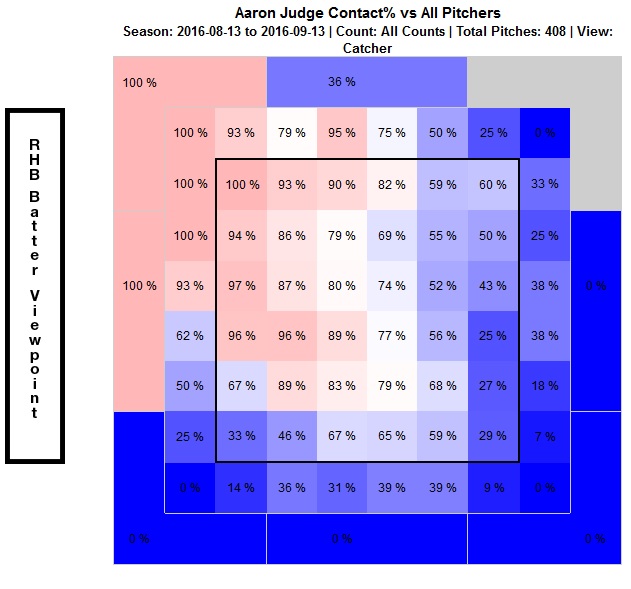 Last season Judge was completely hopeless against pitches away. His contact rates on pitches on the outer third of the plate were typically right around 50% or well below, which is terrible. I mean terrible. We're talking about simple bat-to-ball here, not exit velocity or hard hit rate or anything like that. Just getting the bat on the ball. When the pitch was on the outer third of the plate (and beyond), Judge failed to make contact with more than half his swings. Woof.
(To be fair, I should point out Judge's contact rate on pitches on the inner half last season was quite encouraging. Big guys like him are usually easily jammed because bringing those long arms in to handle pitches inside is not easy. Judge has always had a surprisingly compact swing — relatively speaking, of course — for a guy his size.)
Now here is Judge's contact heat map for the 2017 season, again via FanGraphs:
Ah, much better. Judge is covering the outer half of the plate this year — this is a heat map, so the brighter the blue, the worse the contact rate, and there isn't nearly as much bright blue on the outside part of the plate this year as last year — which addresses arguably his biggest weakness from a season ago. Last year pitchers buried him breaking balls or fastballs near the left-handed hitter's batter box, like the fastball Watson tried to sneak by him Sunday.
Doing a better job covering the outer half is obviously a positive sign, as is the improved plate discipline. This, to me, is most important: Judge has been able to cover the outer half this year without sacrificing the inner half. He's not focused so much on the outer half that he's letting pitchers beat him inside. Judge is covering both sides of the plate now. That's good! Plate coverage is a wonderful thing.
The season is still quite young and we'll see whether this continues. Baseball is a game of adjustments and it's only a matter of time until opposing teams come up with another way to attack Judge. They pitched him away, it worked, and now he's made the adjustment. Judge doesn't get enough credit for being as good a pure hitter as he is — it's so easy to stereotype guys like him as meathead sluggers who swing out of their shoes — and we're seeing it now with the way he's covering the outer half.