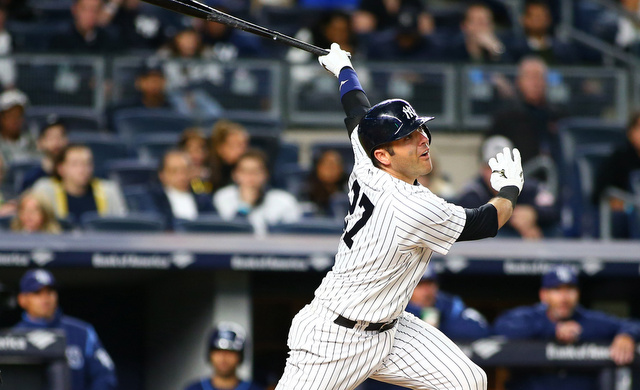 Ten days ago the Yankees suffered what could have very easily been a devastating injury. Starting catcher and offensive cornerstone Gary Sanchez hurt his biceps taking a swing and was later diagnosed with a strained brachialis muscle. It'll sideline him at least four weeks. Sanchez started the season slowly, going 3-for-20 (.150) with a homer before the injury, but still. Losing your catcher and No. 2 hitter is rough.
Rather than collapse without Sanchez, the Yankees have won all eight games since the injury, including six of six with Austin Romine behind the plate. Romine has gone 7-for-21 (.333) with two doubles, a homer, four walks, and three strikeouts in the super early going this season. "The team is playing well, period. I'm not going to take credit. I'm trying to stay out of the way the best I can. We have a lot of people doing things right. I can't sit here and take credit for anything," he said to George King over the weekend.
Last season the 28-year-old Romine hit .242/.269/.382 (68 wRC+) with four homers in 176 plate appearances while backing up Brian McCann and later Sanchez, and geez, I don't even remember the four homers. Did he really hit that many? Romine came into this season with 21 doubles and five home runs in 359 career big league plate appearances. Here is his 2013-16 spray chart, via FanGraphs:
Source: FanGraphs
Like most players — particularly bench players who don't play a whole lot because they don't offer much at the plate — the right-handed hitting Romine did most of his damage to the pull side from 2013-16. All five home runs were pulled to left field as were most doubles. That cluster of blue dots along the right field line are bloop doubles that fell in just fair. I distinctly remember a few of those.
This year, either intentionally or accidentally, Romine has taken an extreme opposite field approach and peppered right field. It's happened so often that I have to think it's intentional. He's put 19 total balls in play so far this season and only three — three! — have been pulled to the left side of the field. Almost everything else has gone to right field. Not even back up the middle. To right field. Here is Romine's spray chart thus far this season, via Baseball Savant: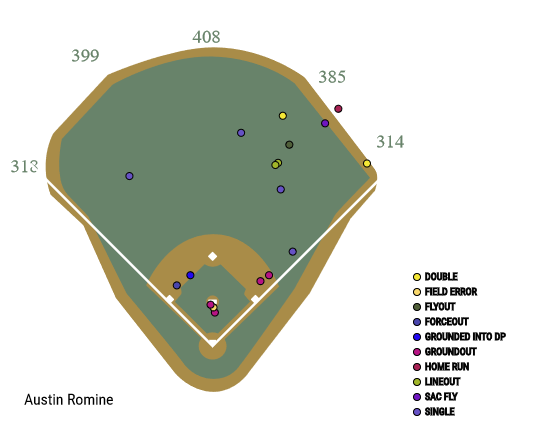 I wasn't kidding when I said an extreme opposite field approach. Romine has hit nearly everything to the opposite field, and hey, when you're a right-handed hitter in Yankee Stadium, it makes sense to go the other way. Romine has already been rewarded with one opposite field home run this year. He never came particularly close to hitting a short porch homer in previous years.
Clearly Romine is hitting the ball to right field more often this year than he has in the past, so now the question becomes: so what? I'm not sure, honestly. This could all be small sample size noise — again, Romine has put only 19 balls in play this year — or it could be an honest-to-goodness adjustment in an effort to help him be more productive at the plate. Trying to pull the ball all the time only worked so much. Now he's incorporating the opposite field more often. Maybe? Possibly?
Romine said himself last season he knows he needs to hit not only to stick with the Yankees, but stick in the big leagues in general. Even defense-first catchers have to hit a little bit, you know? There was basically nothing Romine could do to stop Sanchez from taking over as the starting catcher, but now Kyle Higashioka, who is coming off a 21-homer season between Double-A and Triple-A, is breathing down his neck for the backup job. His roster spot is far from safe.
I should also note Romine has been behind the plate for this recent run of strong starts from the rotation. So far this year pitchers have a 3.00 ERA (2.92 FIP) in 57 innings with Romine compared to a 4.14 ERA (3.34 FIP) in 37 innings with Sanchez. How much credit does Romine deserve for that? Tough to say. I've always been a catcher impact skeptic, dating back to the days of Jose Molina being A.J. Burnett's personal catcher. Ultimately it's up to the pitcher to execute, so the catcher can call the best game in the world and it might not matter. Either way, the pitching staff as performed well of late and the always reflects well on the catcher.
For now, Romine's new opposite field approach is a #thingtowatch. He's going to play a lot while Sanchez is on the disabled list — Joe Girardi made it clear Romine will be the starter and Higashioka the backup, so playing time won't be split evenly — so we'll get a chance to see whether this is real. For Romine, this is a huge opportunity. It's his first time playing everyday at the MLB level, so this is his chance to show the Yankees he's worth keeping around and other teams he's worth acquiring and giving an expanded role.