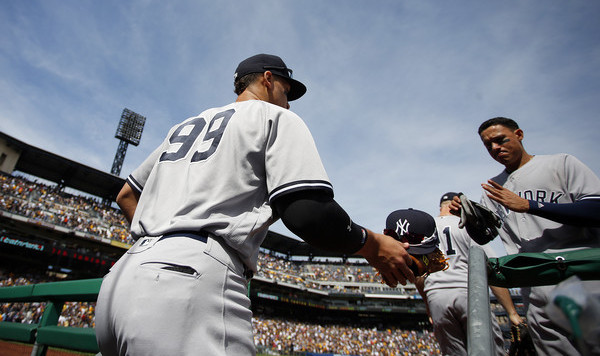 The Yankees are off to a nice little 11-7 start to the season — their +30 run differential is still the best in baseball — and they've done it while getting basically nothing from Gary Sanchez, Greg Bird, and Didi Gregorius. I'm excited to see this team at full strength. I don't know if they're good enough to make the postseason, but at least they're far more interesting to watch nowadays.
Anyway, rain turned this three-game series at Fenway Park into a two-game series, and because this is Yankees-Red Sox, everything is overblown. I've seen this series called a measuring stick for the Yankees. These two games against the AL East favorite will tell us whether they're for real or not! I mean, no? One series doesn't mean a whole lot in the grand scheme of things, but still, it sure would be nice to pick up a pair of wins in Boston. One game at a time though. Here is the Red Sox's lineup and here is the Yankees' lineup:
LF Brett Gardner
3B Chase Headley
DH Matt Holliday
CF Jacoby Ellsbury
2B Starlin Castro
RF Aaron Judge — how about a couple homers to celebrate his 25th birthday?
1B Greg Bird
C Austin Romine
SS Ronald Torreyes
RHP Luis Severino
The weather still isn't great in Beantown. It was raining on and off all day, though it looks as though there will be a big enough window to get the game in. It'll be cold and cloudy in the meantime. This evening's game will begin a little after 7pm ET. You can watch on YES locally and ESPN nationally. Enjoy.
Injury Updates: Didi Gregorius (shoulder) is on track to return this coming weekend, Joe Girardi said. He could be back in the lineup as soon as Friday. I'm guessing the Yankees want to see how he makes it through his rehab games tonight and tomorrow before making any decisions … Gary Sanchez (biceps) is throwing from a distance of 120 feet and has started hitting in the batting cage, so his rehab is coming along well.