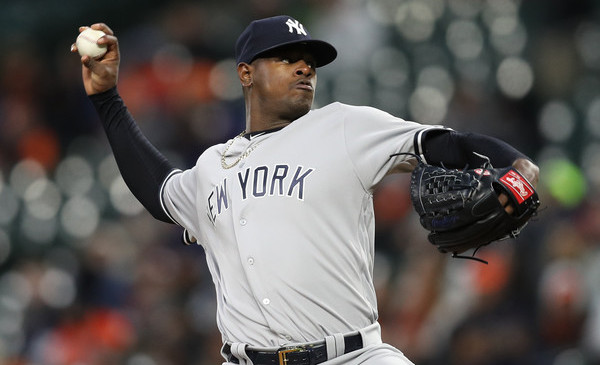 For the first time this season, the Yankees are playing a night game at Yankee Stadium. I love day baseball as much as the next guy, but I'm looking forward to seeing a game under the lights in the Bronx for the first time this year. Now that all the home openers and early season off-days and all that are over, we're getting into the daily grind of the 162-game series. A night game just feels … normal. I guess that's the best word.
Anyway, the Yankees have won the first two games of this three-game series against the Rays, and tonight Luis Severino will take the mound with a chance to finish the sweep. Severino had his moments last time out and he seemed to throw a lot of changeups — I'd tell you how many exactly if, you know, Trackman had been working — so I'm curious to see if he does it again. Here is the Rays' lineup and here is the Yankees' lineup:
CF Jacoby Ellsbury
LF Aaron Hicks
DH Matt Holliday
2B Starlin Castro
3B Chase Headley
1B Greg Bird
RF Aaron Judge
C Austin Romine
SS Ronald Torreyes
RHP Luis Severino
The weather has been pretty much perfect in New York all day today, though it's gotten cloudy tonight. There's no rain in the forecast though. It'll just be on the cool side. Tonight's game will begin a little after 7pm ET. You can watch on YES locally and MLB Network nationally. Enjoy the game.
Injury Update: Brett Gardner (neck, chin) is available tonight and is doing much better following yesterday's collision. Joe Girardi said Gardner could have started today, but he decided to give him the extra day.