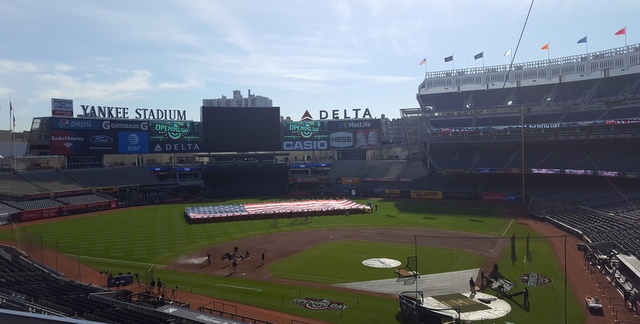 After six months and six road games, baseball returns to Yankee Stadium today. Can you believe this is already the ninth year of the new Stadium? It still feels like the place just opened. Based on the way teams are going through ballparks these days, the Yankees are due for a new park in eleven years or so. The Yankees are 4-4 in home openers at the current incarnation of Yankee Stadium.
"You feel like the season is in full swing once you come home," said Joe Girardi this morning. "Obviously you're aware that it starts. I think everyone always looks forward to their home opener. You feel that there's that advantage playing at home. You feel that your team is built for ballpark. You get to sleep in your bed and do those types of things. You feel like the season is underway."
The Yankees are coming off a pretty excellent win over the Orioles yesterday and now they're sending Michael Pineda to the mound, and gosh, who knows what he's going to do from start-to-start. His first start last week did not go well at all, but Pineda is the kind of guy who can get hammered one day and strike out ten in seven scoreless innings five days later. Hopefully the good version of Big Mike shows up this afternoon. Here is the Rays' lineup and here is the Yankees' lineup:
LF Brett Gardner
CF Jacoby Ellsbury
DH Matt Holliday
1B Chris Carter
2B Starlin Castro
3B Chase Headley
RF Aaron Judge
C Austin Romine
SS Ronald Torreyes
RHP Michael Pineda
The weather is spectacular in the Bronx today. Bright blue sky and temperatures in the mid-70s. Can't beat it. The pregame ceremonies will being at roughly 12:40pm ET and I'm sure YES will have them. Joe Torre, Willie Randolph, and Tino Martinez are throwing out the ceremonial first pitches and will be honored for their roles in Team USA's World Baseball Classic championship. Torre was the general manager and Willie and Tino were on the coaching staff. I wonder whether Tyler Clippard, who was in the USA bullpen, will be honored too. We'll see. This afternoon's game will begin a little after 1pm ET. You can watch on YES locally and MLB Network nationally. Enjoy the game.
Injury Updates: Greg Bird (ankle, illness) is available off the bench today, if necessary. He was available yesterday too, but Girardi said once the lead stretched to four runs, they decided to take it easy on him. Girardi also said Bird is sitting today more because of the illness than the ankle … Gary Sanchez (biceps) will see a doctor today and the Yankees will get a better idea about his timetable then. Girardi said Sanchez is feeling better and he's more optimistic about the injury now than he was at the time it happened.