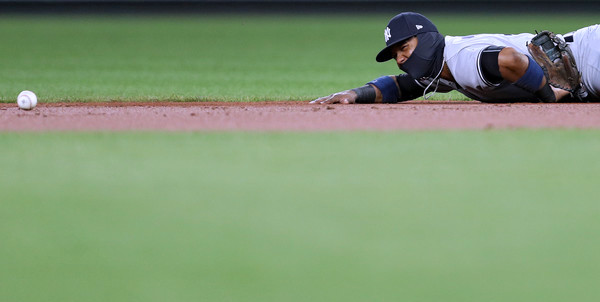 So this series — and the season, really — isn't going too well right now. The last two days the Yankees have blown the types of games they really can't afford to blow this season. Their margin for error isn't big enough to cough up three and four-run leads. Hopefully that ends today.
CC Sabathia, who started New York's only win of the season last week, is on the mound today. The Orioles have stacked their lineup with righties — Chris Davis is the only lefty in the starting lineup — and that almost kinda plays to Sabathia's strength nowadays. He pounds righties inside with his cutter and gets them to chase soft stuff away. Here is the Orioles' lineup and here is the Yankees' lineup:
LF Brett Gardner
CF Aaron Hicks
DH Matt Holliday
1B Chris Carter
2B Starlin Castro
3B Chase Headley
RF Aaron Judge
C Austin Romine
SS Ronald Torreyes
LHP CC Sabathia
It's a wonderful day in Baltimore. Sunny and on the cool side. Pretty much perfect baseball weather, as far as I'm concerned. This afternoon's series finale will begin at 1:35pm ET. You can watch on YES locally and MLB Network nationally. Enjoy the game.
Roster Move: As expected, Kyle Higashioka has been officially called up to replace Gary Sanchez (biceps). He's wearing No. 38. Congrats to Higashioka for getting to the big leagues after grinding through 9+ years in the minors. Sanchez was placed on the 10-day disabled list following yesterday's game. He's going to see the team doctor in New York tomorrow.
Injury Update: Greg Bird (ankle) feels better, though now he's sick. He had the flu or food poisoning or something like that last night. The Red Sox and Orioles have had the flu go through the clubhouse early this season. Hopefully the Yankees aren't next.