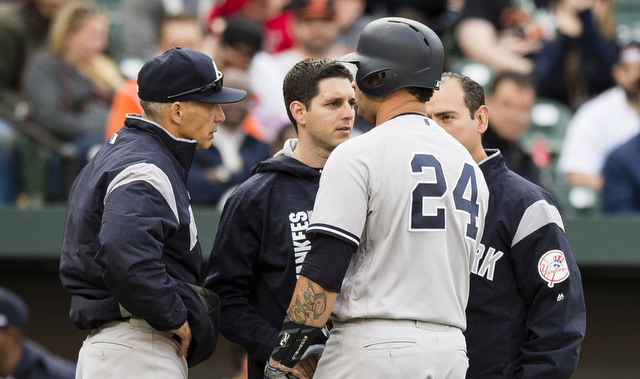 8:00pm: Sanchez will be placed on the 10-day disabled list, according to Jack Curry. Sweeny Murti says Higashioka is coming up from Scranton. Following today's game Joe Girardi said the Yankees will be cautious with Sanchez because the injury is to his throwing arm.
6:02pm: The Yankees say Sanchez has a right biceps strain. Phew. I was worried it his shoulder. They're not out of the woods yet, but a biceps strain is far more preferable to a shoulder (or elbow) issue. Here's video of the injury:
5:40pm:
Gary Sanchez left this afternoon's game with some sort of right arm injury. He took a swing in the fifth inning, then immediately grimaced and doubled over. No idea what it could be, though he was clearly favoring his right arm. Sanchez left the game without really lobbying in to stay.
Needless to say, losing Sanchez for any length of time would be pretty devastating. He is one of the Yankees' best hitters despite his relatively slow start to the season, and he's also their starting catcher. That's kind of a big deal. Kyle Higashioka is the No. 3 catcher in Triple-A right now. Hopefully Sanchez's injury is nothing serious and he isn't needed.
The Yankees have not yet released any sort of update on Sanchez, so stay tuned.