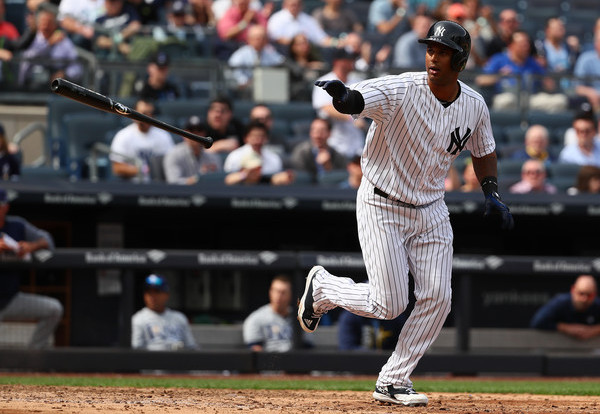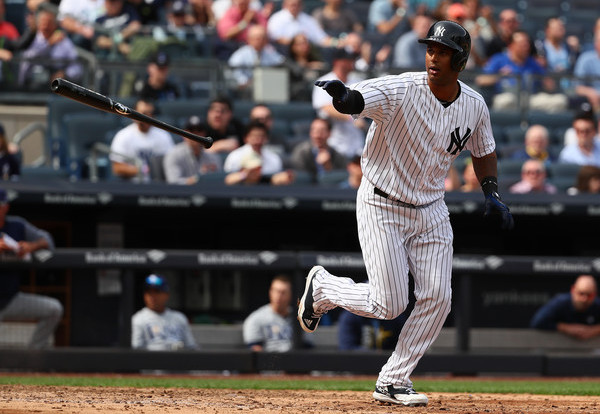 The season is very young. The Yankees have played 13 games and won nine of them, and in those 13 games fourth outfielder Aaron Hicks is hitting .269/.429/.654 (196 wRC+) with three home runs in 35 plate appearances. That includes a two home-run game against the Rays last week. Hicks has also drawn eight walks against only three strikeouts. He's been pretty great so far. No doubt about it.
As you know, Hicks had a miserable debut season in pinstripes a year ago, though clearly the Yankees never stopped believing in his talent. Switch-hitters with some power and speed are nice players to have. The Yankees gave Hicks a legitimate opportunity to win the right field job in Spring Training, and while he got beat out by Aaron Judge, Hicks played well and gave the Yankees something to think about. It wasn't an easy decision.
"I saw the disappointment in his face," said Joe Girardi last week. "It wasn't easy because I thought he had a pretty good Spring Training too. And I just said, 'Your opportunities are going to come and you've just got to make sure that you're ready.' I give him a lot of credit because I thought he turned the page really quickly. That's not easy to do. He's played extremely well."
As poorly as he played last season overall, Hicks did finish fairly well, hitting .271/.333/.424 (105 wRC+) with five home runs in 129 plate appearances after Carlos Beltran was traded away at the deadline. The regular playing time seemed to help Hicks, who prior to last season had never been a bench player. Going from playing everyday to playing once or twice a week can be really tough. Not many players can make that adjustment seamlessly.
"I think he kind of figured it out as he went along last year," added Girardi when asked about using Hicks as a part-time player last season. "We've tried to play him multiple days in a row (this year) so it's a little more comfortable than playing sparingly … We'll get in a little bit of a rotation and spell guys and make sure he's getting his at-bats because I think he can be really productive."
The Yankees are indeed making sure Hicks is getting his at-bats. He has 35 plate appearances through the first 13 team games this year. Last season Hicks didn't receive his 35th plate appearance until May 4th, in the club's 26th game. Some minor injuries have helped — Brett Gardner missed a game after his collision with Rickie Weeks, and Matt Holliday missed two games with a back issue — but Girardi seems to be making sure Hicks plays fairly regularly.
And, given his production to date, Hicks is forcing the Yankees and Girardi to consider giving him even more playing time going forward. No, he's not going to hit like this all summer, but he showed signs of life late last season and he's doing it again now. Did I mention he's also only 27? And is a switch-hitter who draws walks and hits for power and offers some speed on the bases? That's kind of a big deal. Hicks has natural ability. His talent is obvious.
Late last year the Yankees and Girardi had no problem sitting established veterans for younger players. Brian McCann lost playing time to Gary Sanchez and Mark Teixeira lost playing time to Tyler Austin, most notably. They'll have to do something similar to get Hicks in the lineup, because right now Judge should not be losing playing time to anyone. A day off here and there, sure, but he's a future core player and his playing time is a priority.
That leaves Gardner and Jacoby Ellsbury, both of whom will turn 34 later this year and don't really fit into the Yankees' long-term plans. At least not as key contributors. We should also include Holliday here. He is 37 and on a one-year contract. For Hicks to get more playing time going forward, it'll come at the expense of those three. Perhaps the Yankees will find a trade partner for Gardner (or Ellsbury!) at some point, but until then, there will have to be some sort of outfield rotation.
Point is, the Yankees have a 27-year-old former first round pick — who switch-hits! and draws walks! and hits for power! and runs well! — who may or may not be coming into his own as a player. Hicks finished well last year, played well in Spring Training, and has started strong this year. Given the plan to get younger and more athletic, finding out whether Hicks is really starting to put it together should absolutely should be a priority. Girardi will have to be a little creative to make sure he gets Hicks into the lineup regularly going forward.