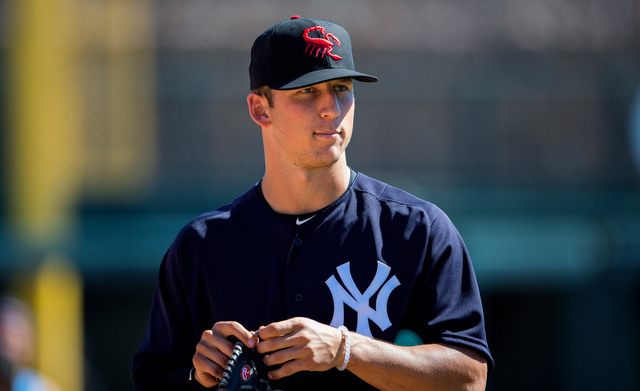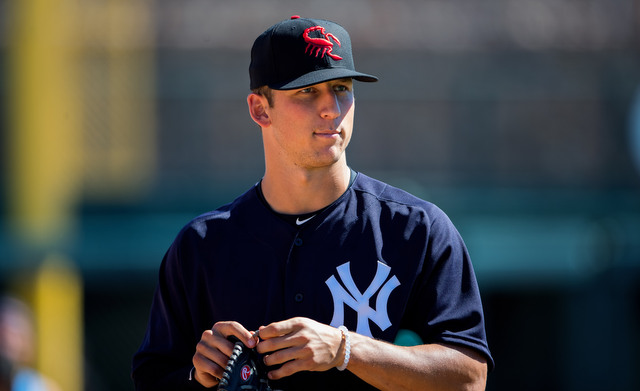 Once again, James Kaprielian's elbow is acting up. The Yankees placed their top pitching prospect on the minor league disabled list with elbow pain earlier today, the team announced. He's going for an MRI and a dye contrast MRI. The Yankees will know more once the tests are done.
Kaprielian, as you know, missed most of last season with a flexor strain. He did return in time for the Arizona Fall League and reports said he looked very god. PitchFX clocked his fastball at 95.7 mph on average with a max of 99.1 mph out in the desert. Kaprielian threw 45 total innings between High-A and the AzFL in 2016.
"It's a concern," said Brian Cashman to Erik Boland. Cashman also confirmed Kaprielian first complained of discomfort two days ago, so this is a relatively new injury. The discomfort is in the same spot as Kaprielian's injury last year. Pitching is terrible. Don't ever pitch.
The Yankees took it slow with their 2015 first round pick in Spring Training, opting to have him throw simulated games for the first few weeks before letting him make a two-inning Grapefruit League appearance. Kaprielian threw four-plus innings in a minor league camp start last week and told Josh Norris he felt good.
Hopefully this is nothing serious. Needless to say though, elbow trouble in back-to-back seasons is not good. Kaprielian is New York's best pitching prospect in terms of stuff and command, but health is a skill and he hasn't shown it as a pro yet. Even a minor injury is a red flag at this point. Sigh.