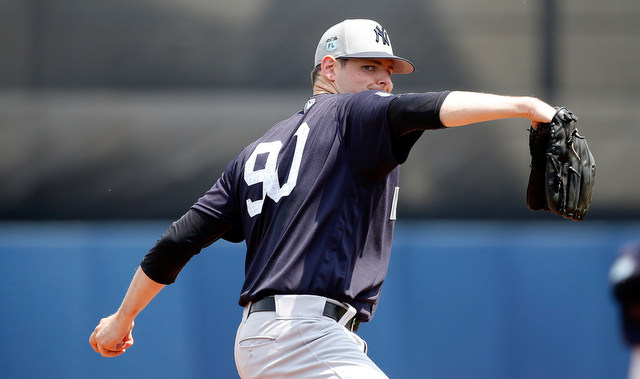 For the first time this season, the Yankees have changed their pitching plans. Rather than wait until April 16th to use their fifth starter, Joe Girardi announced Jordan Montgomery will be called up to start Wednesday's game, giving Masahiro Tanaka and CC Sabathia an extra day to rest. They both worked hard in their starts over the weekend and the Yankees don't want to push them too much, too soon.
The 24-year-old Montgomery will be making his MLB debut Wednesday after opening eyes in Spring Training. He wasn't an unknown going into camp — at least not among the RAB faithful! — but he certainly wasn't first in line for a rotation spot. Luis Severino, Bryan Mitchell, Luis Cessa, and Chad Green all made starts for the Yankees last year and were understandably considered the favorites.
Montgomery out-pitched all those guys in Spring Training, including Severino, who was named the fourth starter. He did enough to put himself in position for an early call-up — there's a pretty good chance Montgomery would have been in the Opening Day rotation had the Yankees needed their fifth starter right out of the gate — and tomorrow afternoon he'll make his first big league start. That's exciting. And, needless to say, a huge opportunity for Montgomery, for a few reasons.
1. The Yankees need short-term rotation help. It will be Montgomery's first MLB start! That's always huge. Get a start, and you have a chance to impress and remain in the rotation. The Yankees can't feel too comfortable with their current rotation situation, I imagine, and Montgomery has a chance to ease those concerns somewhat. The Yankees are the land of opportunity right now. They're serious about this youth movement, so if you're a young player and show you can help, they'll make room for you. A job is there for the taking for Montgomery.
2. The Yankees need long-term rotation help too. This isn't just about this season either. Michael Pineda and Sabathia will both become free agents after the season and Tanaka can opt-out too. None of the young guys have established themselves as long-term building blocks yet. I don't think anyone expects Montgomery to be a top of the rotation starter or anything like that, but he has a chance to be a solid mid-rotation innings guy, and the Yankees will sign up for that right now. This is a chance to win a rotation spot now and for the next six years too.
3. The other guys are breathing down his neck. The rotation may be shaky right now, but the Yankees do have some depth. Severino is in the rotation and Mitchell is in the bullpen — so is Adam Warren, who could start if necessary — but Green and Cessa are waiting in Triple-A. Should Montgomery slip up at some point, the Yankees won't hesitate to make a change. The fifth starter's competition was never confined to Spring Training. It's ongoing. Montgomery is getting the first chance to show what he can do as the fifth starter and he'll have to pitch well to keep the job.
* * *
Last season Montgomery threw 152 total innings between Double-A and Triple-A, during which he had a 2.19 ERA (2.91 FIP). He spent three years in the rotation for a major college program, he throws five pitches and locates, and he hasn't missed a start dating back to high school. Montgomery is as close to ready as a pitching prospect can get, and the Yankees won't let a 40-man roster crunch stand in his way. There's no sense in keeping him in Triple-A when he could help you at the MLB level, you know?
Tomorrow afternoon's start is as much about the rotation going forward as it is giving Tanaka and Sabathia an extra day to rest. The Yankees are going with Montgomery over Cessa and Green (and Mitchell and Warren) because they think he's is best able to help them win right now. It's that simple. That chance to help the Yankees win now is also an opportunity for Montgomery to earn a rotation spot for the future. It's something the other rotation candidates were unable to do last year.