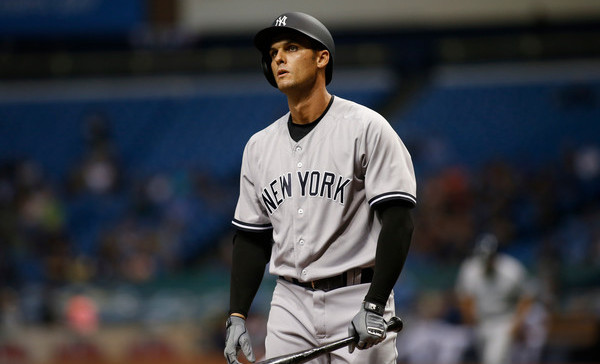 Remember Spring Training? It was a fun time. The Yankees were winning on a near daily basis, the prospects were all playing well, and a now healthy Greg Bird looked like a budding middle of the order force. Bird hit .451/.556/1.098 during Grapefruit League play, and he led all players in homers (8) and extra-base hits (16). If nothing else, he looked healthy after missing last season with shoulder surgery.
Because baseball can be a jerk, Bird has followed up his monster Spring Training performance with a dreadful start to the regular season. He's hitting .104/.204/.229 (23 wRC+) in 54 plate appearances, and basically all his success has come in one game, that 3-for-3 with a home run and a double effort against the Cardinals last Sunday. We all hoped that would be the start of big things for Bird. Instead, he's gone 1-for-19 (.053) since. Woof.
Players go through slumps all the time. Sometimes right out of the gate to start the season. It's not often a talented young player hits .104/.204/.229 in a span of 54 plate appearances, however. When they do that, they tend to find themselves back in Triple-A. The Yankees are clearly giving Bird some rope here. To me, the biggest red flag so far has been this: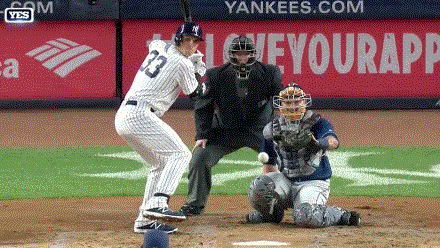 That's Matt Andriese blowing a 92 mph fastball right by Bird. He's late on it. Second straight pitch too! Bird swung and missed at a nearly identical fastball the previous pitch. We saw Bird punish all sorts of fastballs in Spring Training. He was turning around 97 mph heaters like it was no big deal. Now he's getting beat by 92 mph fastballs in the zone? Yikes.
Here, for reference, are all the fastballs Bird has swung at and missed this season, via Baseball Savant: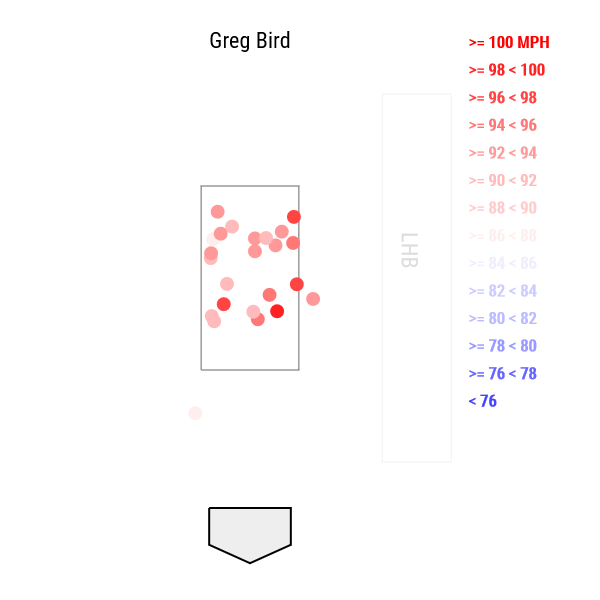 Swinging and missing at back-to-back 92 mph fastballs from Andriese two Thursdays ago was not an isolated incident. Bird has been doing it pretty much all month. Pitchers haven't needed Aroldis Chapman velocity to get Bird to swing and miss at a fastball. Anything at 92 mph and above has given him trouble, even when it's out over the plate.
As bad as Bird as been, there are some positive trends in his game that suggest maybe he's getting closer to snapping out of it. You have to squint your eyes a little, but the trends are there. The question is whether they're meaningful this early in the season and in this few plate appearances. For example, here are Bird's strikeout rate and contact rate on pitches in the zone, via FanGraphs: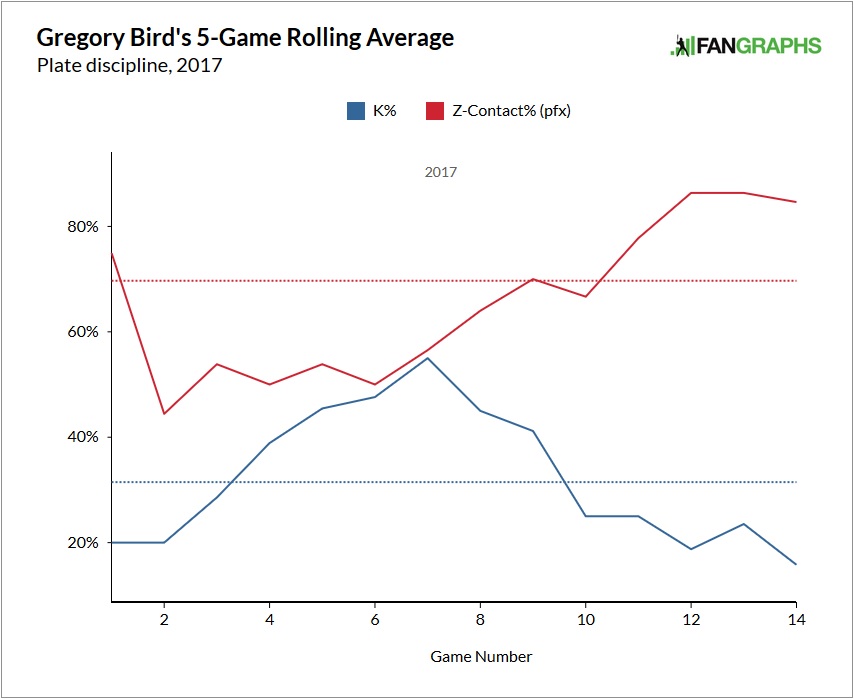 Okay, that's a start. The strikeout rate is coming down and the contact rate on pitches in the zone is going up.  Earlier this year Bird was making contact with fewer than 50% of his swings against pitches in the strike zone. That is unfathomably awful. When the pitch was in the zone, Aaron Judge managed to make contact with 74.3% of his swings last year, and Judge was terrible last season.
So while Bird couldn't handle Andriese's 92 mph heat two weeks ago, he has gradually been doing a better job getting the bat on the ball and avoiding strikeouts since then. That's sort of a prerequisite for being a good baseball player. Making contact. Bird has a healthy 9.3% walk rate, but walks alone are not enough. He needs to do a better job making contact, especially on pitches in the zone, and he's started to do that. Progress!
Making contact is one thing. Lots of players can do that. Pete Kozma can do that. Making quality contact is another. Quality contact is what separates good hitters from everyone else. Simply getting the bat on the ball isn't enough. You have to be able to drive it too. Here is Bird's hard contact rate, again via FanGraphs. It also shows a recent uptick:
Here's something that surprised me: Bird has a 48.4% hard contact rate this season. That's really freaking good. The MLB average is 31.1%. Going into yesterday's games 228 players had batted at least 50 times this season, and only 13 had a higher hard-hit rate than Bird. Judge, who has been hitting mammoth home run after mammoth home run, has a 47.7% hard contact rate. This is a big deal. Bird is coming back from major shoulder surgery and he's impacting the baseball. Good news!
Those two graphs are connected, of course. Bird is hitting the ball harder because he's making more contact on pitches in the zone. And, as always, Bird is getting the ball airborne. His 30.0% ground ball rate is well below the 44.3% league average and ranked 18th lowest among those 228 hitters with at least 50 plate appearances prior to yesterday's games. Hitting the ball hard in the air is Bird's thing. Hit the ball hard in the air and extra-base hits will come. Bird is still doing that. Remember this?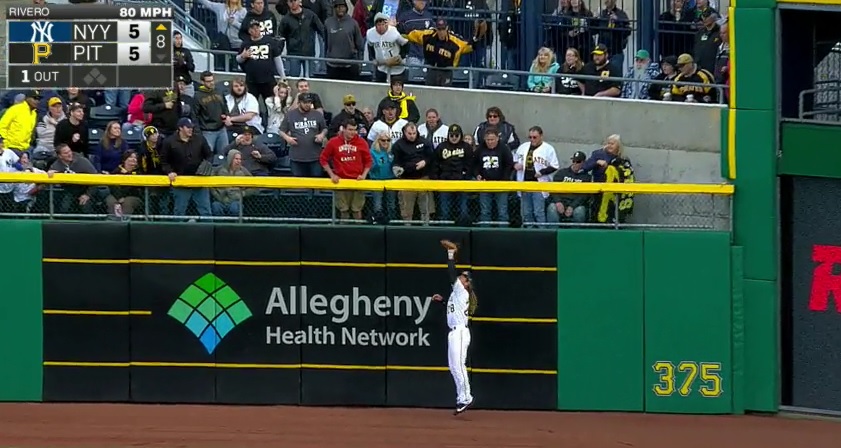 Bird hit a fly ball there Saturday afternoon. He hit the ball hard and he hit it in the air, and it was just short of the wall. Bird also had a line drive back up the middle taken away Sunday when Ivan Nova stuck out his glove and caught it. Bird has been dreadful so far this year. No doubt about it. But I can't help but feel there's a little bad luck in his .133 BABIP (!), especially given his hard contact rate.
Did you notice Bird's positive trends — the improved hard contact rate and contact rate in the zone — started at roughly the same time? That all started when Bird came back from the nagging ankle injury and that illness. He spent five straight days on the bench earlier in the season due to the ankle and the illness. Since he's returned, Bird is making more contact and hitting the ball harder. Coincidence? Maybe! But yeah, probably not. He's probably healthier now than he was on Opening Day.
There is no denying Bird has been awful in the early going this season. And if he continues to be awful, the Yankees will have no choice but to consider sending him to Triple-A to get things straightened out. I don't know when they'll have that conversation. Maybe next week, maybe next month, or maybe at the All-Star break. But it'll have to happen eventually if this continues. Sending Bird out there day after day to get his lunch handed to him helps no one.
At the same time, we are starting to see the old Greg Bird at the plate, even if the results aren't there yet. He's making more contact on pitches in the zone. He's hitting the ball hard and he's hitting it in the air. He's talking his walks. I'd be worried if Bird was still missing hittable fastballs, or if he was beating the ball into the ground. That's not happening now. At least not as often as it did a few weeks ago. Small sample size caveats always apply in April and that is no different here. We have to reach a little bit because Bird has been so bad, but there are some reasons to believe he is inching closer to getting out of this early season funk.