There are 14 questions in this edition of the mailbag. It's a long one. Either that or I'm typing slower these days, because this one took forever to put together. RABmailbag (at) gmail (dot) com is our email address.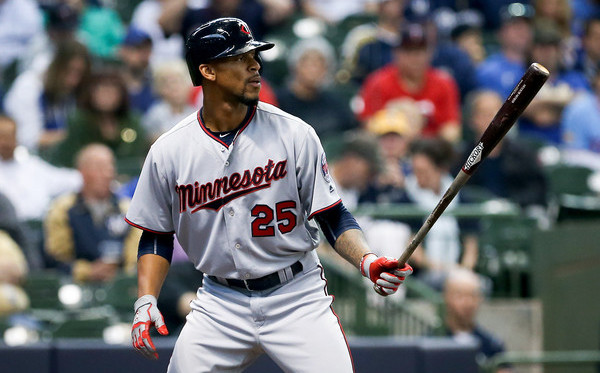 John asks: The Yankees have a few buy-low trade guys on their roster, what about Byron Buxton if he continues to struggle?
The Yankees do need to figure out the long-term center field situation at some point, and Buxton is a top of the line defensive center field, but my goodness, the kid just can't hit. He's hitting .082/.135/.122 (-35 wRC+) with a 46.2% strikeout rate in 52 plate appearances this year. That's after hitting .225/.284/.430 (86 wRC+) with a 35.6% strikeout rate last year, and he needed an insane September (.287/.357/.653, 165 wRC+) to get his numbers there.
At the same time, Buxton turned only 23 in December, and the guy is an incredible athlete and a former tippy top prospect. The raw talent is there. Buxton seems to be struggling more with his approach than with a lack of ability. Here are all the fastballs Buxton has let go for called strikes this year, via Baseball Savant: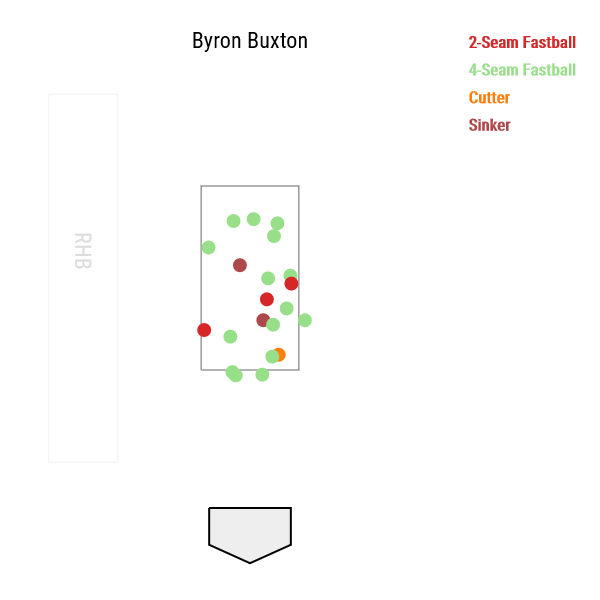 Maybe swing at a couple of those? When you're struggling to make contact and letting hittable fastballs go by for called strikes, that's a problem. Perhaps Buxton is a Carlos Gomez type. That insane athlete with a ton of baseball talent who needs 2,000 or so big league plate appearances to figure it out. That's kinda what the Twins have to hope, right? (To be fair, Buxton has just over 500 plate appearances in MLB.)
I am always open to buying low on talented young players. The questions with Buxton are: One, is he fixable? Two, are the Twins really going to sell low? Three, where does he fit? The Yankees have a full big league outfield right now with two very good outfield prospects in Triple-A (Clint Frazier, Dustin Fowler). And four, what does it cost? I'd never close the door on acquiring a player as talented at Buxton. It just seems like there are some issues to work through first.
Alex asks: Is Kaprielian even a prospect anymore? When/if he comes back in 2019, he'll be 25 years old, presumably in single A, with fewer than 50 innings pitched over the previous 3 years, and already eligible for the Rule 5 draft. What are the odds he ever makes the majors?
Of course he's still a prospect. James Kaprielian will be 24 when he gets back into games next season, and besides, they don't check IDs on the mound. If you can pitch and get outs, they don't care if you're 22 or 32 or 42. Jacob deGrom made his MLB debut a month before his 26th birthday. Tanner Roark was two months shy of his 27th birthday. Steven Matz was a first round pick in 2009 and he didn't throw his first professional pitch until 2012 because he got hurt so much, yet he was a top 100 prospect prior to both 2015 and 2016. Kyle Zimmer throws like ten innings a season and he's still on top 100 lists every year.
Kaprielian needing Tommy John surgery sucks. It really does, especially since he missed most of the 2016 season as well. By time he gets back into games next year, he'll have thrown 45 total innings from Opening Day 2016 through midseason 2018. That's a lot of lost development time he won't get back. As long as Kaprielian comes back strong and doesn't lose too much stuff, he'll still have the potential to help the Yankees at the MLB level, and that makes him a prospect. I'm not saying his prospect stock hasn't taken a hit, because it clearly has. It's still way too early to write Kaprielian off though. Let's see what he looks like post-surgery first.
Frank asks: Keith Law seemed a little down on Luis Severino over the years stating that his short stride would be a hindrance to his pitching acumen. I know there is a stat that shows perceived velocity (by the batter) as opposed to actual velocity. Is Severino's stride affecting that perceived velocity?
I'm not sure Law's issue with Severino's legs was his stride length. I think he was concerned Severino doesn't use his legs enough in his delivery, putting a lot of stress on his arm. Masahiro Tanaka really gets down and uses his legs in his delivery. So does Dellin Betances. Severino doesn't drive as much and that means a lot of his velocity comes from his arm. That doesn't guarantee he'll get hurt, but it's not ideal. You'd like him to use his legs a little more.
Anyway, yes, we have stats on actual velocity and perceived velocity. Perceived velocity is how fast the pitch looks to the hitter when taking into account where the pitcher releases the ball. The closer he releases the ball to the plate, the faster it looks. Here are Severino's numbers in his career so far, via Baseball Savant.
| | IP | Actual FB velo | Perceived FB velo | Difference |
| --- | --- | --- | --- | --- |
| 2015 | 62.1 | 95.3 | 95.1 | -0.2 |
| 2016 | 71 | 96.6 | 96.0 | -0.6 |
| 2017 | 20 | 96.6 | 96.1 | -0.5 |
Severino is listed at 6-foot-0, so he's not a big guy by pitcher standards. Because his stride is relatively short, his fastball is playing about a half a mile an hour slower than what the radar gun tells you, which is not a big difference but is a difference nonetheless. Fortunately Severino has velocity to spare. It would be cool to see him use his lower half a little more, but I'm not sure how possible that is at this point. That seems like a pretty big mechanical change.
Antony asks: What are your thoughts on velocity separation on pitches? I was watching Luis Severino's 2014 appearance during the 2014 Future Games and his slider was around 83-84 MPH while his fastball was sitting around 95+. His slider during his big league career seems to be significantly faster (88 mph+). Which would you prefer? I faster slider or slower slider? I can see an argument for both sides. A faster slider means less time to react, but a slower slider with the same arm slot would mean a bigger separation from the faster slider.
There's no right answer here. It works differently for every pitcher. Severino is without question throwing his secondary stuff harder now than he did a few years ago, when he was more low-80s with the slider and changeup. Now they're closer to 90 mph. Here is that Futures Game performance Antony mentioned:
Looks like a totally different guy, huh? The slider is more sweepy than it is now. For Severino, I think the harder slider may work best. His slider has pretty sharp break when thrown properly, and he still has close to a 10 mph separation between the two pitches. (Trackman has his average fastball at 96.8 mph and average slider at 87.2 mph in the super early going.)
For a guy like CC Sabathia, who needs to finesse hitters and show them a wider range of velocities to keep them off balance, separation between pitches is more important. For Severino, who is throwing so hard and has such lively stuff, he can survive with a smaller velocity separation. It would be cool if he threw a 96 mph fastball and a 76 mph slider that looks like a fastball out of his hand, but that's not really possible.
Mike asks (short version): If my understanding is correct, the Yankees will need to add Kaprielian to the 40-man roster following next season to protect him from the Rule 5 draft. Could you possibly see MLB changing the Rule 5 draft rules in the future to grant an extra year before protection for pitchers that undergo Tommy John (or any other injuries that cause significant time to be missed)?
Kaprielian will be Rule 5 Draft eligible following next season, so a few months after he comes back from elbow reconstruction. The Yankees won't have much time to evaluate him before deciding whether to put him on the 40-man roster. My guess right now, 20 months before this decision has to be made, is yes, the Yankees will add Kaprielian to the 40-man despite all the missed time. He's very talented and you'd hate to lose him to some rebuilding team willing to stash him in their bullpen all summer.
As for the rule change, it's an interesting idea that I think would be beneficial for both players and MLB long-term. At the same time, the Rule 5 Draft exists as a way to get players to the big leagues as quickly as possible, and I don't think MLBPA will agree to push back eligibility for a year, even for injured players. They actually pushed eligibility back one year in 2007. Under the old rules, Kaprielian would have been Rule 5 Draft eligible after this season. That extra year took a lot of the fun out of the Rule 5 Draft. Teams had one fewer year to evaluate players, which meant some more exciting prospects for available. I think giving injured players that extra year would be a good idea. I just don't see MLBPA agreeing to it.
Anonymous asks: If Michael Pineda continues to pitch the way he has in his past two starts, is a candidate for the QO?
Yes, definitely, if he keeps this up, which is a massive "if." I'm hopeful Pineda is starting to figure some things out and will become a consistently reliable starting pitcher. I need to see much more than two starts to really buy in though. Pineda hasn't earned the benefit of the doubt. The next blowup is still possibly only five days away.
Keep in mind the qualifying offer will be north of $18M this offseason, and because the Yankees will pay luxury tax this season, they can only a receive a compensation draft pick after the fourth round. They'd have to be very comfortable risking the $18M for that dinky draft pick. In the grand scheme of things, an expensive one-year deal for Pineda wouldn't be bad at all. But the luxury tax is a factor here. Let's revisit this in a few months and see where Pineda and the Yankees are at.
Dan asks: Since Chapman has a third pitch, a changeup, are you or were you ever of the opinion that he should be a starter?
I thought Aroldis Chapman should have been a starter way back when the Reds first signed him in January 2010. That ship sailed a long time ago though. Chapman was a starter in Cuba and he did start during the 2009 World Baseball Classic, which is when he really jumped into the limelight. This lanky 21-year-old left-hander showed up to the WBC throwing an effortless 95-98 mph and people went nuts.
Chapman started his career with the Reds as a starter in the minors, but he had some serious control problems (40 walks in 65.2 innings in 2010) so they stuck him in the bullpen to simplify things. The next year, 2011, Chapman came down with a shoulder issue after Cincinnati tried him again as a starter, and that was that. He hasn't started a game since.
One of the great what ifs in recent baseball history is Chapman as a starter. Would he throw 105 mph as a starter? No, probably not. But could he sit 98-100 mph from the left side? Maybe! Chapman has had issues throwing strikes (12.3 BB% from 2011-15) which probably doesn't bode well for his chances to succeed in the rotation. At the same time, who knows? Maybe it clicks one day like it did with Randy Johnson. I get why the Reds put Chapman in the bullpen at the time. I can't help but wonder what he would be doing as a starter though.
Adam asks: Hey Mike. I live in SF and hate the Giants and their fans. However, we match up perfectly with them and their lack of OF options. What are some trade possibilities for the two teams? Gardner, Hicks and even Frazier.
So far this season Giants left fielders are hitting .115/.184/.202 (8 wRC+) with -1.0 fWAR. Woof. They were planning on a Mac Williamson/Jarrett Parker platoon, and now both are hurt. They've been playing Aaron Hill — former second baseman Aaron Hill! –and journeyman Chris Marrero in left field lately. The Giants recently signed Melvin Upton too. Brutal, brutal production from a corner position.
The Yankees have plenty of outfielders to offer the Giants. Want a proven veteran who will save a lot of runs in spacious AT&T Park? There's Brett Gardner. Want to roll the dice on a talented switch-hitter? There's Aaron Hicks. Would you rather go young and look to build for the future? Clint Frazier and Fowler are there. Reclamation project? Take a chance on Mason Williams. The Yankees match up well as trade partners for the Giants. Is the opposite true?
San Francisco's farm system isn't great and I imagine they'll keep top prospects Tyler Beede, Bryan Reynolds, and Christian Arroyo. Those guys are probably off-limits. Here is MLB.com's top 30 Giants prospects list. Joan Gregorio, their No. 8 prospect, has Yankees written all over him, no? A 6-foot-7 righty with good velocity and a promising slider? Yeah. Righty Chris Stratton is a busted former first rounder. A Stratton-for-Williams change of scenery trade would be interesting.
Michael asks: How does the fan interference rule work re: umpire discretion? We saw Judge awarded a triple, but could someone like Jorge Mateo hypothetically have been awarded an inside-the-park home run?
Aaron Judge has five home runs and one triple that went over the fence this year, so it's really six homers. Here's that over-the-fence triple from Sunday night:
On that particular play, it was up to the field umpires to place Judge at a base. They called it fan interference, and because the replay crew at MLB's office didn't see enough evidence to overturn the call, they had no say in placing the runner. The field umpires determined Judge would have reached third base on the play. Props to him for hustling. And yes, they could have awarded a faster runner an inside-the-park homer if they felt he was going to make it without the fan interference, but I wouldn't count on that ever happening.
It's not often you see players awarded a triple on plays like this. The umpires usually put the player at second base and that's that. Umps can also award home plate if the runner leaves first base on a ground rule double, but they never ever ever do. I hate that so much. Especially with two outs and the runner going on contact. How many times do we see the ball hop over the fence when the runner is already at third? It seems like these guys make the same calls over and over to avoid being second guessed. At least they gave Judge a triple Sunday. I can't imagine he'll get too many of those.
Rich asks: I'm a little concerned about Clippard's workload to start the season. It seems as though he has pitched in all but three or four games with many high stress innings. What's Clippard's workload going to end up looking like this year and is there any concern about over using him so early into the season?
This question was sent in a few days ago. Clippard pitched seven times in the first eleven games of the season — add in off-days and he pitched seven times in the first 15 days of the season — but he had this week off. He didn't pitch once against the White Sox. Clippard's last appearance was that cardiac save against the Cardinals last Saturday. So it's been a while since he's gotten into a game. He might pitch tonight just to get work.
Clippard has always been a workhorse. He averaged 77.4 innings a year from 2010-15 before throwing only 63 last year, which is basically a normal reliever's workload. Clippard threw 527.1 innings from 2010-16, easily the most among all relievers. Brad Ziegler was a distant second with 463. I think his early season workload was an anomaly. The Yankees played a bunch of close games in a short period of time. That's all. Joe Girardi is really good about resting his relievers and I'm sure he'll be careful with Clippard, even though he'll be a free agent after the season and the Yankees have no long-term attachment to him. They still want him fresh and productive in August and September.
Steve asks: If lets say everything continues as is and the Yankees are buyers and Cardinals have a down season, what do you think of Lance Lynn as a short term pickup options. By the summer should be far away from the TJ surgery to be fully effective again hopefully. Also, wouldn't cost anything too exorbitant and free agent at the end of the year so no long term money tied up.
Interesting target! Lynn will turn 30 next month and he's going to be a free agent after the season, so he's a pure rental. So far this season he has a 3.12 ERA (5.04 FIP) in 17.1 innings and three starts. He missed all of last season following Tommy John surgery, so he's shaking some rust off right now. From 2012-15, his four full seasons as a starter, Lynn had a 3.38 ERA (3.39 FIP) and averaged 189 innings per season. His ground ball (43.3%) and walk (8.7%) rates weren't great though. (He had a 22.6% strikeout rate.)
The most important thing right now is that Lynn's stuff has returned following Tommy John surgery. His fastball is still in the low-to-mid-90s and his slider has its usual bite. Here's video of his last outing:
The Cardinals looked pretty bad when we saw them last weekend, and if they're out of the race at the trade deadline, it would make sense to at least listen to offers for Lynn given his impending free agency. Two years ago the Giants traded a borderline top 100 prospect (Keury Mella) and fringe big league player (Adam Duvall) to acquire rental Mike Leake. (Duvall went up and down a few years before breaking out as a 33-homer guy in 2016.) Is that a reasonable trade benchmark for Lynn?
If so, would the Yankees equivalent be … Fowler and Rob Refsnyder? Or Chance Adams and Tyler Austin? If that's the cost, I'm guessing the Yankees will pass. They seem dedicated to the youth movement, and while I can't imagine someone like Refsnyder or Austin standing in the way of a trade, dealing Fowler or Adams for a rental ain't happening. If the Yankees do make a trade for a starter this year, I suspect it'll be for someone they can control behind this season.
Simon asks: Who has been the better versatile pitcher type for the Yankees? Adam Warren or Ramiro Mendoza?
Warren is sort of the modern day Mendoza, though Mendoza was more of a true swingman. He averaged eleven starts a season from 1996-2000. Warren has made 20 starts total in parts of six seasons with the Yankees. Let's compare the numbers quick. (These cover Mendoza's first stint in pinstripes only, not his ill-fated 2005 return.)
| | G | GS | IP | ERA | ERA+ | FIP | bWAR |
| --- | --- | --- | --- | --- | --- | --- | --- |
| Mendoza | 277 | 57 | 698.2 | 4.08 | 112 | 3.97 | +11.5 |
| Warren | 181 | 20 | 328.2 | 3.31 | 122 | 3.68 | +4.9 |
Warren was better on a rate basis in terms of ERA and FIP — ERA+ adjusts for the state of the league (Mendoza pitched in a much more offensive era) and Warren still has him beat — but Mendoza endured much heavier workloads. Warren has thrown 80+ innings in a season only once as a big leaguer (131.1 in 2015). Mendoza averaged 110.8 innings per year from 1997-2001. Also, Mendoza has four World Series rings, though championships are a team accomplishment, not an individual accomplishment. Warren would have four rings with those 1996-2000 rosters too.
Because he threw so many more innings and was more of a true swingman, I'll say Mendoza was the better Swiss Army Reliever for the Yankees. Warren's really good though! He's reliable, he bounces back well after throwing back-to-back days or multiple innings or whatever, and Girardi can use him in any role. Warren is one of those guys who should always be a Yankees. He just fits.
Jim asks: Was just curious what the innings limit on Jordan Montgomery for this season? Will that mean a move to the bullpen later in the season?
The Yankees seem to be pretty flexible with their innings limits. They play it by ear more than set the limit at, say, 30 innings more than last season. Severino went from 113 innings in 2014 to 161.2 innings in 2015, and hey, maybe that's why he struggled in 2016. It was too much of an increase. Anyway, here are Montgomery's innings totals:
2013: 79 (college)
2014: 119 (college and pro ball)
2015: 134.1 (minors)
2016: 152 (minors)
That's a very nice, steady progression. It's not unrealistic to think the Yankees could pencil Montgomery in for 180 or so innings this year. MLB innings are more intense than minor league innings, so they'll keep an eye on him, but yeah, his innings are built up well. I don't think we'll see Montgomery move to the bullpen later in the season. Not for workload related reasons, anyway.
Don asks: My request is simple, yet honest: Please consider doing a post on the history of RAB. While I know the site was founded by you, Ben and Joe, my understanding is limited beyond that. Is this something you'd consider? Regardless of your decision, this is a great opportunity for me to just say thanks for the years of amazing content. Selfishly, I hope you guys do this for another ten years.
The history of RAB probably isn't interesting enough for a full post. Ben, Joe, and I were all blogging about the Yankees in separate places back in 2006 and early 2007. Here's my old site. Here's Joe's. They're so bad I'm embarrassed to link to them, but whatever. I was finishing up school at the time and was basically counting down the days until graduation, so I decided to start writing about the Yankees as a hobby. Nothing more.
I believe it was Ben who first had the idea to combine forces, so to speak. Instead of writing about the Yankees separately, why not do it together at one spot? I was the third wheel. Ben and Joe decided to start RAB — which was still nameless at the time — then asked me to come along for the ride. It took us a few months to find our bearings and figure out the best way to move forward. A set schedule was better than posting at random times each day. Game threads turned out to be pretty cool too. We didn't have those once upon a time.
The three of us came into this with small readership bases (and I do mean small) already established, so we had an audience right away. Back at my old site I'd get about 15 hits a day. Not 15,000. 15. I'd say the 2008 season is when RAB really took off. The beat writers covering the team at the time (Pete Abraham, Mark Feinsand, etc.) were very kind to us and promoted our work. Then, during the 2008-09 offseason when the Yankees started signing every free agent, RAB really hit its stride. People wanted to read about the Yankees and there we were.
The rest is basically history. Ben, Joe, and I went into this as college kids and now we're all in our 30s and responsible adults. We've had many others contribute to the site along the way and we also brought Jay aboard to help with the technical stuff, which is so far over my head it's not even funny. None of us ever thought RAB would grow into what it is. I think we all kinda figured it would be a funny hobby for a little while until we found better things to do.