Big mailbag this week. Fifteen questions. You guys are excited about the new season, huh? The mailbag email address is RABmailbag (at) gmail (dot) com. Send your questions there each week.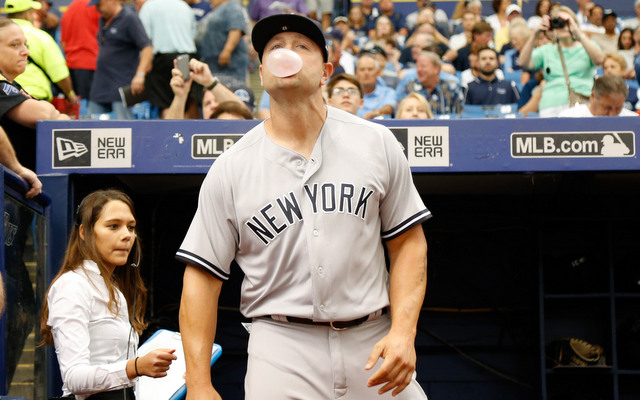 Nick asks (short version): I understand why Holliday is the favorite for the DH job this year, but I do wonder why it seems like he is such a lock over Chris Carter. Carter does bring tremendous power and is far younger and less likely to completely collapse.
Matt Holliday's contract and track record are going to ensure he has a long leash, though at this point of their careers, he and Carter aren't all that far apart in terms of expected production. The shape of their production is different, but you're going to get similar overall value. The numbers:
Holliday in 2016: .246/.322/.461 (109 wRC+), 20 HR
Carter in 2016: .222/.321/.499 (112 wRC+), 41 HR
Holliday ZiPS for 2017: .244/.325/.447 (106 wRC+), 14 HR
Carter ZiPS for 2017: .223/.316/.509 (117 wRC+), 37 HR (that's assuming full-time duty)
Holliday will strike out less and Carter will draw more walks, and neither will provide much value on the bases. The Yankees are hoping Holliday will be more productive as a full-time designated hitter because it'll keep him off his feet and avoid wear and tear, but, at the same time, he is also 37, and that's not a good age for a baseball player.
It's obviously too early to give up on Holliday and I do think he could very well end up being more productive this year than last year as a designated hitter in Yankee Stadium. I also don't think he should have the job indefinitely. If he's not looking too good a few weeks into the season, I absolutely hope the Yankees start giving some of his at-bats to Carter. Older players have a way of making you keep waiting for a slump to end, you know?
John asks: I count 5 players on 40 man who probably can't help us this year, have little or no experience in AAA: J. Mateo, M. Andujar, Y. Ramirez, R. Herrera, D. German. Is this too many future prospects tying up usable roster space for this year? We've lost some usable pieces like Goody, Bleier, Pazos, Mullee, And Lindgren who if healthy could have helped this year. Is roster balanced enough?
I could see all three of those pitchers (Yefrey Ramirez, Ronald Herrera, Domingo German) helping the Yankees in some capacity this season. Jorge Mateo and Miguel Andujar are top prospects who had to be protected from the Rule 5 Draft. Can't risk losing guys like that for nothing. Among the players the Yankees cut loose over the winter, Jacob Lindgren is the only one who I think could come back to bite them, and he's going to miss the  season with Tommy John surgery. Others like Nick Goody and James Pazos are up-and-down depth arms, and the Yankees have plenty of those. Mateo and Andujar are the only players on the 40-man right now who I think have no chance of helping the Yankees in 2017. I think everyone else is a call-up candidate, some sooner than others.
Mark asks: Assuming Tyler Austin looks great at the plate once he's healthy, what do you see as his short and long term role with the big league club? With Bird, Holliday and Judge entrenched in their positions and Carter and Hicks ready off the bench, I'm not seeing where he has a role with this club this year barring any injuries.
In the short-term Austin's role will likely be up-and-down depth player. Whenever someone gets hurt or they need an extra right-handed bat for a few days, he figures to be the guy who gets the call over Rob Refsnyder (once healthy). Long-term, I'm guessing the Yankees would like to have him in their first base/corner outfield/designated hitter mix. Holliday is on a one-year contract and there's no guarantee Carter will be around in 2018 either — he will remain under control as an arbitration-eligible player next year, so the Yankees could bring him back if they want — so they'll have ways to get Austin on the roster. It's not easy to break through with Austin's profile. Those right-handed hitting/right-handed throwing corner bats need to provide a lot of thump to stick around.
Joe asks: I see Ben Gamel is out there in Seattle fighting for a roster spot in the outfield. How do you think the players we acquired in the trade (Jio Orozco and Juan de Paula) last year develop this year and beyond?
Gamel did not make the Mariners and has been sent down to Triple-A, his third straight season at the level. That's not good. He's very much at risk of becoming a Quad-A type. (Refsnyder is in the same boat.) The two kids the Yankees got for Gamel are still only 19, so they're super young. Orozco will be in the Low-A Charleston rotation this season and DePaula will start back in Extended Spring Training before joining one of the short season leagues in June. They're both right-handed pitchers.
Orozco is the better prospect of the two because his curveball and changeup are further along. Neither was particularly close to my top 30 prospects list but MLB.com and Baseball America had them in Seattle's top 30 last year, so they're not nobodies. I'm hoping Orozco can get to High-A next year and DePaula can do enough this year to start next season with Low-A Charleston. For that to happen, they have to develop more consistency with their secondary stuff. Neither has ace ceiling or anything like that. The Yankees hope they'll develop into nice back-end starters down the line. Fringe MLB players like Gamel usually don't fetch much in a trade.
Paul asks: I'm looking to take my kids to a Thunder game this year. Realistically, when do you think which prospects might be there? How long will Torres be there and does Rutherford get there this year? Any chance they overlap?
I can't see Blake Rutherford getting to Double-A in his first full pro season. He might not even get to High-A. Keeping him in Low-A the entire season would be completely reasonable. Mateo should get to Double-A at some point though, perhaps before the start of June. He and Gleyber Torres could very well overlap. June might be the sweet spot. That's early enough that Torres, Andujar, and Justus Sheffield should still be with Trenton, but also late enough that Mateo (and Ian Clarkin?) figures to be up from High-A.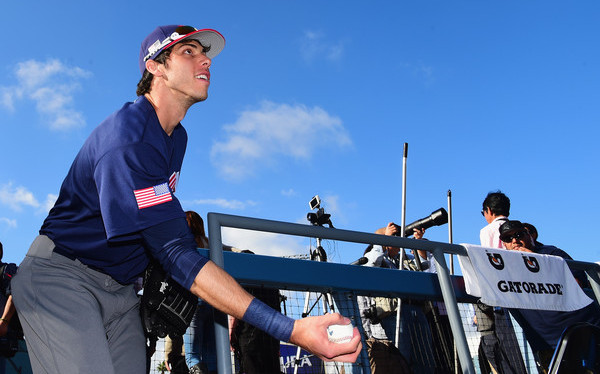 Dennis asks: I agree with your sentiments that Christian Yelich is criminally underrated. Obviously, the Marlins aren't moving him but if they did, what do you think it would take to get him. My Trade Proposal Sucks but would a Clint Frazier and James Kaprielian get them talking. Marlins are short on pitching.
This question was sent in before Kaprielian's elbow started acting up again. Frazier and healthy Kaprielian would have to be the start of a package, not the package. And the other pieces would have to be fairly significant too. Yelich turned only 25 in December and he's owed $46.75M total through 2021 with an affordable ($15M) option for 2022. He's young, excellent, and signed cheap. Tough to beat that combination. Yelich hit .290/.365/.406 (118 wRC+) from 2013-15 before hitting .298/.376/.483 (130 wRC+) last season, so he's still getting better.
There aren't many players I would consider trading Torres to acquire, but Yelich is one of those players. I'd rather build a hypothetical package around Frazier and healthy Kaprielian. I'm just not sure that's possible. The third and fourth pieces might have to be players like Aaron Judge and Luis Severino. I can't see the Marlins trading a borderline star signed so affordably for a bunch of prospects. They'll need some MLB players in return. They could ask for Judge and Greg Bird and more and I don't think it would be crazy at all. I'm not saying I'd do it, but the Marlins wouldn't be crazy to ask.
Doron asks: Finally, the Yankees are in a position in which they have youngsters that warrant an early career extension to lock in a payday for the players, and for the Yankees to obtain cost certainty and not have to go to arbitration. The ? is, at what point do the Player Association push for a Bird Rule a la NBA for teams to be able to retain their own players without it counting against the salary cap for luxury tax purposes?
There's no salary cap in baseball! The luxury tax effectively acts as a salary cap now. MLBPA may push for something similar to the Bird Rule, but I can't see MLB ever agreeing to it. The owners want the luxury tax to keep costs down. They're not going to put a mechanism in place that allows clubs to exceed the luxury tax threshold without penalty. The Yankees and Red Sox and Dodgers may push for a Bird Rule, but most clubs aren't particularly close to the luxury tax threshold, and they'd fight it. Bottom line: the luxury tax is in place to, in order, 1) save money by creating an artificial salary cap, and 2) promote competitive balance. I can't see MLB letting rich clubs skirt the luxury tax with a Bird Rule.
Greg asks: What is the point of the Rule 5 Draft?
To prevent teams from hoarding talented players and burying them in the minors indefinitely. Nowadays there are all sorts of mechanisms in place to help players get to MLB and stay in MLB as long as possible. That wasn't always the case. Back in the day when there was no amateur draft, you could sign all the talented prospects and keep them as long as you want. That's how the Yankees won all those championships. Nowadays players have only three minor league option years, and everyone has to pass through waivers when they're being removed from the 40-man roster. The goal is give these guys every opportunity to get to and stay in the big leagues.
Adam asks: What's the over/under date for Judge moving up from the 8th spot? There's something awful about seeing Ellsbury 5th when literally every other hitter would be more appropriate in that spot.
I'm going to set the over/under on Judge moving out of the eighth spot permanently — not just a game higher in the lineup here or there — at June 5th. That's an off-day for the Yankees between Games 56 and 57, so almost exactly the one-third point of the season.
Judge has looked pretty good so far, no? He's only 2-for-12 (.167) at the plate, but his at-bats have been good and he's not swinging at everything with two strikes. Here are all the two-strike pitches he's seen this year, via Baseball Savant: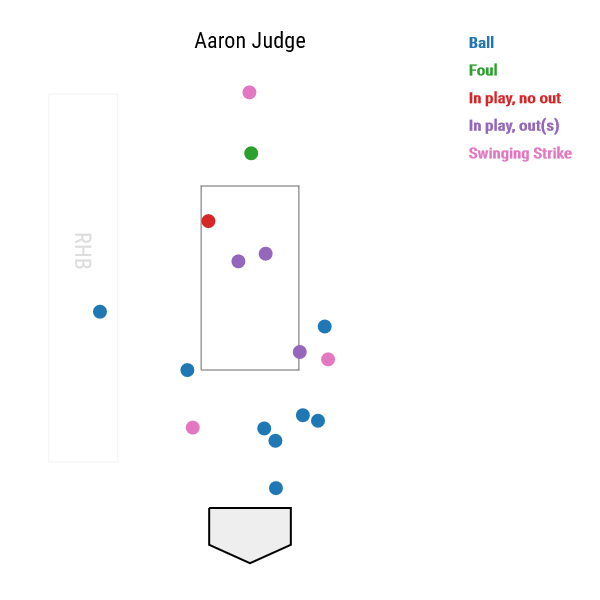 The Rays kept trying to get Judge to chase that breaking ball down and away in two-strike counts and he did a pretty good job laying off, for at least that one series. I count three swings and misses and four balls in play, so hooray for that.
Jacoby Ellsbury is 5-for-11 (.455) with a double and a home run so far, so he's doing his part and not giving Joe Girardi a reason to think about moving him further down the lineup yet. It's early though. It's three games. Let's see where Judge and Ellsbury and everyone else is in a few weeks, then reevaluate things.
Garret asks: Don't you think the Bethancourt pitching and catching for the Padres greatly increases the feasibility of them keeping Torrens all season?
Sure, but even then Luis Torrens is still only their third catcher. Keep in mind their starting catcher, Austin Hedges, is a 24-year-old top prospect himself, so his development and playing time will be a priority for the Padres. Keeping Torrens is doable but far from ideal, and if they manage to keep him on the roster all season, how much will he play and how much will it hurt his development? The Yankees signed Torrens in July 2012 and, because of his shoulder surgery, he only has 673 career plate appearances. There is definitely value in catching bullpen sessions and sitting in on scouting meetings and all that, but ultimately the kid needs to play and play a lot to get better.
Michael asks: Does Ronald Torreyes have any options remaining? If he has options remaining and if he struggles, do you see a possibility of the Yankees sending him down when Didi returns instead of designating Pete Kozma for assignment?
This question was sent in before Torreyes socked that home run the other night. As far as I can tell Big Toe definitely has one option remaining and likely two. Even if Torreyes were to struggle as the fill-in shortstop, I think the Yankees would keep him over Kozma as the utility infielder. He's the better player at this point and I'm not sure Torreyes has anything to gain by playing in Triple-A. Maybe he'll end up struggling so much the Yankees decide to send him down to rebuild confidence, but I don't see it happening. Torreyes will be fine and the Yankees will cut ties with Kozma, which was the plan all along.
Richard asks: I've been trying to read the tat the runs up on Matt Holiday's huge arm. What does it really say?
Joe Strauss says it's an Old Testament verse (Job 38:4): "Where were you when I laid the earth's foundation? Tell me, if you understand." Holliday is a religious guy, apparently. Strauss' story says he and other Cardinals players used to meet weekly to discuss how to apply lessons from the Bible to their baseball careers. So there you have it.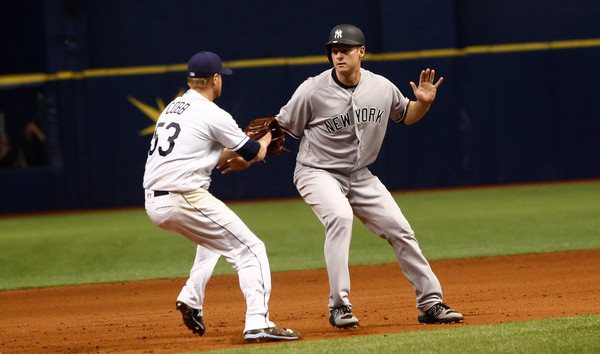 Kevin asks: I know it's early, but Chase Headley is definitely off to a better start than in previous years! If he continues to hit decently well (I don't know let's say .750 OPS), do you think he has any trade value come August (if the Yankees decide to sell again)? Do you see the Yankees maybe trading him, or keeping him since there are no immediate options to replace him at third?
I think the Yankees are willing to trade Headley right now and will be for the duration of his contract, regardless of what he's doing on the field. Maybe this hot start will boost his value somewhat, though I don't see it. Teams know Headley. They have a book on him and two or three month's worth of at-bats aren't going to sway them too much. The White Sox figure to trade impending free agent Todd Frazier at some point, so any team looking for third base help figures to check in on Frazier before Headley. Which teams need a third baseman anyway? I don't see too many. An injury can always change things though. Anyway, yeah, Headley is on the trade block, now and through the end of his contract.
Adam asks: Yelling at Frazier about his hair, calling it a distraction, and now the impossibly stupid decision of Suzyn Waldman telling the world that he (Frazier) asked for Mantle's number. I can't help but feel like someone in the organization is going out of their way to embarrass a promising, young player. What is your take?
Nah. If the Yankees have problems with Frazier, they'd handle it behind closed doors, not drag him through the mud publicly. (Dellin Betances probably disagrees with that.) That helps no one. These aren't the George Steinbrenner in his heyday Yankees. The hair thing was beyond stupid. It's hair. The fact it became a distraction — a hair cut distraction! — tells you all you need to know about the archaic hair policy. No one does baseball sanctimony quite like the Yankees.
The Mickey Mantle stuff was completely avoidable — the Yankees shot it down and Waldman apologized to Frazier — but the damage is done. It's out there and in the court of public opinion, Frazier is guilty. Anyone who doesn't like him will hold it against him. Real talk forthcoming: without Alex Rodriguez to kick around anymore, many fans and media folks needed a new, easy target. Then the punk kid with bright red hair that was a little longer than usual came into their lives. Frazier is going to be a whipping boy going forward. That has been made crystal clear.
Bill asks: What do you think of the decision to rotate Gleyber Torres at multiple positions at Double-A Trenton? Should the Yankees have him focus on becoming a better shortstop or on improving his versatility?
I'm okay with moving him around. Torres is a good defensive shortstop and his bat is going to play anywhere, so it doesn't hurt to see how his athleticism plays at other positions. I'm not sure whether second base or third base is the best spot long-term. I guess Gleyber will answer that question, right? He might feel more comfortable at third because he's still on the left side of the infield. Or maybe he likes second better because there's more action on the middle infield. If the Yankees didn't have a quality big league shortstop, I'm not sure I'd be on board with moving Torres around. But, since they have Didi Gregorius, I'm cool with it. The best Yankees team going forward has both guys in the lineup.