Got a dozen questions in the mailbag this week. Remember to use the RABmailbag (at) gmail (dot) com email address to send us any questions through the week.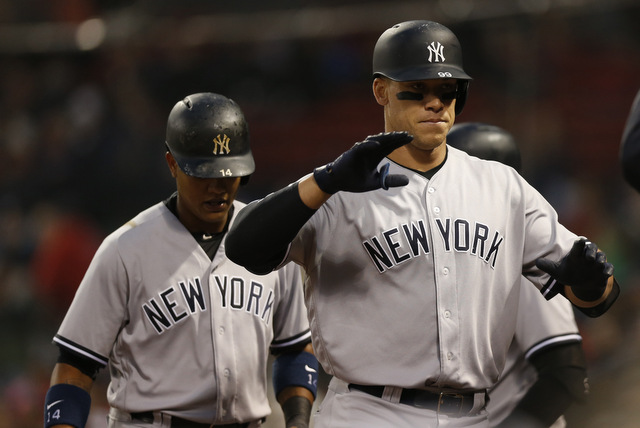 Dan asks: Aaron Judge's power tool was never higher than 60 on MLB.com. Do you think its that low? Also, do you think that with Judges Drago-esque strength, that as long as he maintains average contact rates, that he can hit 25 to 30 plus home runs?
I'll answer the second question first: yes, definitely. Judge is more than capable of hitting 25+ or even 30+ home runs at his peak. That's what he was projected to do as a prospect and we're seeing him on that pace now. As for the first question, raw power and game power are different things, and I believe MLB.com ranks game power. Judge's raw power, which is simply the ability to hit the ball hard and far, is clearly an 80 on the 20-80 scouting scale. Anyone who can hit the ball on top of the Mohegan Sun Sports Bar in center field in batting practice on the regular has 80 raw power.
Game power is different. Someone like, say, Hunter Renfroe may have 70 raw power, but because he struggles to make contact and isn't very disciplined at the plate, it plays more like 50 power. That's game power. The ability to use that raw power in games. When he was coming up, putting a 60 on Judge's game power seemed reasonable to me. He is so huge and there were legitimate questions about his ability to control the strike zone against MLB caliber pitching. 80 game power is rare, but I'm sure you could find some scouts willing to drop a 70 game power on Judge right now.
Joe asks: Is Starlin Castro walking at a higher rate than usual? What was his walk total through this point in the season in years past? Could be a maturing approach?
Eh, yes and no. Castro drew two walks in the first 13 games of the season, then drew three in the next four, so I think there might be some recency bias at play here. Going into last night's game Castro had a 6.3% walk rate, which is below the 8.7% league average and up from his 3.9% walk rate last year. His swing rate on pitches out of the zone sits at 37.1%, which is basically identical to last year (37.5%). Starlin's career walk rate is 4.8% and my guess is when the season ends, he'll be somewhere in that neighborhood again.
Dylan asks: Can Carter be optioned to AAA? Would that make sense? If they did that who would they call up — Refsnyder? Is there precedent for a FA signing (that got some real money like Carter) being sent down?
Chris Carter is out of options, meaning he can't go to the minors without first passing through waivers. More importantly, he now has five full years of service time, allowing him to refuse any assignment to the minor leagues. So the answer is: no, Carter can't be sent down. He'd refuse the assignment. I'm not sure who the Yankees would call up anyway. Rob Refsnyder is the only real alternative and the only thing he offers over Carter is versatility. Meh.
There is no real precedent for sending a free agent signing to the minors because of that five-year rule. They all refuse the assignment because the minors stink. A few years ago the Yankees asked Jason Giambi to go to Triple-A for a bit when he was struggling, but he declined. We've seen plenty of veteran players come from overseas and get sent to the minors (Kei Igawa, Yasiel Puig, Rusney Castillo, Byung-Ho Park, etc.), but not many true MLB free agents. By time they hit free agency, they have enough service time to refuse a Triple-A stint regardless of their options status.
Richard asks (short version): Now that CC is successfully reinventing himself by adding an effective cutter, I was thinking, why didn't he do this when he still had his dominant velocity? Why don't pitchers in general SERIOUSLY consider adding or refining another pitch while they're young?
Adding a pitch is hard! And if you're peak CC Sabathia, a perennial Cy Young contender and 200+ inning workhorse dominating hitters with a fastball/slider/changeup mix, why risk getting beat on some crummy fourth pitch you're tinkering with on the side? Pitchers mess around with grips and different pitches all the time. In Spring Training, when they throw on the side during the season, whenever. They don't take those pitches into games because they aren't comfortable throwing them in a competitive environment. Sabathia added the cutter once it became clear what he was doing before wasn't going to work, and that's a credit to him, because many pitchers later in their career can't add another pitch and find success.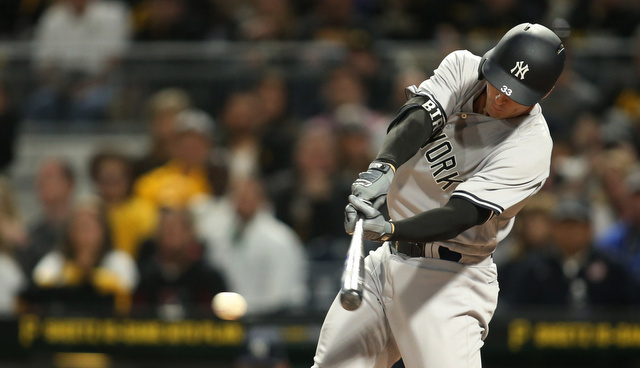 Dan asks: If Bird continues to struggle, and Tyler Austin is healthy, at what point do the Yankees option Bird and give Austin a shot?
We haven't gotten an update on Austin in a month now, which doesn't necessarily means his rehab has been slowed. It just means we haven't heard anything. (The Yankees are fairly tight-lipped with injuries.) Based on the timetable provided at the time of his injury, Austin should start doing baseball related stuff fairly soon, if he hasn't already. Then he has to go through minor league rehab games and all that. And because he got hurt so early in camp, Austin basically has to go through Spring Training. Point is, he's not particularly close to returning.
Since Austin is at least a few weeks away, Greg Bird doesn't have to worry about him coming to take his job yet. If Bird is still struggling when Austin is healthy, yes, the Yankees will have to consider making a change at first base. At that point we'll be in May and Bird will be over 100 plate appearances. If he's still not hitting then, that's a real problem and the Yankees will have to consider alternatives, including Austin. Let's see where Bird is once Austin is actually healthy and on the field with a few minor league games under his belt.
Brent asks: Donny Sands, is he a failed third basemen converted catcher or because we have a surplus of infielders they tried to add depth in other areas? Also, he seems to have struggled a bit with PB and people running all over him, not knocking him for it it's a tough transition and hasn't been too bad considering. How long is his leash as a catcher before they move him back to third or another position?
Failed third basemen don't go behind the plate. They go to first base or maybe the corner outfield. The Yankees put Sands behind the plate because they feel he has the tools and aptitude to handle the position, and that's where he would be most valuable to them long-term. They made the decision to put Sands behind the plate a while ago, possibly before they even drafted him (eighth round in 2015). It didn't have anything to do with the infield depth. Catchers are harder to find than infielders, so if you have a kid who looks like he can catch long-term, give it a try. Sands has only been catching full-time since the 2015-16 offseason, so the passed ball issues and all that are due to a lack of experience. Not everyone takes to the position as quickly as Luis Torrens, a converted infielder who looked like he'd been catching his entire life as soon as he got back there.
Jackson asks: Even if the Yankees are contention at the trade deadline, with Washington's problems in the bullpen, could you see NY trading Betances and/or Clippard for close-to-majors starting pitching in anticipation of next year? If the market for relievers is as tight as last year they could get multiple solid prospects.
I don't think the market for relievers will be as robust as last year. Last year feels like a bit of an anomaly. If the Yankees do sell at the trade deadline — I think that's a huge "if" — Dellin Betances would be their top trade chip. Betances or Masahiro Tanaka. Tyler Clippard? Eh. The Yankees got him for a Grade-C prospect last year and I see no reason to expect more at the deadline. He's getting more home run prone with each passing year and getting outs isn't quite as easy as it once was for him. I don't think his trade value is all that high.
My guess is the Nationals end up acquiring David Robertson in a salary dump at some point. It makes too much sense. There's an obvious need and the White Sox are already familiar with Washington's farm system after the Adam Eaton trade and Chris Sale trade talks, so things could come together quickly. If the Yankees and Nationals do discuss Betances, I assume the Yankees will again focus on acquiring the best possible talent, not filling specific positions. If that leads them to close to MLB ready pitching, so be it.
P.J. asks: If the Royals become sellers and the Yankees buyers at the trade deadline what do you think of the Yankees going after Lefty SP Jason Vargas as a rental?
Vargas missed most of 2015 and 2016 with Tommy John surgery, and through four starts this season, he has a 1.40 ERA (1.50 FIP) with 28.9% strikeouts and 2.1% walks in 25.2 innings. He's been phenomenal. We also have about 1,200 innings telling us Vargas is not actually this good, so a crash back to Earth figures to be coming. Vargas had a 3.85 ERA (4.24 FIP) in 554.1 innings from 2012-15, so he was solid for a few years before the elbow gave out. General rule of thumb: don't pay for outlier performance at the deadline.
The Royals are terrible — they recently scored no more than two runs in eight straight games — and they have a lot of core players set to become free agents after the season, including Vargas. If they're out of the race in July, GM Dayton Moore will have no choice but to consider selling. A healthy and effective Vargas would be a decent trade chip. Thing is, I don't think the Yankees will trade prospects for a rental. I mentioned this last week when someone asked about Lance Lynn. Unless Vargas or another rental starter comes really cheap, I think the Yankees will focus their efforts (and prospects) on acquiring a pitcher they can control long-term.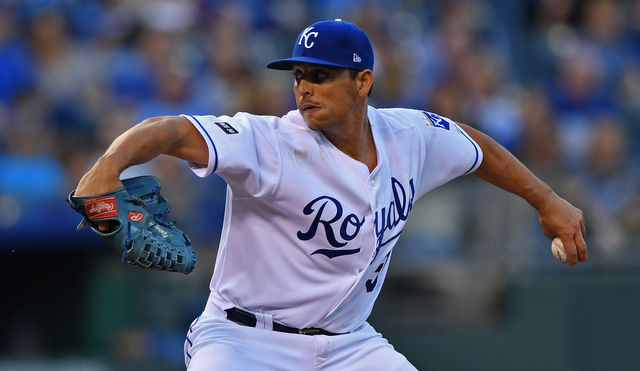 Jake asks: With the Pirates reportedly looking for outfield help, what would they need to offer the Yankees for Brett Gardner for Cashman to take them seriously?
Not happening. I get why this question was asked, but Brett Gardner isn't a fit for the Pirates. They're a small payroll team and they're not going to take on a $12M a year outfielder. And, even if the Yankees agree to eat money to facilitate a trade, it'll mean they'd want a qualify prospect in return. The Pirates aren't giving up a prospect for a 33-year-old outfielder when they have Starling Marte and Gregory Polanco locked up long-term, and Austin Meadows sitting in Triple-A. Pittsburgh is trying to trade a veteran outfielder (Andrew McCutchen). Not bring another one in. The best trade partner for Gardner still appears to be the Giants.
David asks: If you could only keep 1, would it be Gleyber or Didi? I bet this is harder to answer than you anticipate.
It is a difficult question. Gleyber Torres is a top notch prospect and a potential superstar. Didi Gregorius is an above-average Major League shortstop, in my opinion. Do you take the new big screen television, or what's in the mystery box? Could be a trip to Hawaii, could be a sack of potatoes. It's the known quantity vs. upside potential. In these situations I almost always take the proven big leaguer. In this case, I'll take Torres, because I do believe he's a budding star who will one day be the centerpiece of the next great Yankees team. I don't think this is an obvious choice at all though. Gregorius is a really good player and Gleyber is a 20-year-old with a handful of games above High-A. You could easily argue Didi is the right pick. I'd roll the dice with Torres. Go big or go home.
Eddie asks: I'm not saying he'll achieve it, but what type of progression do we need to see from Sevy to have him be considered the team's Ace next year? Also, does Tanaka have to be gone?
Don't worry too much about the ace label and who is the No. 1 or No. 2 starter. Just get as many quality pitchers as possible. Does Luis Severino have the potential to be an ace? It sure looks like it based on his start to the season, though it is only four starts, remember. Let's see what happens once the innings pile up and the league gets another look at him. It's impossible not be excited by what he's done so far.
I don't expect the Yankees to spend big on a free agent pitcher this offseason because of the luxury tax situation — I think it's less than 50/50 they re-sign Tanaka if he opts out — and if that is the case, Severino almost becomes the staff ace by default. That doesn't automatically make him an ace caliber pitcher. When I think of an ace, I think of a top 15-20-ish pitcher in baseball. A guy who pitches deep into games consistently, dominates on his best days, and keeps his team in the game on his worst days. I'm excited with what I've seen from Severino so far. I still think we're a long way from considering him an ace though.
Anonymous asks: Which team would win more games (assuming identical league average pitching): 9 peak Ozzie Smiths or 9 peak Jason Giambis.
Fun question! My initial reaction is the Ozzies would be better because, at his peak, Smith was a league average-ish hitter. Giambi at his peak was never close to an average defender. The Ozzies are full of better athletes and would save a ton of runs in the field. Opposing teams might have like a .450 BABIP against the Giambis because they'd be so immobile in the field. Here is each player's best seven-year stretch:
Ozzie Smith (1985-91): .278/.360/.350 (99 OPS+) and +40.8 WAR (6.2 WAR per 162 games)
Jason Giambi (1999-2005): .298/.436/.571 (164 OPS+) and +39.2 WAR (6.4 WAR per 162 games)
Close! At least in terms of bWAR per 162 games. That said, Giambi may have been a +6 WAR player at his peak at first base, but put him at shortstop and he might be a +3 WAR player because his defense would be so bad. Maybe even +2 WAR. Ozzie's bat would be light at the corner spots, though I think he'd handle it better defensively. I think the Ozzies (average offense, average pitching, elite defense) would win more games than the Giambis (elite offense, average pitching, miserable defense).