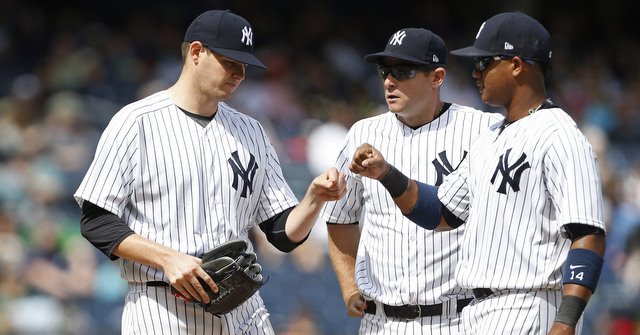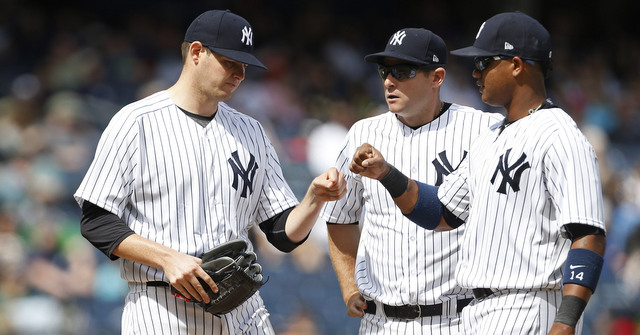 For the first time this season, the Yankees used their fifth starter Wednesday afternoon. It happened a little ahead of schedule too. The Yankees planned to wait until April 16th to use their fifth starter, but with Masahiro Tanaka and CC Sabathia having to work harder than usual over the weekend, they decided to give them extra rest. That's how Jordan Montgomery wound up making yesterday's start.
Montgomery beat out the other fifth starter candidates in Spring Training — Montgomery was more of a long shot for the job at the start of camp — and he pitched well in his MLB debut. Not great, not awful. Three runs allowed (two earned) on five hits and two walks in 4.2 innings before hitting his pitch count. The third run scored courtesy of a Starlin Castro error while Bryan Mitchell was on the mound.
"I thought he did a pretty good job," said Joe Girardi following yesterday's game. "I didn't think he had great command of his fastball today, but I thought he did a really good job of pitching out of some jams. They had a number of opportunities to score, and they just scored really in that first inning, in a sense. Very pleased with what he did."
Girardi confirmed Montgomery will get another start in five days — that lines him up to pitch Monday's series opener against the rebuilding White Sox — which sounds like a no-brainer, but it's really not. The Yankees could have easily sent Montgomery back to Triple-A following yesterday's game, called up an extra reliever — or an extra outfielder with Brett Gardner banged up — for the time being, then gone with Chad Green next time the fifth starter is needed.
I'm always inclined to grade a pitcher on a curve when he makes his first big league start because inevitably there are nerves involved. That said, I thought Montgomery did some things yesterday that were very encouraging and bode well going forward. Four things, specifically.
1. He pitched inside. All throughout baseball, pitching inside is becoming something of a lost art. I'm not saying pitchers should bean batters or anything like that, but command the inside corner of the plate and get the hitter to move his feet a bit. Don't let him look out over the plate all game.
Montgomery pitched inside an awful lot yesterday, especially to right-handed batters. The home run he gave up to Rickie Weeks was a fastball that was supposed to be inside, but leaked back out over the plate. It happens. The new Trackman system has been hit or miss so far this season — the system recorded only 57 of Montgomery's 89 pitches, so hit or miss is putting it nicely — and here's what we have on Montgomery's pitch locations against righties, via Baseball Savant: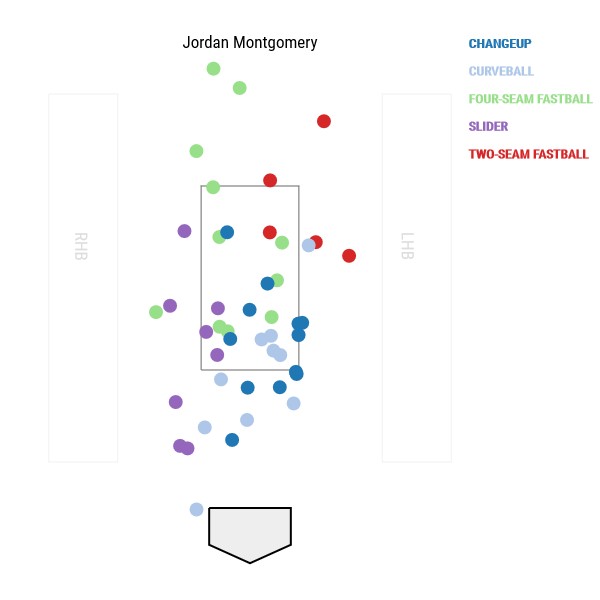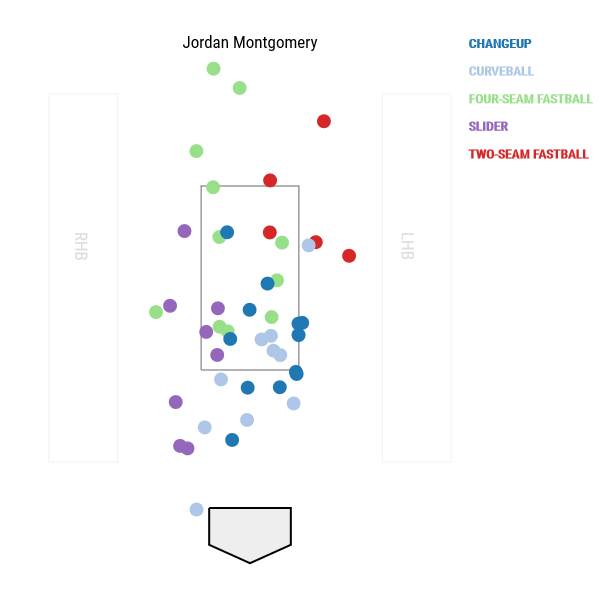 There are a bunch of pitches missing there due to Trackman's wonkiness, but Montgomery got in on righties with his fastball and also what the system is calling a slider. A few of them looked like cutters to me. Who knows? Whatever it was, it had a little bite to it and Montgomery threw it in on righties. He used it to fan Evan Longoria in the fifth inning: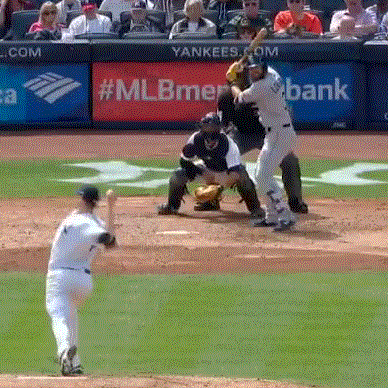 That's a nasty little pitch under the hands. The hitter can't do anything with that other than foul it off. Point is, Montgomery did not hesitate to pitch righties inside — probably because he knows he needs to do that to be successful — with both a fastball and some sort of slider/cutter thing (slutter?). For a young guy making his first start, that's impressive. Lots of times young kids will shy away from the inner half.
2. He got swings and misses. Last season in the minors Montgomery struck out 22.7% of the batters he faced, which is solid and nothing more. The year before he had a 24.1% strikeout rate. Chance Adams, for comparison, had a 29.1% strikeout rate last year. That's more in line with what you'd expect to see from a legitimate big league pitching prospect.
Montgomery had no trouble missing bats Wednesday. Trackman says he recorded eleven swings and misses among the 57 pitches recorded, and during the YES game broadcast and postgame, both David Cone and Jack Curry said they counted 17 swings and misses out of Montgomery's 89 total pitches. Remember how good Michael Pineda was Monday? He had 15 swings and misses out of 93 total pitches.
I wouldn't count on Montgomery sustaining a 19.1% swing and miss rate because no one does that — Max Scherzer led all starters with a 15.3% whiff rate last year — but I think the tools are there to get strikeouts, specifically his slider and changeup. He used both pitches to get outs yesterday. Montgomery doesn't have to be Scherzer when it comes to missing bats, but he can't be a strict pitch-to-contact guy like a Twins pitcher either. Not in Yankee Stadium.
3. He kept his release point tight. If nothing else, Montgomery gives the hitter a very different look. He's 6-foot-6 and he throws the ball right over the top, so it's coming from an extreme downhill angle. The 57 pitches worth of Trackman data we have say Montgomery released the ball from, on average, seven feet above the base of the mound, which is pretty crazy. More importantly, the data shows he had a nice tight release point for all his pitches. From Brooks Baseball: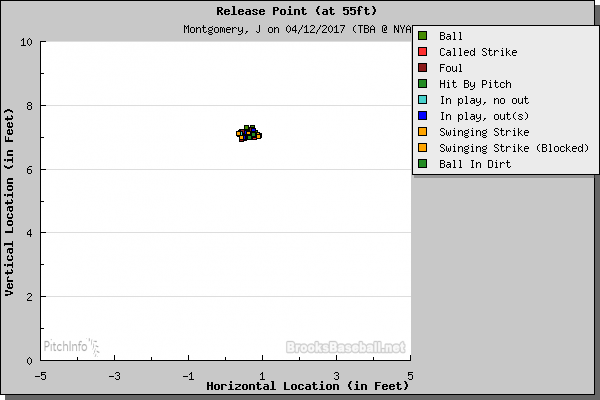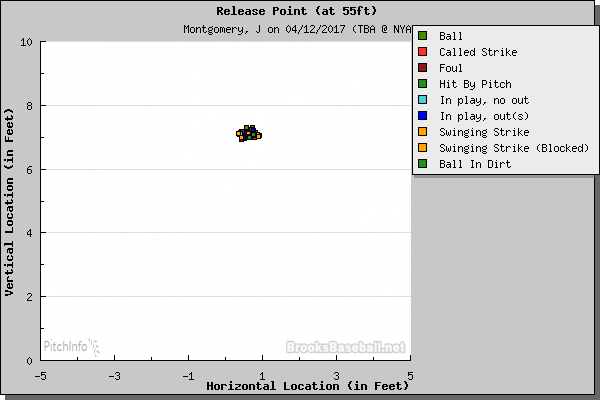 That's a thing of beauty. A lot of times you'll see a pitcher drop down ever so slightly for his slider, or maybe vary his arm speed so much between his fastball and changeup that they have different release points, but not Montgomery. Not yesterday, at least. All his pitches come together to form a blob on the chart because he released them from the same spot. That adds deception and helps his pitches play up.
4. He pitched out of jams. Montgomery pitched in five separate innings yesterday and in only one, the second, did he set the side down in the order. The third and fifth innings were the most impressive to me even though Montgomery didn't get a chance to finish the fifth because of his pitch count.
In the third the Rays put runners on first and second with one out on a single (Peter Bourjos) and a hit batsman (Kevin Kiermaier). Montgomery then struck out Longoria and Weeks to escape the jam. Then, in the fifth, he allowed a leadoff double to Steven Souza before rebounding to strike out Kiermaier and Longoria to end his afternoon. He made some pretty big pitches in sticky situations.
Jams are inevitable and with a young pitcher, especially one making his first career start, you kinda worry things will unravel. Montgomery has a reputation for being tough and unflappable on the mound, which serves him well in those spots. We saw it in Spring Training and we saw it again yesterday. It doesn't mean he'll pitch out of every jam. But it does show he won't be overwhelmed.
* * *
The Yankees have plenty of fifth starter candidates — Green and Luis Cessa are waiting in Triple-A, most notably — so Montgomery is going to have to pitch well to remain in the rotation. All things considered, his first start went well, and he'll get another chance to show he can do in five days. The Yankees are looking for help both now and for the future, and while acknowledging one start is just one start, I saw some encouraging signs from Montgomery during his MLB debut yesterday.