I'm still in the high from that ridiculous Aaron Judge home run. But anyways, the formula was simple for this win — good pitching and good hitting got it done. Masahiro Tanaka didn't have his best stuff but he grinded out a nice 7 IP, 1 ER outing while the offense hit four out of the park en route to a 9-1 victory.
Welcome to the gun show
Unlike last night, the Yankee bats raked from the beginning. Brett Gardner began the bottom of first with a double and Chase Headley followed it up with a casual, 426-feet two-run home run. How hot is Headley right now? Sure, that was the only hit he had tonight (bust!) but he's hitting an unreal .396/.500/.646 in 58 PA in 2017. I don't know when WAR gets updated on Fangraphs, but I'd imagine he's close to the top.
While that was all for the first inning, the beat went on in the second. Aaron Judge led off with a single and Bird hit a double into left-center to make it runners on second and third. Austin Romine, who came into the game hitting .333/.414/.542, squibbed a single up to the middle to drive Judge in. Ronald Torreyes followed it up with an RBI ground out to make it 4-0 Yankees.
For the next two innings, the Yankee bats went quiet against 2010 1st round draft pick Dylan Covey. The bottom of fifth started unceremoniously as Gardner struck out and Headley grounded out to make it two quick outs. However, Matt Holliday and Jacoby Ellsbury hit back-to-back singles to give Starlin Castro something to work with. And boy, Castro worked it alright. He hit a three-run home run into the visitor's bullpen to give New York at 7-1 lead.
Two pitches after Castro's home run, Judge put a charge on a hanging breaking ball and, well, destroyed it. Just watch: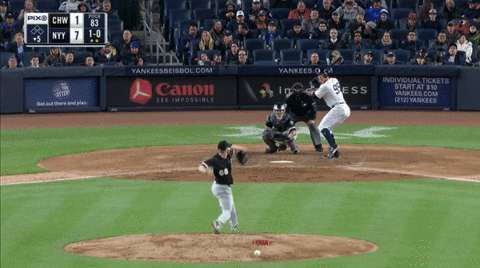 Per Baseball Savant, that home run traveled for 448 ft with an exit velocity of 115.5 mph. I wouldn't be surprised if that actually traveled further. That distance is A-Rod territory right there. At some point in his career, Judge will probably outdo that home run, which is exciting to think about. Oh yeah, that home run put the Yankees to a 8-1 lead and Covey exited after the frame ended.
Joining the dinger party later on was Aaron Hicks. As a pinch-hitter, against the tall righty Michael Ynoa (who I vividly remember as the top 2008 IFA signee), Hicks lined one just over the short porch for a solo home run. That was as cheap as a Yankee Stadium cheapie could get but hey, I've said it before: you play at the Yankee Stadium, you play by Yankee Stadium rules. Hicks' hot bat probably caught your attention as well. The man is hitting .296/.444/.778 after tonight, which is quite Giambi-in-prime-esque.
#TANAK
Tanaka's final line is as follows: 7.0 IP, 6 H, 1 ER, 2 BB, 6 K. Looks like a pretty swell start, right? It was not as easy as the numbers suggest. He had runners in scoring position three out of those seven innings and, to the White Sox hitters' credit, they squared up the balls well at times, especially Jose Abreu, who had three hits off Tanaka tonight (including two doubles). However, Tanaka remained cool and calm and got out of the jams mostly unscathed. The only major blemish was the RBI double allowed to Abreu in the fourth inning to score Tim Anderson, which was the only run Chicago scored tonight.
Brooks Baseball had Tanaka's fastball velocity as usual (topping out at 93.5 instead of going up to 96-97 like we saw in past two starts) and indicated that his splitter was working tonight. He got eight whiffs out of that pitch (29.6% rate). I mean look, how can you throw it any better than he did it right here?
After tonight's start, Tanaka's ERA sunk from 8.36 to 6.00. Regression to normalcy! The first few starts were not ideal but he will be just fine.
Leftovers
Bryan Mitchell came in to relieve Tanaka to start the eighth inning and pitched 1.1 scoreless innings. It is also his 26th birthday so, happy birthday to that guy. Tommy Layne came in the ninth with one out to get some work in and got the last two to close it out.
Tonight was one of those games where it just clicked well for the offense — each hitter in the starting lineup got a hit. I'll take games like this any day.
Box score, WPA graph and standings
Here's tonight's box score and updated standings from ESPN and WPA graph from Fangraphs.

Source: FanGraphs
---
The Yankees have a day-off tomorrow and will travel to Pittsburgh for a weekend series vs. the Pirates. New York is now 10-5 after a 9-1 homestand. Time to get the beat going on the road.