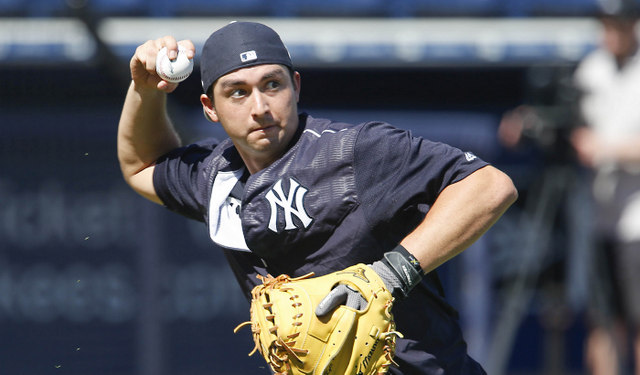 Shortly after Monday's 8-1 drubbing of the Rays, the Yankees announced that Gary Sanchez would miss roughly four weeks with a strained brachialis muscle. All things considered, that isn't terrible news – I was all but certain that he tore something on Saturday, given his reaction and the speed with which he was put on the disabled list, and visions of Greg Bird were dancing in my head. Comparatively speaking, Sanchez sitting out until May 8 or so is positively fantastic news.
In the interim, however, the Yankees lineup will be unquestionably weaker. Sanchez was expected to be the team's best hitter heading into the season, and the drop-off from him to Austin Romine is larger than any other gap between starter and back-up on this roster. Romine is perfectly adequate as a reserve, but his limitations as a hitter become more glaring as he garners more plate appearances, and his defense is more good than great.
That being said, perhaps we should be talking about the drop-off from Sanchez to Kyle Higashioka instead. The 26-year-old was officially called-up on Sunday, and made his big league debut in the 9th inning of the home opener, catching the last three outs of the game. Joe Girardi has been noncommittal about the team's plans, hinting at the nebulous 'shared duty,' so the playing time split appears to be up in the air.
How should the Yankees handle it?
The Case for Romine
Romine has played 123 games behind the plate in the Majors, and has been a solid presence defensively. He throws out would-be basestealers at a roughly league-average rate, and his pitch framing abilities are passable at worst (0.7 framing runs in his career). The deeper you dig into the numbers, the more average he seems – and that's just fine. It's not nearly as good as Sanchez, but he's not hurting the team behind the dish, either.
That modicum of defensive value is just about all that you'll get from Romine, though. He slashed .242/.269/.382 (68 wRC+) last year, and has hit .219/.256/.324 (53 wRC+) in his career. And while he's only had 371 PA at this level, it's difficult to envision him getting much better, given his age (28) and minor league numbers (.251/.307/.371 in 811 PA at Triple-A). Those aren't terrible numbers for a back-up catcher, but it represents a severe drop-off from Sanchez, and a sizable dip from the average catcher (87 wRC+ for the position in 2016).
It is possible that we should look into how Romine handles pitchers, though. Much was said on Monday about how beautifully he worked with Michael Pineda, and there could be something to that. After all, Big Mike was at his best when he pitched to Romine last year:

There are several problems in working with a sample size such as this, as it ignores the ballpark and the quality of the competition (among other things), but it jibes with Romine's reputation of knowing how to handle the pitching staff. And it isn't just Pineda, either – Masahiro Tanaka posted better strikeout, walk, and home run rates while throwing to Romine. CC Sabathia had an unsightly 6.85 ERA with Romine as his battery mate, but he also managed 23 strikeouts against just 4 BB in 23.2 IP, so it wasn't all bad.
It's difficult to draw a clear-cut point about Romine's work with the pitching staff, given the aforementioned sample sizes and sampling issues in general, but there's a certain level of certainty that comes with him. That certainty may only be that he won't actively hurt the team – but it's something to cling to.
The Case for Higashioka
Higashioka hit .293/.355/.509 (136 wRC+) in 256 PA at Double-A last year, and .250/.306/.514 (131 wRC+) in 160 PA at Triple-A. That level of offense is unknown to Romine at any level of professional baseball, and it came in Higashioka's first healthy season … ever, basically. The 26-year-old missed time every year from 2012 through 2015, with a litany of ailments and injuries, including Tommy John Surgery in 2013. It's been a long road to the show.
While 2016 represented a heretofore unknown level of production for Higashioka, there are reasons beyond the injuries to suspect that it wasn't a simple fluke. He has long drawn praise for owning a solid hit tool and above-average raw power, and he has always maintained strong contact rates in the minors (16.4 K% across all levels). He's known as an aggressive hitter, and that shone through at Triple-A last year – but a career 8.1% walk rate isn't too shabby, and he managed a 10.2% walk rate at Double-A prior to his promotion. The injuries hindered his development arc significantly, and his production last year may exaggerate his offensive potential, but the bat has always been Higashioka's calling card.
Higashioka looked comfortable in Spring Training this year, as well, slashing .296/.406/.630 in 32 PA. There were rumblings that he had earned himself the back-up job, given all that had happened since the beginning of 2016, but Romine's lack of options and the desire for Higashioka to continue to develop (more on that in a bit) made the team's decision fairly easy.
Analyzing Higashioka's defense is a bit tricky, given his lack of experience at the highest level. Scouting reports credit him for moving well behind the plate, and ding him for a weak throwing arm (and this was even before TJS). Baseball Prospectus credits Higashioka for 16.3 framing runs between Double-A and Triple-A last year, which is excellent, and he threw out 30% of attempted basestealers, which is right around average. Minor league defensive numbers are a bit shaky, but it seems reasonable to say that he's at least an average-ish defender.
The key to all of this, however, might just be development. Higashioka is the team's back-up of the future; that doesn't sound sexy, but it could mean a larger role if the team gives Sanchez more time at DH to keep him healthy while keeping his bat in the lineup. Sitting on the bench for four weeks isn't going to do much to prepare Higashioka for that role, nor is it going to give the Yankees a great idea as to what he can do.
---
In my mind, the decision should be relatively easy for the Yankees – Higashioka should be playing everyday, regardless of the level. If he's going to be on the big league roster for the next four weeks, he should start the majority of those games. It may sound weird to talk about developing a 26-year-old, and for a back-up role at that, but it makes more sense than calling him up to sit behind a known replacement-level commodity.