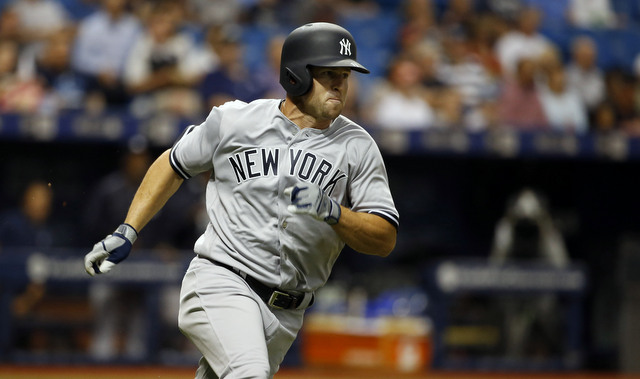 For the past four seasons the Yankees have been set at the leadoff position thanks to Brett Gardner. He hit .262/.341/.400 (104 OPS+) as New York's primary No. 1 hitter from 2013-16 compared to the .269/.330/.402 (102 OPS+) league average leadoff hitter. Through two games this season Gardner remains the leadoff hitter. There's not much of a reason to expect that to change anytime soon.
In a perfect world either Jacoby Ellsbury, who is now hitting fifth rather than atop the lineup, or Gardner would continue to hit leadoff through 2020. Gardner's contract is up following the 2018 season, though Ellsbury is signed another two years beyond that, and the Yankees would love to see him reemerge as a top of the lineup hell-raiser. The Yankees have only seen that guy in a Red Sox uniform. Not pinstripes.
Of course, players age, and both Gardner and Ellsbury will turn 34 later this year. Neither figures to be a legitimate leadoff caliber hitter much longer — heck, you could argue they aren't worthy of hitting leadoff right now — the same way neither figures to be a legitimate center field option much longer. Players age, their skills diminish, and their roles are reduced. It's the circle of baseball life.
At some point, perhaps as soon as later this year or as late as 2021, the Yankees will need to find someone else to hit leadoff. The smart money is on them needing to do so sooner rather than later. Within a year or two. The farm system is loaded, which is an obvious plus. Even if the Yankees can't develop their next leadoff hitter, they'll have the pieces to go out and make a trade. Or the cash to sign one because young MLB players are cheap and keep payroll down.
The way I see it, the Yankees have five possible paths to filling the leadoff spot for the foreseeable future. This of course means they'll find a completely different way to fill the leadoff spot when the time comes, because that's usually how things work out. Anyway, here are the five options to finding the next leadoff hitter.
Stay the Course
As always, doing nothing is an option. The Yankees could stick with Gardner and/or Ellsbury at the top of the lineup and hope it works. Ellsbury is signed another four seasons, after all. He's going to be around whether the Yankees like it or not. The Yankees were willing to live with an unproductive Derek Jeter as their No. 2 hitter in 2014, so they're not above suboptimal lineups, but obviously circumstances are a wee bit different. Neither Gardner nor Ellsbury have Jeter's clout and standing in the organization. But still, the Yankees could stick with those two atop the batting order. Always an option.
Rely on the Farm System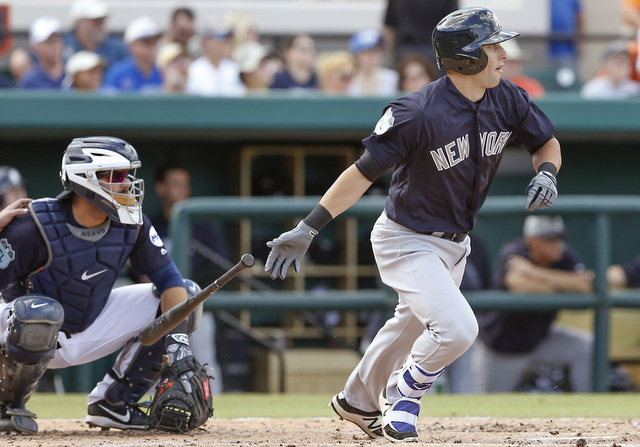 The Yankees sure are relying on their farm system a lot these days, huh? Gary Sanchez is the starting catcher with no veteran safety net. Greg Bird is the everyday first baseman despite missing the entire 2016 season with shoulder surgery. The rotation? The Yankees are going to sink or swim with the kids. They have a lot of rotation options and are probably going to end up cycling through all of them at some point.
Among their top 30 prospects, the Yankees have three potential leadoff hitters: shortstop Jorge Mateo, shortstop/supersub Tyler Wade, and center fielder Dustin Fowler. You could squint your eyes and see someone like, say, Wilkerman Garcia as a future leadoff hitter, but he's a very long way from the big leagues. Wade and Fowler will open the season in Triple-A and Mateo will be back at High-A with a chance for a quick promotion to Double-A.
Going from leadoff hitter prospect to actual big league leadoff hitter is a process with several steps. Remember, Gardner made his big league debut in 2008 and didn't take over as the full-time leadoff hitter until 2013. Wade and Fowler have to perform at Triple-A and show the requisite skills for promotion, get called up, have enough success to stay in the lineup, and then have enough success to bat near the top of the lineup. Mateo is even further away than those two.
Now, that all said, every player has a different timetable. Gardner had to wait a few years before becoming a leadoff hitter, in part because the Yankees had some quality veterans to hit leadoff in the meantime. Those 2009-12 lineups were pretty awesome. Ellsbury, on the other hand, was a September call-up in 2007 who hit well enough to take over the leadoff hitter in 2008. Who's to say Wade or Fowler won't do the same next year? Either way, the Yankees have some potential leadoff options in the farm system, including at the upper levels.
An Unconventional Solution
Baseball is evolving. We're not only starting to see sluggers like Sanchez hit second in the lineup, but some teams are even using players like that to hit leadoff. Kyle Schwarber is hitting leadoff for the Cubs. Corey Dickerson, who hit 24 home runs with a .293 OBP in 2016, is batting leadoff for the Rays. Curtis Granderson has hit leadoff for the Mets for much of the last three years. Adam Jones hit leadoff last year. Those guys don't have traditional leadoff hitter skill sets, but they're all good hitters, so their clubs decided to give them the most at-bats.
The Yankees could pursue something similar. Batting Sanchez leadoff probably won't happen because he's a slow catcher and teams still like their leadoff hitter to have some speed, but what about, say, Aaron Judge? Or even Bird? He projects to be a high on-base player and he can run a little too. What about Didi Gregorius as an Adam Jones-esque "he'll sock some dingers but won't have a high OBP" leadoff hitter? I suppose Starlin Castro fits that mold too. I'm not saying the Yankees should do something like this. I'm just saying it's an option.
Free Agency
We've seen the Yankees dip into free agency for leadoff hitters a few times already. Example one: Ellsbury! Example two: Johnny Damon. Go back even further and you have example three: Wade Boggs. He hit leadoff for a while for both the Red Sox and Yankees. The Yankees seem to have a thing for ex-Red Sox leadoff hitters, huh? I guess that means we should expect them to one day sign … looks up Boston's current leadoff hitter … oh geez not Dustin Pedroia.
Anyway, in all seriousness, acquiring a new leadoff hitter via free agency is always an option. Sometimes is works out (Boggs and Damon) and sometimes it doesn't (Ellsbury). That's free agency (and baseball in general) in a nutshell. Here's a quick run down of leadoff types scheduled to hit free agency the next two years:
After 2017: Rajai Davis, Jarrod Dyson, Jon Jay, Yunel Escobar, Eduardo Nunez, Ben Revere, Jose Reyes
After 2018: Charlie Blackmon, D.J. LeMahieu, A.J. Pollock, Jean Segura
The 2017-18 free agent class looks much more promising on the leadoff front. The 2017-18 class is basically Escobar and Nunez, and a bunch of part-timers who would in no way be upgrades over Gardner and Ellsbury.
That's fine though. The Yankees are trying to get under the luxury tax threshold next season, so spending on a free agent leadoff guy might not make much sense anyway. They can stay in-house for the time being with Gardner and Ellsbury (and Wade and Fowler), then reevaluate things after the luxury tax rate has been reset for the 2018-19 offseason. So, long story short, free agency doesn't offer any immediate leadoff help.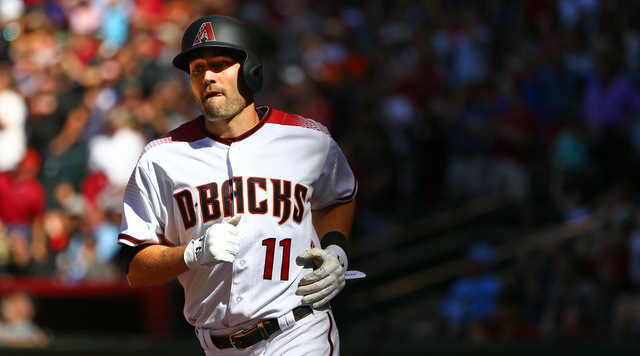 What About Trades?
I keep saying this and it bears repeating: the Yankees are going to have to trade some of their prospects, and fairly soon too. If they don't, they're going to start losing players for nothing on waivers or in the Rule 5 Draft. The great prospects like Gleyber Torres and Clint Frazier will remain with the Yankees for sure. The lesser prospects still have value though, and the Yankees surely want to maximize it.
Trying to figure out which teams could put their leadoff man on the trade block in the future is damn near impossible. Who would have guessed Segura would be made available after the season he had last year, and that the Mariners would give up Taijuan Walker to get him? I suppose Arizona could make Pollock available before he becomes a free agent, though would the Yankees make that move? They balked at three years of Chris Sale. We're talking about fewer than two of Pollock.
The point is trading for a leadoff type is always an option, and because the Yankees are so deep in prospects, they'll be able to get pretty much anyone they want. Should someone like, say, Manuel Margot break out with the Padres over the next year or two, he could be someone the Yankees target as a long-term leadoff hitter and center fielder. Same with the Twins and Byron Buxton. (That would be fun, wouldn't it?)
* * *
I haven't mentioned Torres as a leadoff option yet but I definitely should. Long-term, he projects as more of a true No. 2 or No. 3 hitter, someone who can hit for power and drive in runs. Many players with that profile started their careers as leadoff hitters though. Christian Yelich hit leadoff for the Marlins for a while. So did Manny Machado for the Orioles. Mookie Betts made the transition from leadoff hitter to No. 3 hitter last year. Gleyber has the skills to do the same.
Right now the center field position and leadoff spot are intertwined for the Yankees because of their personnel. It doesn't have to — and won't — stay that way forever. The Yankees have close to a clean slate when you think about it. Ellsbury is only long-term contract on the position player side. They're in position to pursue a leadoff type at nearly any position. Gardner (and Ellsbury) can hold things down for the time being. Soon enough though, the Yankees will have to find a new table-setter.