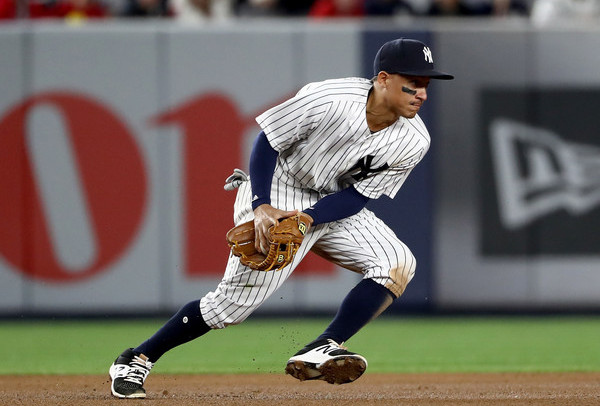 The Yankees have won nine of their last ten games, and perhaps the most amazing thing about this hot stretch is that they've done it without Gary Sanchez and Didi Gregorius, arguably their two best position players. Sanchez hurt his biceps taking a swing two Saturdays ago, the day before eight-game winning streak started. He resumed throwing and swinging Wednesday but is still a few weeks ago.
Gregorius, on the other hand, has not played at all during the regular season due to a shoulder strain suffered during the World Baseball Classic. The injury sucks, but what can you do? Gregorius resumed throwing last week and has gradually increased his workouts. He's expected to play in his first official minor league rehab game later today. The Yankees could get Gregorius back sometime next week. Hooray for that.
While Gregorius has been sidelined, utility man Ronald Torreyes has filled in at shortstop admirably. He hasn't been great — he's hitting .239/.239/.391 (70 wRC+) in 46 plate appearances — but he hasn't been a total disaster either. Torreyes has generally fielded the ball cleanly, plus he's come up with some clutch hits. His two-run triple against the Orioles helped spark the comeback the led to the first win of the eight-game winning streak.
I was pretty excited when the Yankees acquired Torreyes last offseason — they traded for him, lost him on waivers, then claimed him back on waivers — but not because I thought he could be a future star or even a regular or anything like that. I thought he could be exactly what he has been for the Yankees: a solid high-energy bench player who could spot start for a few weeks and not kill you at the plate or in the field. Good bench players are tough to find.
That said, we've reached the point where Torreyes is starting to get exposed by playing everyday. He's gone 5-for-26 (.192) in his last eight games and is averaging only 2.97 pitches per plate appearances during that time. Only three strikeouts is good! That's what Torreyes does. He makes a lot of contact. But he's not impacting the baseball much, and it's starting to show up in his numbers. A few clutch hits have prevented him from being a total drain on the offense, so that's cool.
Once Gregorius returns, the Yankees can slide Torreyes back into the reserve infielder role he fills so well, and enjoy an upgrade on both sides of the ball at shortstop. Didi has made steady progress in his two years with the Yankees. He was a better player in September 2015 than he was in April 2015, and he was a much better player in September 2016 than he was in April 2016. I'm looking forward to seeing where he takes his game this season.
This isn't intended to be a knock on Torreyes, because he gave the Yankees exactly what they needed at shortstop while Gregorius was out: competence. He made all the plays he was supposed to make on defense and he chipped in some big hits. We've seen some bench players thrust into everyday duty by injuries in recent years who were overmatched. Jayson Nix. Chris Stewart. Brendan Ryan. Ben Francisco. So on and so forth.
That didn't happen with Torreyes and he deserves major props for holding down a tough position as well as he has. The Yankees are a much better team with Gregorius in the lineup though, and now that he's inching closer to a return, it's exciting to think this team could be ever better going forward. Then when Sanchez returns? Oh boy.