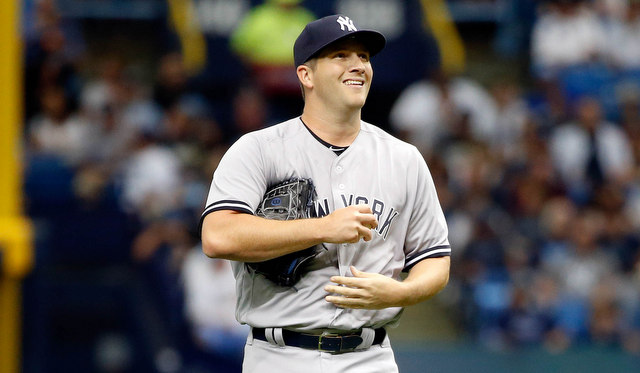 After Monday's win, the Yankees' top two relievers — Dellin Betances and Aroldis Chapman — are each on pace to throw 66.5 innings this season.
That total is still pretty high (47 pitchers threw more innings last year without making a start). However, it would hardly be a career-high for either and would mark a fourth straight season with a decrease in innings for Betances.
A big reason why neither pitcher should end up breaking a career-high in total innings is the presence of Adam Warren. The versatile right-hander has the best numbers of any Yankee reliever so far this year despite giving up his first three hits and a run on Monday. In nine innings, he's allowed just the single run, walked only one batter and struck out nine. And he's absorbed those nine innings in just five appearances.
This is hardly a revelation for Warren. He's been giving the Yankees multiple-inning relief appearances since 2013, minus a four-month stint with the Cubs last summer and a little time in the Yankees rotation. Beyond the multi-inning appearances, he also has experience in taking high-leverage innings. At certain points in the last three seasons, he's fulfilled late-inning roles for the Yankees, even taking the 8th inning of close games at times.
But this season, he's entered in a complete hodgepodge of situations.
Apr. 2: 4th inning, two outs, two men on, Yankees down five
Apr. 5: 5th inning, two outs, one man on, down three
Apr. 8: 6th inning, no outs, up one
Apr. 15: 8th inning, one out, up two
Apr. 17: 7th inning, no outs, up four
If anyone can find a trend or consistent part in any of that, let me know. To me, the point is that Warren can take on literally anything for Joe Girardi. Yankees need someone to soak up 2-3 innings and keep the game within striking distance? Warren time. The starter only goes five and someone needs to get the ball to the top three relievers? Warren time.
Despite being clearly fourth in the bullpen pecking order behind Chapman, Betances and Tyler Clippard, Warren's role is highly synergistic with those guys and the rest of the bullpen. He can take on enough innings to keep their innings down for late in the season. After Warren threw 2 1/3 solid innings on Monday, Girardi discussed everything Warren brings to the table.
"He's a bridge. He's a fill-in, in a sense, in the 7th, 8th or 9th inning, whatever I need," Girardi said. "He just gives me a lot of versatility to our bullpen. And I think that piece is really important to have a really good bullpen, a guy that can do that and handle a number of different roles."
A lot of relievers have trouble not knowing their role. It's incredibly tough for a pitcher to be ready to go every inning from the 5th through the 9th, especially when they may warm up multiple times in that span. It can be exhausting and it's the main reason why we don't see pitchers in the regular season do what Andrew Miller did last postseason. That's not to say it's easy to do what Chapman or Betances do — not all innings are created equal and they pitch almost exclusively in high leverage spots — but they do have the added luxury of knowing the basic parameters of their appearances.
Warren doesn't have that, but has done fine. Looking back to 2014, his last full season in the Yankees' bullpen, he entered in the 6th inning 12 times, the 7th 25 times, the 8th 23 times and the 9th or later nine times. While that often meant soaking up innings with the Yankees behind, it more closely resembles the way Miller was used by the Indians last postseason than how Betances or Chapman are used right now.
Warren's background as a starter and having recently thrown 100 innings (131 1/3 in 2015) shows that he can do this without completely breaking down. He did decline a bit towards the end of 2014, but he still had a 3.26 ERA after the break, which is nothing to sneeze at. The 29-year-old pitcher did come into the spring as a starter, yet even he realizes where he provides the most value right now.
"Being in the bullpen, you get a chance to pitch every day," Warren told Bryan Hoch. "The way our starters are throwing right now, for sure, I feel my value is in the bullpen. I do enjoy being that flexible guy that you can throw around everywhere. For me, that's where a lot of my value comes from."
So Girardi's right. It is really important to have that guy in your pen. You look around the league and a lot of teams don't have a similar arm who can both go multiple quality innings yet also has high leverage experience. Houston seems to have the prototype for this player in Chris Devenski, but there are few beyond him. A pitcher like Warren or Devenski can really complete a team's bullpen.
Even though his ERA will be much higher than 1.00 for the full season, a healthy Warren gives Girardi a chance to rest his top three relievers without biting his nails or worry that a lead will implode. Or it gives him a chance to use just 1-2 relievers after only getting five innings out of a starter. Or whatever conceivable need comes up. While coming in with a four-run lead in the 7th inning as he did on Monday isn't glamorous, it gives us a sneak peek at how Warren can be used optimally in 2017.