This team. THIS TEAM. I love them. Even when things are going bad, they're worth watching. They have Fighting Spirit. The Yankees were down 9-1 — 9-1! — after the top of the sixth inning Friday night. They outscored the Orioles 13-2 the rest of the way to earn a 14-11 walk-off win in ten innings. Love this team, you guys.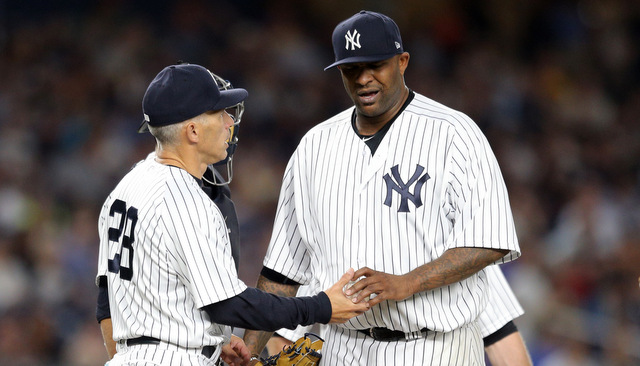 You Can't Make A Huge Comeback Without Bad Pitching
You know, the game started out so well for CC Sabathia. Seven up, six down on 16 total pitches in the first two innings. Sabathia got two quick outs to start the third inning, then Joey Rickard reached on a dinky well-placed infield single. Fine. Whatever. Get out of it. Sabathia couldn't. He walked the generally un-walked-able Adam Jones, then served up a rocket double to Manny Machado. Machado's double was the first hard hit ball of the game for the O's, and it came at the wrong time.
A two-run third inning shouldn't be the end of the world. The Orioles didn't stop there though. Sabathia plunked Chis Davis in the shoulder in an 0-2 count to start the fourth inning — 0-2 hit batsmen are so annoying — before Welington Castillo lifted a two-run home run into the short porch in right field. Eight quick outs to start the game, then four runs allowed in the span of the next six batters. Sigh. Machado made it 5-0 Orioles in the fifth with this moonshoot of a home run:
Unless I'm forgetting one, and I doubt I am, Machado is the first player to clear the Mohegan Sun Sports Bar entirely and hit a ball into the seats above. Well, the camera row, not the seats, but you know what I mean. Aaron Judge hits balls over the bar and into the concessions area in batting practice all the time, but during the game? Never happened before. Machado is the first to hit it up there during a game. Can't even be made about that. I'm amazed.
The end result was seven runs on nine hits, two walks, and one hit batsman in 5.2 innings for Sabathia. He was yanked with men on the corners and two outs in the fifth — Joe Girardi wasn't about to let him face Machado a fourth time — and replaced by Bryan Mitchell, who promptly walked Machado and gave up a grand slam to Mark Trumbo to make it 9-1 O's. Womp womp. The Yankees came into the game with a team 2.90 ERA, best in MLB. The correction was never going to be pretty.
I suppose the good news is Sabathia's velocity came back. He averaged 88.2 mph with his cutter against the Pirates last weekend and did not look good at all. On Friday night it was back up 91.0 mph. Yay? Late career Sabathia is going to have dud starts like this one, with or without the 90-something mile an hour velocity. The Yankees were due for a disaster start and they got it out of the way in this one. Thankfully, the offense picked them up.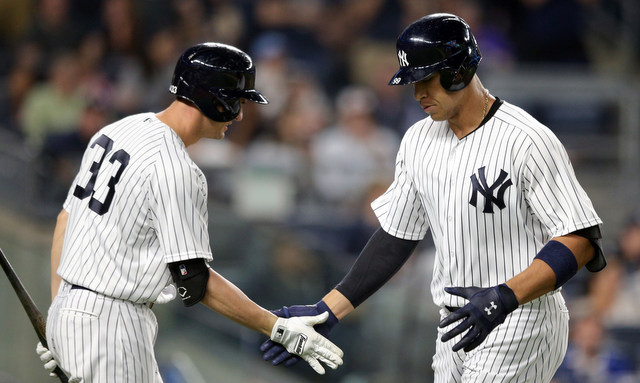 Sentenced To Two Home Runs
Even when the 2017 Yankees are getting blown out, they're still fun to watch. Judge, who has alternated homer games and no-homer games for a week now, clobbered two home runs Friday night. It was his first career multi-homer game. The first was a solo shot with the Yankees down 5-0, a line drive into the visitor's bullpen. The second was a two-run shot — the Yankees were down 9-2 at this point — on a line into Monument Park. ON A LINE.
That ball left Judge's bat at 119.4 mph. It is the hardest hit home run since Statcast launched on Opening Day 2015. (Giancarlo Stanton had the previous record at 119.2 mph.) The two-run shot brought the Yankees to within 9-4. Judge is only the seventh player in Yankees history to hit nine homers in April. The last? Alex Rodriguez. He hit 14 during that hilariously incredible April in 2007. Judge has two games left to join A-Rod and Graig Nettles (eleven in 1974) as the only Yankees with double-digit homers in April.
Fighting Spirit
The two Judge home runs gave the Yankees some life. Mitchell tried to snuff it out quickly. He went back out for the seventh inning and retired only one of the six batters he faced. Jonathan Holder had to come bail him out, but by then the Orioles had tacked on two more runs to build an 11-4 lead. That was deflating. 9-4? Eh, that's kinda within reach. 11-4? That feels less so. Not for these Yankees though!
The comeback started in earnest in the bottom of the seventh inning. An infield single (Austin Romine), a double (Chase Headley), and a walk (Matt Holliday) loaded the bases with one out. Cleanup hitter Jacoby Ellsbury did a cleanup hitter thing and smashed a grand slam into the right field bleachers. How about that? It was his 100th career homer and first career grand slam. Suddenly the Yankees were within 11-8.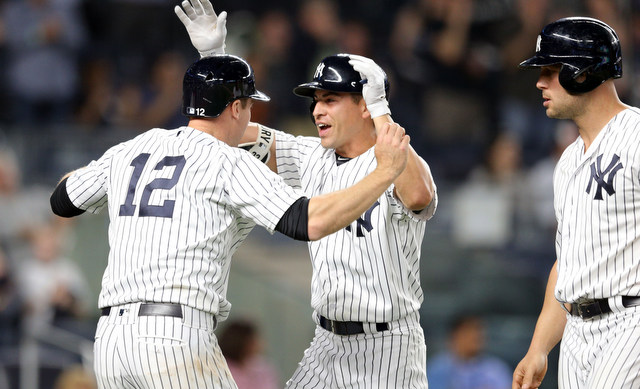 Following a scoreless eighth inning, O's closer du jour Brad Brach — Zach Britton is on the disabled list with a forearm issue — got the game-tying rally started for the Yankees with a leadoff walk to Headley. Holliday followed with a very long single off the wall in right-center field. It was one of those "he hit it too hard and he runs too slow" singles. For a normal hitter, it's a double. Either way, the Yankees had men on the corners with no outs. They were in business.
Ellsbury got Headley in from third with a fielder's choice to second base that maybe could have been a double play. The defender bobbled the ball slightly but was able to recover to tag Holliday as he approached the second base bag. Ellsbury reached first and Headley crossed the plate to cut Baltimore's lead to 11-9. Then Starlin Castro, who I'm starting to think might actually be good now, crushed a game-tying two run home run. To the very necessary video:
The best part of the game-tying home run? Other than the fact it tied the game? The follow through:
Castro dropped to one knee, Adrian Beltre style. He did that following his ninth inning run-scoring single against the Red Sox on Thursday night too. I can get on board with this becoming a thing. The Yankees tied the game and man, Yankee Stadium was alive. I haven't heard this ballpark this loud during a random regular season game in a long time. The Wild Card game in 2015? Sure. The various farewell games (A-Rod, Derek Jeter, etc.)? Yep. It was loud then too. This was an otherwise nondescript regular season game on April 28th, and the place was lit.
Starlin's game-tying home run was just that though: game-tying. The Yankees still needed to score again to win. They did that in the tenth inning thanks to O's reliever Jayson Aquino. He walked Aaron Hicks to start the inning then walked Kyle Higashioka — Hicks hit for Austin Romine earlier in the game — who was trying to bunt. Higashioka was giving Aquino an out and he couldn't throw a damn strike. That, by the way, was the first time Higgy has reached base as a big leaguer. He's come a long, long way to get here.
Runners on first and second with no outs in the bottom of the tenth inning of a tie game seems like a good time for a terrible strikeout, and Headley obliged. Aquino got him to fish for soft stuff out of the zone. Blah. Headley's been awesome this season, but that was a yucky at-bat. Thankfully, Holliday picked him up one pitch later. Do the damn thing, Matty H.:
Holy crap. What an incredible ending to an incredible game that probably half of New York turned off after the fifth inning. This team, man. They've got something special going right now. The kids are contributing, the veterans are coming up big … it's all coming together.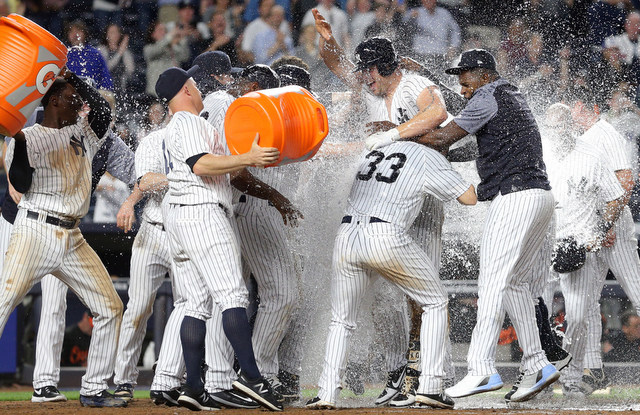 Leftovers
Welcome back, Didi Gregorius. Sir Didi celebrated his return to the lineup by going 2-for-5 with a double and a run-scoring ground out. He also made several sparkling plays in the field. Ronald Torreyes is awesome — his celebration of the walk-off homer was amazing — but it sure is nice to have Gregorius back, isn't it? He made an impact right away, on both sides of the ball.
Shout to the bullpen. Well, the bullpen sans Mitchell. He was crummy tonight. Holder, Tyler Clippard, and Aroldis Chapman combined to retire ten of the eleven batters they faced to give the offense a chance to get back in the game. Couldn't have done it without those guys. (Chapman took a chopper to his pitching hand but remained in the game. Didn't seem to be much of an issue.)
Fun fact: the Yankees hit for the home run cycle in this game. They had a solo homer (Judge), a two-run homer (Judge and Castro), a three-run homer (Holliday), and a grand slam (Ellsbury). I wish I could look up the last time the Yankees did that or the last time any team did that. Seems like kind of a rare thing, no? Maybe Katie can dig that up somehow.
The Yankees had 14 hits total and the middle of the lineup, the 3-4-5-6-7 portion, went a combined 11-for-20 (.550) with two doubles and five home runs. They drove in all 14 runs. Goodness. Headley had a double and two walks as the second place hitter as well. What a job by the offense. In years past, they had no chance of coming back in a game like this.
And finally, Judge has nine home runs through 21 team games. I bring this up because the Yankees rookie record is 29 home runs by Joe DiMaggio in 1936. I'm not say Judge is going to do it. But gosh, he sure does have a nice head start, huh?
Box Score, WPA Graph & Standings
Go to ESPN for the box score, MLB.com for the video highlights, then back to ESPN for the updated standings. Also make sure you check out our ultra-useful Bullpen Workload page too. Ultra-useful isn't hyperbole, is it? Nah. Here's the amazingly awesome probability graph:

Source: FanGraphs
At one point in the seventh inning the Orioles had a 99.5% chance to win the game. The Yankees had a 1-in-200 chance to win the game. This was the one.
Up Next
Same two teams Saturday afternoon for the middle game of this three-game series. That's a 1pm ET start, thankfully. Been getting kinda sick of those weird Saturday start times. Michael Pineda and Ubaldo Jimenez are the scheduled starters. Good luck predicting the outcome of that one. Anyway, RAB Tickets can get you in the door for that game. Weather's supposed to be great.