Oh baby! Was that a fun game or what? Rain turned this three-game series into a two-game series, and the Yankees won both games while holding the Red Sox to one run total. Thursday night's win saw Masahiro Tanaka outpitch Chris Sale, which is a very fun thing I hope to see many more times. The final score was 3-0 good guys.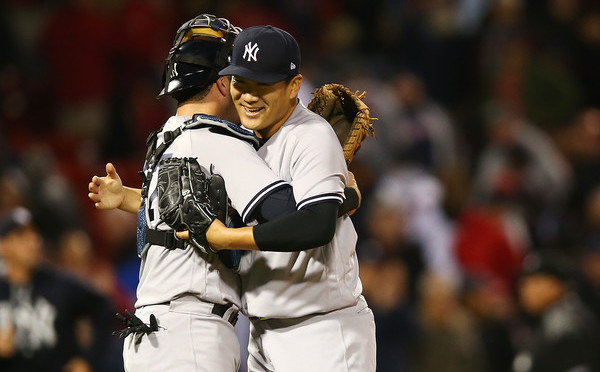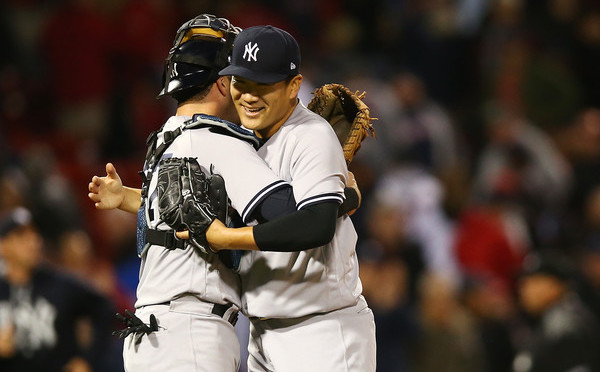 Masterful Masahiro
All the talk coming into this game was about the great Chris Sale. And he is great! He was great again Thursday night too. But Masahiro Tanaka was better. He mowed through the Red Sox to finish the complete game shutout on a mere 97 pitches. He's the first pitcher to shut out the Red Sox on fewer than 100 pitches since James Shields in 2008, and he's the first Yankee to throw a complete game shutout at Fenway Park since Mike Mussina in 2002.
Weirdly enough, Tanaka started Thursday's game by failing behind in the count to Dustin Pedroia, the leadoff hitter, 3-0. Tanaka hadn't looked quite like himself in his first four starts, mostly because he was missing location and falling behind in the count a bunch, and three pitches into the game, it looked like we were in for more of the same. Instead, Tanaka got Pedroia to ground out, and only twice the rest of the game did he go to a three-ball count. He walked no one. Only three hits allowed two.
The key to Tanaka's success? Pitching at the knees. Look at this pitch location chart, via Baseball Savant: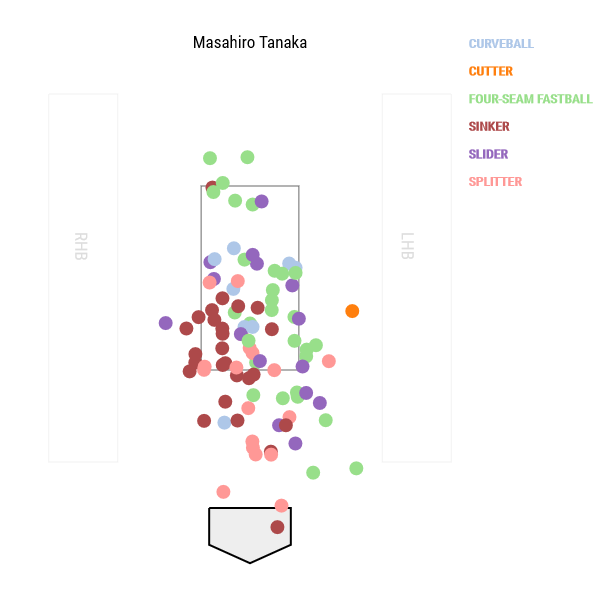 Tanaka lived in the bottom third of the strike zone pretty much all night. He was throwing fastballs, both straight four-seamers and running sinkers, for strikes at the bottom corner of the zone, then getting the Red Sox to swing over top of the splitter. The result: three strikeouts and 16 ground ball outs, including a pair of double play balls.
All told Tanaka faced 29 batters and only nine hit the ball out of the infield. He retired the final 14 batters he faced (on 39 pitches!), and the Red Sox had only one runner make it as far as second base. That's all. Hanley Ramirez singled in the second inning and moved to second on Mitch Moreland's ground ball. He was stranded there. The Red Sox never had a runner make it to third base. Incredible.
Tanaka is the first Yankee to throw a Maddux — that's what the cool kids call a complete game shutout on fewer than 100 pitches — since David Wells back in 2003. Can't say enough about the job Tanaka did Thursday. He completely stole the spotlight from Sale. Glad to see you back, Masahiro. We missed you during those first four starts.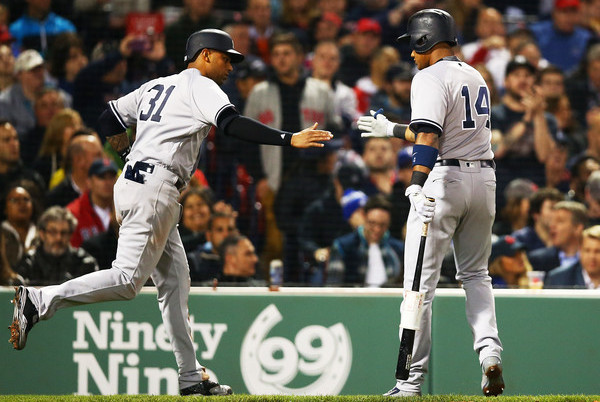 Building A Run
The final score was 3-0, but that was only because the Yankees tacked on a pair of insurance runs in the ninth inning. The score was 1-0 for most of the game, making Tanaka's night more impressive. He didn't have much margin for error at all.
The Yankees scored their first run in the fourth inning and they built it the old fashioned way. Aaron Hicks started the inning with a single to right, then moved to second on Chase Headley's soft ground ball. A passed ball — catcher Sandy Leon was clearly crossed up behind the plate — allowed Hicks to move to third with one out. The BoSox brought the infield in, so Matt Holliday had to get the ball airborne. A ground ball wasn't going to cut it.
Holliday came into the game in a 2-for-27 (.074) slump and Rick Porcello threw fastballs by him all night Wednesday, so I don't blame you if you weren't confident he'd get the run in. I'll admit I wasn't. Rather than strand Hicks at third, Holliday put together New York's best at-bat of the young season, a ten-pitch battle that saw him foul off four two-strike pitches before lifting a sacrifice fly to left field. Here's the strike zone plot for the at-bat, via Brooks Baseball: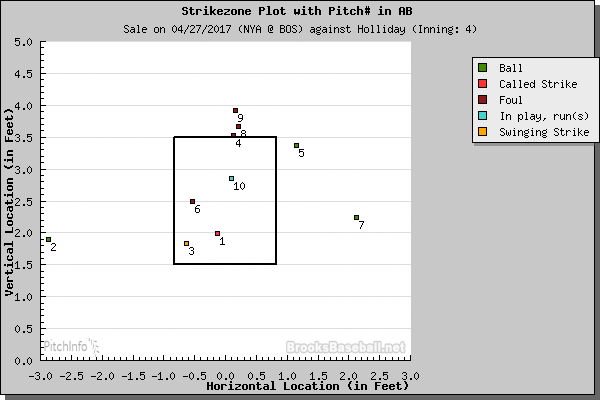 What a battle. Sale had nasty stuff early in the game — he struck out seven of the first ten Yankees he faced — so it's not like Holliday was out there fouling off 89 mph waste pitches. Sale was pumping mid-90s heaters and nasty backdoor sliders. Holliday was able to stay alive long enough until Sale hung one of those sliders out over the plate. Great at-bat. Great at-bat. (Oh, and by the way, the Yankees capitalized on another mistake, the passed ball. Yup.)
The Holliday sac fly gave the Yankees a 1-0 lead and they nursed that lead until the ninth inning, when the first four men they sent to the plate had singles. Hicks got it started with a single back up the middle, his second hit of the game. His batting line is currently sitting at .324/.458/.703 (218 wRC+) through 48 plate appearances. Amazing. Holliday drove in the first insurance run with a single to left and Starlin Castro plated the second, also with a single to left. Tanaka was dealing, but those two insurance runs were much appreciated.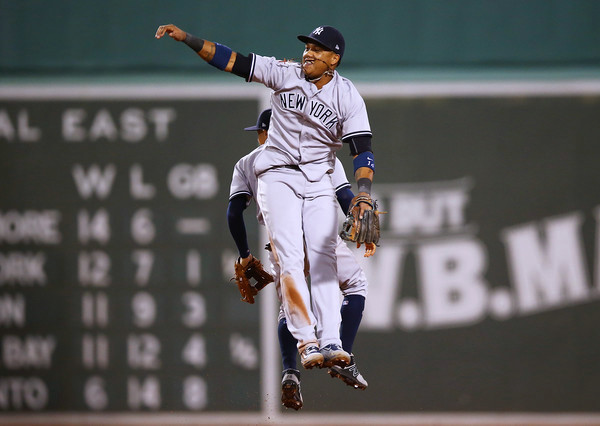 Leftovers
More on Holliday: he went 2-for-3 with two singles and the sac fly, making this his best game in a couple weeks now. Both singles and the sac fly were hard hit too. The first single, in the seventh inning, smashed off the Green Monster and Holliday was thrown out trying to stretch it into a double. Not his best decision, especially leading off the inning. He was out by a mile. Still, good to see him swing the bat well, especially against such a great pitcher.
The Yankees had nine hits total, all singles, including two each by Hicks, Holliday, Castro, and Ronald Torreyes. Torreyes is definitely the player who annoys the crap out of fans of the other team, right? Right. The 2-3-4-5 hitters went a combined 7-for-15 (.467) while the rest of the lineup went 2-for-16 (.125), and both hits were by Torreyes. Sometimes you mash dingers, sometimes you have to string together singles.
Know who had a nice game defensively? Tanaka. He made a nice play fielding Pedroia's comebacker to start the game, and he also did a nice job hustling over to cover first base several times on ground balls to the right side of the infield. That is an underappreciated part of Tanaka's game. The man can really field his position.
And finally, although the bullpen wasn't used, it is worth noting Aroldis Chapman did warm up in the ninth. He was getting ready in case Tanaka ran into trouble. So, even after throwing 33 high-stress pitches Wednesday, Chapman was available Thursday. If he's hurt, this is a funny way of showing it.
Box Score, WPA Graph & Standings
Head on over to ESPN for the box score and updated standings, and MLB.com for the video highlights. Don't miss our Bullpen Workload page either. Now here's the win probability graph:

Source: FanGraphs
Up Next
The Yankees are heading back home for a six-game homestand. The first place Orioles will be in town for a three-game weekend series. Would be cool to go into Monday in first place, wouldn't it? CC Sabathia and Kevin Gausman are the scheduled starters for Friday night's opener. RAB Tickets can get you in the door for that game or any other game on the homestand.