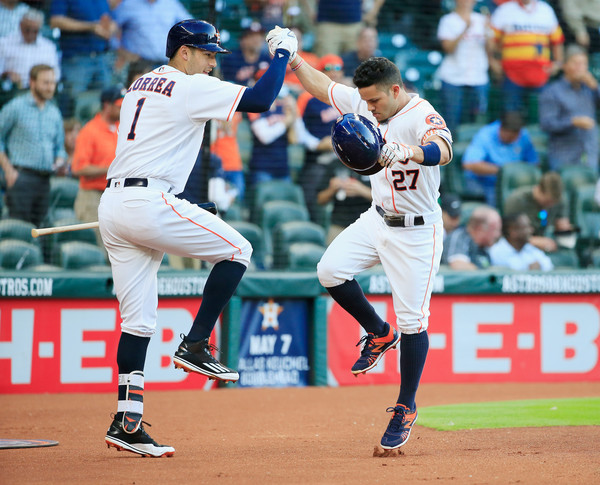 A strong argument can be made that this is the series to watch this weekend, regardless of your fandom. As of this morning, the Yankees and Astros rank in the top-five in winning percentage, runs scored, runs allowed, run differential, wRC+, and park-adjusted ERA; and, beyond that, both teams are headlined by young sluggers. In short, this is a match-up between teams that have the foundation laid to be good over the next several years – what more could you ask for?
The Last Time They Met
The Yankees visited the Astros for a three-game set just before last year's deadline, taking two out of three. It was their first series following the Aroldis Chapman trade (he was actually dealt the morning of the first game), and the last time Andrew Miller would take the mound as a Yankee. Some other points of interest:
The Yankees were four games above .500 after winning the second game, which was the high-water mark of the season to that point.
Astros third baseman Alex Bregman made his big league debut in this series, starting all three games. He went 0-for-9 with 2 walks and 3 strikeouts.
Michael Pineda gave up a home run on his first pitch of the game. He promptly settled down, finishing with 7 IP, 5 H, 1 R, 2 BB, and 8 K.
Luis Severino made the first relief appearance of his career in the third game of the series. He went two innings, and allowed no hits and one walk while striking out three.
Adam Warren made his first appearance since coming back from the Cubs in that same game. He gave the Yankees a scoreless sixth inning.
You can check out Katie's Yankeemetrics post for more interesting tidbits.
Injury Report
RHP Collin McHugh has been on the disabled list since Opening Day with a posterior impingement in his right elbow, and isn't expected to return until sometime in June. He has been a stalwart in the back of the Astros rotation since 2014, but the team has managed to get by in the interim.
Would-be fourth outfielder Teoscar Hernandez is on the DL, as well, as the result of a scary collision with Jose Altuve. He's expected to activated soon, but he may end up in Triple-A.
Their Story So Far
The Astros are 23-11, and lead the AL West by a full six games. That impressive record is a product of their dominance of the division thus far, as they're 17-6 against the Mariners, Angels, A's, and Rangers (and 6-5 against everyone else). Even so, the team has performed quite well in most every facet of the game; they have seven regulars/semi-regulars with a wRC+ above 120, and Carlos Beltran's 92 wRC+ represents the bottom of the barrel. They have a 3.42 ERA (109 ERA+) as a team, a resurgent Dallas Keuchel pitching like an ace, and a deep bullpen that is striking out 11.54 batters per nine innings (the best mark in the majors). The greatest flaw of the team — at least in terms of how it's performing right now — lay in baserunning, as they're 29th in the game in FanGraphs' BsR (an all-encompassing metric).
In short, the Astros are firing on (almost) all cylinders right now.
The Lineup We Might See
Manager A.J. Hinch like to mix-and-match his lineups, as evidenced by the fact that he has used 32 unique lineups this year (as per Baseball-Reference). He does this not only to gain the platoon advantage, but also as a means to keep players rested – Brian McCann has already had nine days off, and no player has played every game. Having versatile players like Marwin Gonzalez, Alex Bregman, and Evan Gattis helps with that, too. That being said, we'll probably see something along these lines:
George Springer, CF
Josh Reddick, RF
Jose Altuve, 2B
Carlos Correa, SS
Carlos Beltran, DH
Yulieski Gurriel, 1B
Brian McCann, C
Alex Bregman, 3B
Nori Aoki, LF
Evan Gattis will almost certainly start at least one game at catcher, and probably when Jordan Montgomery takes the mound. Jake Marisnick may play LF over Aoki on that day, as well. And Gonzalez will get a couple of starts; where he plays is up in the air, as he has started at 1B, 2B, 3B, LF, and RF this year.
The Starting Pitchers We Will See
Thursday (7:05 PM EST): RHP Michael Pineda vs. LHP Dallas Keuchel
Keuchel followed-up his 2015 Cy Young-winning season with a subpar 2016, pitching to an 87 ERA+ in 168 IP. His velocity dropped across the board, he struggled to throw strikes at times, and he missed starts with shoulder soreness, leading many to wonder if there was a more serious injury lurking beneath the surface. Fortunately for the Astros, he came to Spring Training healthy, and he has rebounded in a big way in 2017 (albeit at least in part due to a ridiculously low .195 BABIP). He's currently sitting on a 199 ERA+, and has averaged more than 7 IP per outing in his seven starts.
The 29-year-old southpaw throws three fastballs in the mid-to-upper 80s – a four-seamer, a two-seamer, and a cutter. He also mixes in a slider and a change-up in the upper-70s, which account for around 40% of his pitch selection. Keuchel pounds the bottom of the strike zone with gusto, as evidenced by his 63% ground ball rate in 2017.
Last Outing (vs. LAA on 5/5) – 8.0 IP, 7 H, 5 R, 2 BB, 5 K
Friday (7:05 PM EST): LHP Jordan Montgomery vs. RHP Lance McCullers Jr.
The story of McCullers' career-to-date is highlighted by brilliant stuff, strong performances, and concerns over the health and future of his elbow. The 23-year-old boasts a 120 ERA+, 27.3 K%, and 51.7 GB% in his young career, along with an average of nearly +4 bWAR per 200 IP. Unfortunately, he missed right around half of 2016 due to elbow issues, and missed time in Spring Training due to the same malady. He's been healthy and effective since the regular season began, though, and is tossing just over 6 IP per start.
McCullers is a borderline two-pitch pitcher, living and dying by his explosive mid-90s fastball and ridiculously hard, bendy knuckle-curveball (which is just as filthy in-game as it reads on your screen). That curveball represents nearly half of his offerings in any given game, and he gets whiffs on it about 20% of the time. He'll also mix in a split-fingered change-up, which is another swing-and-miss pitch when it's working.
Last Outing (vs. LAA on 5/6) – 7 IP, 2 H, 1 R, 2 BB, 4 K
Saturday (1:05 PM EST): RHP Luis Severino vs. RHP Mike Fiers
It seems like Aaron Judge is hitting the ball out of the park whenever he puts it in the air, and that's because 44.8% of his fly balls have left the yard. Fiers has turned every hitter into Judge this year, as 41.2% of his fly balls allowed have turned into home runs. He's allowed 14 home runs in just 30.1 IP, which ties him with Jered Weaver and his 84 MPH fastball (and Weaver has pitched in Colorado and Arizona this year). Fiers was ineffective last season, and he has to be close to losing his job at this point. It'll be interesting to see him in Yankee Stadium
Fiers' arsenal includes a four-seamer in the upper-80s, a mid-80s cutter, a low-80s change-up, a low-80s slider, and a low-70s curveball. He uses all five pitches fairly regularly, and they used to play-up because of his over-the-top delivery, which added a great deal of deception. It doesn't seem like it's fooling anyone nowadays.
Last Outing (vs. LAA on 5/7) – 5 IP, 4 H, 3 R, 4 BB, 1 K
Sunday (7:35 PM EST): RHP Masahiro Tanaka vs. RHP Charlie Morton
Morton leapt into baseball consciousness nearly six years ago, due largely to his professed copying/mimicry/absorption of Roy Halladay's mechanics and pitch selection. The overall results have been mixed, as he has a 94 ERA+ in 681.1 IP since the self-overhaul, and he has spent nearly as much time on the disabled list as he has on the field — his 2016 season ended in April, when he tore his hamstring running out a bunt (thanks, National League). Morton has great strikeout (25.1%) and ground ball (50.5%) rates right now, in addition to a 103 ERA+. The Astros would be more than happy with that over 180 IP or so, given their 2-year, $14 MM investment.
The 33-year-old throws four different fastballs — a low-to-mid 90s four-seamer, a low-to-mid 90s two-seamer, a cutter in the upper-80s, and a mid-80s splitter. His only true offspeed pitch is a curveball, which he throws a bit more than a quarter of the time (and has a strong 20.8% whiff rate this year).
Last Outing (vs. ATL on 5/9) – 5.2 IP, 5 H, 3 R, 4 BB, 5 K
The Bullpen
The Astros bullpen has been excellent this year, ranking sixth in the majors with a 2.93 ERA. Fireman Chris Devenski has thrown 21 IP across 11 appearances, with incredible strikeout (49.4%) and walk (3.9%) rates – and his 2.14 ERA is fourth on the team among relievers with 10-plus IP. Ken Giles has reclaimed the closer's role after losing it to Luke Gregerson last year, and he might be the team's fifth best reliever right now as he's still rounding into form.
Gregerson pitched on Tuesday and Wednesday, so he isn't likely to be available in the first game of the series. Giles went yesterday afternoon, but he only needed 11 pitches to pick up the save. Between Monday's off-day and both starters pitching into the 6th in their two-game series against the Braves, the Astros bullpen is fairly well-rested.
Yankees Connection
The Astros have two everyday players that were Yankees regulars as recently as last year, in McCann and Beltran. The latter is showing an age a bit, as he is currently slashing .256/.295/.397 (92 wRC+) with a 25.6% strikeout rate, but he has shown signs of life since the calendar flipped to May with three multi-hit games and six extra-base hits.
McCann, on the other hand, is playing better than he has in years. He's batting .281/.381/.461 (135 wRC+) with terrific walk (14.3%) and strikeout rates (10.5%) in 105 PA. He's on-pace to play less than 120 games, and the regular rest has clearly paid off six weeks into the season. And, while there's may be some small sample size noise here, his .270 BABIP and exit velocity suggest that this isn't necessarily a fluke.
Who (Or What) To Watch
The Astros are a high-contact team, so they will test the Yankees defense early and often. They're striking out in just 18.1% of their plate appearances, which is the second-lowest mark in baseball, and they're aggressive in and out of the zone. It goes without saying that this will be a challenge for the Yankees pitchers, too.
Any McCullers start is a must-watch, as well. Or, at the very least, his curveball is a sight to behold.