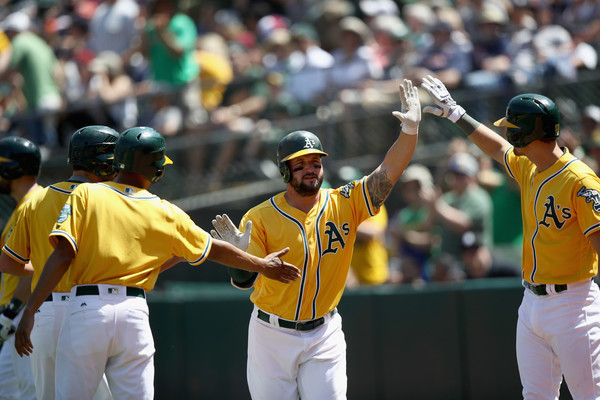 Mother nature gave the Yankees a much-needed respite yesterday, splitting their twenty games in twenty days down the middle. Their series against the A's now represents the first game in a ten-in-ten stretch, which is far less daunting.
The Last Time They Met
The Yankees visited Oakland for a four-game series this time last year (May 19 through May 22), and they walked (or flew) away with a sweep, outscoring the A's 22 to 9 along the way. Some other points of interest:
The Yankees starters – Ivan Nova, CC Sabathia, Masahiro Tanaka, and Michael Pineda – pitched to the following combined line: 25 IP, 18 H, 4 BB, 21 K, 2.16 ERA.
It was the Yankees first road series win of the season, as they climbed out of the AL East basement for the first time since late April.
Carlos Beltran went 9-for-18 with 3 R, 5 2B, 1 HR, and 8 RBI in the series.
The beta version of Yonder Alonso went 1-for-10 in the series, with 3 strikeouts and no walks.
Check out Katie's Yankeemetrics post for more in-depth information.
Injury Report
The A's are a bit banged-up right now. Yonder Alonso is listed as day-to-day with a wrist contusion, and it remains up in the air as to whether he'll play on Friday (though he is expected back this weekend) – he has been one of the best hitters in baseball this year, showing signs of the promise he showed as a top-fifty prospect half a decade ago. Shortstop Marcus Semien was placed on the 60-day DL at the end of April, due to a broken wrist that required surgery, and there have been rumblings that he could be out longer than that entails. And relievers Sean Doolittle, Bobby Wahl, and Ryan Dull are on the DL, and none are expected back for this series.
Their Story So Far
Oakland is currently 21-25 with a -42 run differential, which puts them right around where they were in 2015 and 2016. They are 23rd in baseball in runs allowed, 27th in runs scored, and 30th in defensive runs saved; in short, they are a subpar team in all facets of the game, and that may be putting it lightly. This is a team in transition, and it shows.
Their two biggest stories this season are the aforementioned Alonso, and perpetual trade rumor magnet Sonny Gray. The 30-year-old Alonso is batting .275/.379/.642 (174 wRC+) with a career-high 13 home runs, and he's actually playing better as the young season wears on. And there are reasons to believe that this is real, at least to some extent. Gray has been effective, as well, albeit on the heels of missing the first month, and he appears to be recapturing his pre-2016 form. The Yankees will not see Gray this weekend, which is something of a shame – but you can be sure that Brian Cashman is following his progress closely.
The Lineup We Might See
Manager Bob Melvin has used 43 lineups in 46 games, due to injuries and his utilization of platoon players. Khris Davis is the team's regular clean-up hitter, but most every other spot seems to be shrouded in mystery until the lineup card is posted. As a result of this, I offer the equivalent of a shrug as to my guess at what Yankees pitchers will see over the next three days:
Rajai Davis, CF
Matt Joyce, RF
Jed Lowrie, 2B
Khris Davis, LF
Yonder Alonso, 1B
Ryon Healy, DH
Stephen Vogt, C
Trevor Plouffe, 3B
Adam Rosales, SS
The Starting Pitchers We Will See
Friday (7:05 PM EST): RHP Masahiro Tanaka vs. RHP Kendall Graveman
Graveman has proven himself to be a solid back of the rotation starter over the last two-plus seasons, pitching to a 98 ERA+ in just under 350 IP – and that makes him the prize of the Josh Donaldson deal to-date (that might be unfair to prospect Franklin Barreto, who is currently raking in Triple-A). He is held back by his well below-average strikeout rate (16.5% this year), but he keeps the ball on the ground (career 51.4% GB) and limits walks (6.6% BB). Pitching in Oakland helps, too, as his career ERA is over a run lower at home.
The 26-year-old is a true sinkerballer, as the pitch accounts for 76.1% of his offerings this year. He throws the sinker in the mid-90s, and it has a great deal of drop and spin. He mixes in the occasional four-seamer, change-up, and slider – but those are few and far between.
Last Outing (vs. BOS on 5/19) – 6.0 IP, 6 H, 2 R, 3 BB, 5 K
Saturday (1:05 PM EST): LHP CC Sabathia vs. LHP Sean Manaea
The 25-year-old Manaea entered 2016 as a consensus top-fifty prospect, and he backed that up with a solid rookie season. The southpaw tossed 144.2 IP of 3.86 ERA (104 ERA+) ball, good for 2.7 bWAR – and this despite having an ERA north of 7.00 on June 1. He has struggled a bit so far, posting a 5.24 ERA (75 ERA+) and 11.5 BB%, and he missed a couple of starts with a left shoulder strain. All that being said, he might have the highest ceiling of any A's pitcher this side of Sonny Gray.
Manaea is a three-pitch pitcher, utilizing a low-90s four-seamer, mid-80s sinking change-up, and a low-80s slider. That slider is his strikeout pitch, and it currently has a 25.4% swinging strike rate.
Last Outing (vs. BOS on 5/20) – 5.0 IP, 5 H, 3 R, 0 BB, 3 K
Sunday (1:05 PM EST): RHP Michael Pineda vs. RHP Andrew Triggs
Triggs made his major league debut last year, as a 27-year-old pitching for his third organization in three years. He did reasonably well as an up-and-down long reliever and spot starter, posting a 4.31 ERA (93 ERA+) in twenty-four games (six starts). He earned a shot in the A's rotation in spring training this year, and he has acquitted himself quite well thus far. To wit: 52.0 IP, 19.5 K%, 7.0 BB%, 51.0 GB%, 2.77 ERA (142 ERA+), 3.26 FIP. Much of his success is attributed to his borderline sidearm delivery, as Triggs hides the ball well and pounds the bottom of the strike zone.
There is a discrepancy in reports as to what Triggs actually throws. Scouts speak of his upper-80s sinker (or two-seamer), mid-80s cutter, and low-80s slider; PITCHf/x, on the other hand, appears to see that cutter as a slider, and that slider as a curveball. The truth is probably somewhere in the middle, as Triggs throws several different pitches from the sort of arm angle that can screw with the eye test and PITCHf/x.
Last Outing (vs. BOS on 5/21) – 5.1 IP, 8 H, 6 R, 3 BB, 7 K
The Bullpen
The A's bullpen is 26th in baseball in ERA+, with closer Santiago Casilla leading the way with a 4.67 ERA (86 ERA+). Set-up man Ryan Madson and lefty specialist Daniel Coulombe have been highly effective in their roles, but most everyone else is struggling or hurt (or both). They should be fairly well-rested, though, thanks to an off-day Thursday and a light workload on Wednesday.
Yankees Connection
Reliever John Axford pitched in the Yankees organization in 2007, tossing 63 IP with a 3.29 ERA over stops at Staten Island, Tampa, Charleston, and Scranton/Wilkes Barre. The Yankees released him after that season (his 6.4 BB/9 may've played a role in that), and he latched on with the Brewers. He's carved out a decent career are a sometimes-closer, accumulating 144 saves over parts of nine seasons. Axford has also dabbled in some sweet facial hair.
Who (Or What) To Watch
Triggs' delivery is unique among starting pitchers, coming as close to sidearm as one can get without being labeled as such, and that bears watching just so you can wonder how he can possibly succeed with such an awkward throwing motion. Alonso is worth checking out, too, so that you can decide for yourself how this guy had never reached double-digit home runs before.