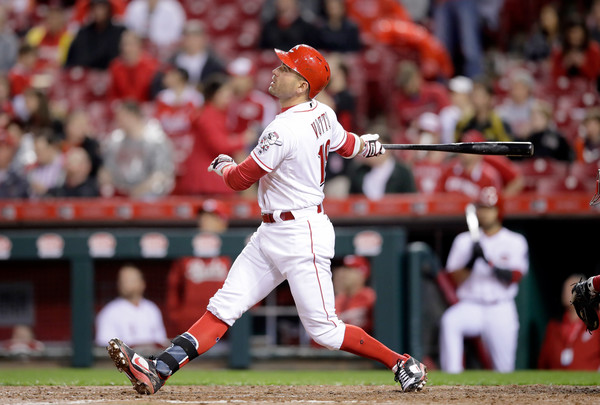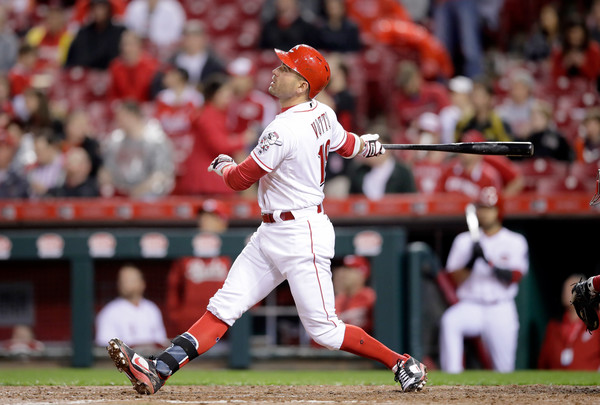 A month ago, few would have expected this to be a meeting between two first place teams – but here we are. On the strength of a five-game winning streak (and the Yankees sweep of the Cubs), the Reds are in first place in the NL Central. And the Yankees, on the heels of an 18-inning, 6-plus hour affair, have the best record in baseball.
The Last Time They Met
The Yankees swept the Reds in a three-game set in the Bronx in July of 2014. They managed to avoid Joey Votto back then, as he was on the disabled list with a strained left quadriceps (an injury that limited him to 62 games that year). As for what happened on the field:
Brian McCann hit a walk-off single against Aroldis Chapman in the final game of the series. Jacoby Ellsbury played an integral role, as well. He lead off the ninth with a single, stole second, and advanced to third on a wild pitch.
Ellsbury had a heck of a series on the whole. He went 6-for-12 with two runs, a double, a home run, three RBI, and three steals.
Billy Hamilton went 1-for-12 with five strikeouts and no steals. He hit .285/.319/.423 before visiting the Bronx, and .206/.263/.261 afterward. That may mean a whole lot of nothing, but it was viewed as a turning point in his season by Reds writers at the time.
David Phelps, Brandon McCarthy, and Hiroki Kuroda were the starters for the Yankees in the series. They combined to pitch to the following brilliant line: 19 IP, 15 H, 5 R (3 ER), 3 BB, 22 K. Kuroda is the only one that didn't pick up the win.
Injury Report
The Reds have a great deal of pitching on the disabled list right now, which makes their recent success all the more impressive. Anthony DeSclafani (their de facto ace since they dealt Johnny Cueto to the Royals) is out until July thanks to a sprained UCL, and he was recently joined on the DL by reliever Tony Cingrani and the 24-year-old Brandon Finnegan (the prize of that Cueto deal). Finnegan was a solid-average starter last season, and looked great through three starts this year – he's not expected back until June. And, despite the fact that he has made made all of eight starts since the beginning of 2015, it bears mentioning that Homer Bailey is on the 60-day DL. Bailey was near the top of the same prospect lists as Phil Hughes back in the day, and is owed a minimum of $68 MM through the end of 2019.
Their Story So Far
Cincinnati is in the midst of a rebuilding effort that began in earnest on July 26, 2015, when they shipped Cueto to Kansas City. They won 68 games last year, and most projection systems saw them within spitting distance of that in 2017, with the mean falling right around 72 wins. Such is life for a team whose offense was expected to be Votto and little else, and with a pitching staff that was best described as young and questionable. Several injuries and six Bronson Arroyo starts later, and the rotation sounds even worse than that. And this on the heels of having one of the worst pitching staffs ever.
A month and change into the season, however, the Reds have been a more than competent team. They're third in the majors in runs scored and fifth in run differential (+22), and they have a league-average park-adjusted ERA. There are a few reasons to expect them to fall off (updated projection systems still have them finishing below .500), but they've looked good so far.
The Lineup We Might See
Manager Bryan Price has been fairly consistent with his lineup configuration this season. The seventh spot in the lineup is the only one that isn't locked-down by one particular player (or position, in the case of the nine hole), and that's mostly due to Zack Cozart moving up the lineup as his bat heated up. Based on that, the Yankees pitchers will probably see a lineup like this:
Billy Hamilton, CF
Zack Cozart, SS
Joey Votto, 1B
Adam Duvall, LF
Eugenio Suarez, 3B
Scott Schebler, RF
Jose Peraza, 2B
Devin Mesoraco, C or Tucker Barnhart, C
[Pitcher]
The Pitchers We Will See
Monday (7:10 PM EST): RHP Masahiro Tanaka vs. RHP Rookie Davis
It was a year and a half ago that Rookie Davis was considered one of the best prospects in the Yankees organization, garnering a bit of hype before being sent to Cincinnati in the Aroldis Chapman deal. He reached the majors for the first time this year, and made one of the worst starts of the young season just three weeks later. Davis has just 24 IP at Triple-A, but the injuries to DeSclafani and Finnegan make his presence on the big league roster a necessity; given the team's rebuilding efforts, though, this is almost certainly a legitimate chance for him to prove his mettle.
Davis is a three-pitch pitcher, mixing a 93-ish MPH fastball with a slurvy breaking ball in the 78 to 83 MPH range and a mid-80s change-up. PITCHf/x picks up two different breaking balls (a slider and a curveball), but most scouts call it a curveball.
Last Outing (vs. PIT on 5/3) – 5.0 IP, 4 H, 0 R, 3 BB, 2 K
Tuesday (7:10 PM EST): LHP CC Sabathia vs. RHP Tim Adleman
Staten Island's own Tim Adleman has had a long, winding road to the majors. He was drafted in the 24th round of the 2010 draft by the Orioles, and found himself bouncing around independent leagues by 2012. In fact, he was passed over by the first independent ballclub that he tried out for, and would spend time working in a market in between stints with three different teams. The Reds picked him up in 2014, and he made his big league debut on May 1, 2016, at the age of 28. He's been and up-and-down guy since, posting a 106 ERA+ in 91 IP at the highest level.
Adleman is something of a junkballer, throwing a fastball that scrapes 90 MPH (albeit with excellent rising action), a big-breaking curveball in the low-70s, and a low-80s change-up. He's been homer prone in his brier career, surrendering 1.78 HR/9; that doesn't come as a shock, though, considering his home park, low velocity, and 35.9% groundball rate.
Last Outing (vs. PIT on 5/4) – 6.0 IP, 6 H, 2 R, 1 BB, 5 K
The Bullpen
The Reds have the sixth-best bullpen in baseball by park-adjusted ERA; they were 29th in baseball by that metric last year, just ahead of the Phillies. Closer Raisel Iglesias has been excellent since moving to the bullpen last year, and Drew Storen and rookie Wandy Peralta have been nearly as good this year in setup roles. They don't really have a big name in the group, but they've been effective – and the worst offenders from 2016 are no longer with the team.
It's also worth noting that the bullpen is well-rested. Scott Feldman tossed a complete game last night, and only one reliever (Robert Stephenson) was used on Saturday. In fact, none of the team's 'big three' have pitched since last Thursday. After the Yankees-Cubs game last night, that seems unfair.
Yankees Connection
The aforementioned Davis was one of four players sent to the Reds for Chapman. Utility player Tony Renda and corner infielder Eric Jagielo are still in the organization, as well, at Triple-A and Double-A, respectively. The fourth player, Caleb Cotham, tossed 24.1 IP for the Reds last year, but retired this off-season. He dealt with injuries throughout his professional career, including a season-ending knee injury in 2016.
There are three former Reds on the Yankees – Chapman, Didi Gregorius, and Ronald Torreyes.
Who (Or What) To Watch
If you're a fan of dingers, the heart of the Reds order is must-see TV. Votto, Duvall, Suarez, and Schebler have combined for 34 home runs to-date, and Cozart hit 16 last year. The team is seventh in the majors in home runs overall, with five fewer bombs than the Yankees
Should you want to focus on just one player, Votto  is always interesting to watch. Everyone knows about his ability to work the count and draw walks (he has a career 15.9 BB%, and had a .434 OBP last year), but he has changed his approach a bit this year. In addition to walking at an elite rate this year, he's swinging at more pitches in the zone than ever before. The result of this is a ridiculously low 12.7 K%, and a .324 ISO (which would be the best of his career by a sizable margin).